Who Says Urban is all Concrete and Asphalt?
By Shawn Stinson
Salt Lake City
is known as many things to many people: Crossroads of the West, genealogy capital of the world, gateway to the National Parks and, yes, home to the Church of Jesus Christ of Latter Day Saints (Mormons). But to those who love the outdoors and endless recreational opportunities, Salt Lake is simply known as "it."
Prominently positioned on the western slopes of the
Rocky Mountains
at the foot of the Wasatch Range, Salt Lake combines metropolitan and mountain like no other place in North America, possibly the world. From the bustling and culturally diverse downtown, including an eclectic array of cultural arts, excellent dining and a thriving nightlife, some of the finest outdoor recreation is mere minutes away.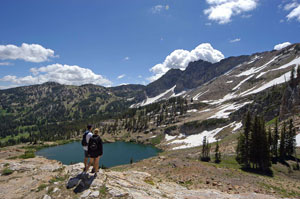 While presenting a stunning backdrop to Salt Lake City, the towering
Wasatch Mountains
offer unparalleled accessibility to incredible outdoor recreation, from mountain biking to road cycling, hiking to rock climbing, camping to fishing, all via any number of canyons feeding into the valley. Each canyon spawning from the valley floor of Salt Lake has its own distinct look, feel and geological features, formed millions of years ago.
Salt Lake's nearby canyons are granite-lined, steep and deep, dotted with glacial snowfields, pristine lakes, rushing waterfalls and vast expanses of wildflowers. Couple those naturally occurring aspects of Salt Lake's canyons with their seemingly endless trail network for hiking and mountain biking, epic road riding climbs of City Creek, Millcreek, Big and Little Cottonwood canyons, and ideally-placed campgrounds, and locals and visitors alike can experience an entirely different world just minutes from the metropolitan feel of Salt Lake or their own home. Salt Lake truly is 'Different by Nature.'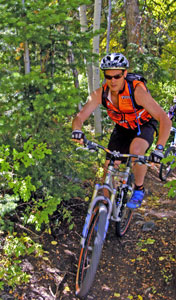 For fat tire enthusiasts, Salt Lake's trail system and accessibility ranks right up there with Moab, Brian Head and Park City. Just minutes from downtown Salt Lake, above the city's historic Avenues district, you can see them: mountain bikers leaving the work day behind and hitting the trail. Looking down a few hundred feet on the city dwellers and Temple Square visitors, mountain bikers ride the Bonneville Shoreline trail.  Beginning in City Creek Canyon and ending near Emigration Canyon, the trail traverses the prehistoric shoreline of Lake Bonneville and riders encounter both epic scenery and single track, including one option called the "Bobsled," named for its steep banks and a fast descent. And that's just one of hundreds along the slopes of the Wasatch and beyond.
Millcreek Canyon's Pipeline trail is also a local favorite, as is the Wasatch Crest Trail.  Pipeline is an intermediate single-track trail that follows the contours of Millcreek's northern slope, featuring a panoramic view of the entire Salt Lake valley.
The Wasatch Crest is one of the premier advanced-level rides in the region. Whether starting at Guardsman Passvia shuttle or in Salt Lake or Park City for the more hard-core, this one-of-a-kind trail takes bikers through sun-dappled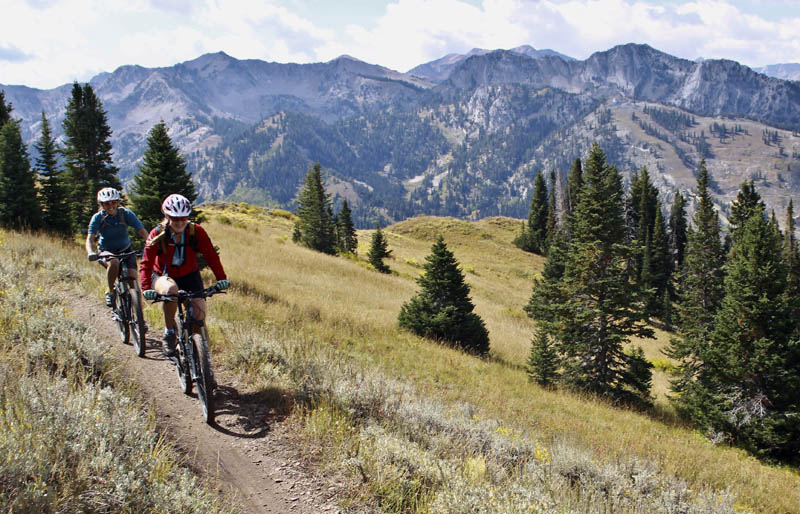 aspen groves and alpine meadows and past craggy mountain peaks, traversing the 10,000-foot ridgeline separating Salt Lake and Park City. Good resources for information are utahmountainbiking.com/trails and bicycleutah.com.
If pedaling for the thrill of the descent isn't your idea of fun, Snowbird and Solitude resorts offer lift-assisted mountain biking and hiking, eliminating the hassle and effort of tackling the peaks of the Wasatch.
These same mountains and trails are a paradise for hikers as well, with a number of options. Hundreds of miles of bisecting hiking paths and trails run by streams, mountain lakes, Aspen groves and evergreen forests, and include flat, creek-side strolls and narrow, steep switchbacks concluding at the top of 11,000-foot peaks. Most, however, involve little equipment and no prior experience. As is the case with any high-alpine adventure, however, proper clothing, sunscreen and ample water are requirements.
Some of the more popular and easily accessible hiking trails include City Creek, the Shoreline Trail, Catherine's Pass, Mount Olympus, Pipeline and Antelope Island. Due to the varying degrees of difficulty, check with one of the many shops catering to hikers, bikers and climbers, including Wasatch Touring and REI, to find the right trail for your adventure.
is popular for a number of reasons: it's within a few blocks of downtown Salt Lake and offers a quick respite to the city, is family-friendly and ideal for runners, hikers and early-morning strollers. For hikers, it's recommended to start the Shoreline Trail at the Sunnyside trailhead near the base of Emigration Canyon, where it follows trails and paths behind Fort Douglas, Red Butte Garden and the University of Utah along natural terraces left by Lake Bonneville.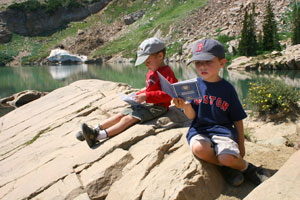 Beyond the city limits, Catherine's Pass is a mile-long trail following a pathway up and over the mountains of Little Cottonwood Canyon into adjacent Big Cottonwood Canyon. Access it by following Little Cottonwood Canyon Road past Snowbird Resort and Alta Ski Area to the Sunnyside trailhead. At 9,026 feet, Mt. Olympus is far from the Rocky Mountain Wasatch Range's highest peak, but this day-long hike still presents quite a challenge to the casual hiker and is characterized by a seemingly endless series of switchbacks ending in a steep scramble to the summit. For those completing this journey, an incredible view of the entire Salt Lake valley is the reward. Millcreek's Pipeline, as for mountain bikers, is also wonderful for hikers and requires substantially less effort than Mt. Olympus, with similar views of the valley below. Snowbird Resort's 'Barrier-Free Trail' is accessible to strollers and people with disabilities and offers interpretive signs discussing area wildlife and the area's geographical and historic features. The trail ends at a sundeck with yet another spectacular view of the valley below.
Salt Lake-based rock climbers know they are incredibly lucky to live in the midst of the Rockies, but their little secret is getting out as the sport gains momentum and word travels. The buzz is all about how the mountains surrounding the city provide unbelievably easy access from a metropolitan center to world-class climbs. Each nearby destination, with its individual history of ascents, represents an intricate piece in the region's geological puzzle—one of the most intriguing and dramatic in the country.
Routes varying from 5.8 to 5.11, Riptide and Iron Curtain Walls are located at the mouth of Parleys Canyon. These limestone and quartzite walls are easily accessed from most points in the city and, due to their northerly aspect, remain relatively cool throughout the summer. Crescent Crack Buttress in Little Cottonwood Canyon offers multiple routes ranging from 5.6 to 5.12, and is one of the most frequented climbs in Little Cottonwood Canyon. A more advanced climbing venue is Resurrection Area, a popular, shady crag in Big Cottonwood Canyon offering several routes rated from 5.9 to 5.13.
For more information about climbing routes in the Wasatch Mountains, guides books maps and for purchasing or renting climbing equipment, contact Wasatch Touring (801-359-9361), IME (801-484-8073), REI (801-486-2100), or Black Diamond (801-278-0233).
http://www.visitsaltlake.com
Tags
Hiking
,
Mountain Biking
,
Family Trips
,
Climbing
,
SLC
,
Wasatch Mountains
Archives
2023
2022
2021
2020
2019
2018
2017
2016
2015
2014
2013
2012
2011
2010