"The Mighty Five!"#2: Bryce Canyon National Park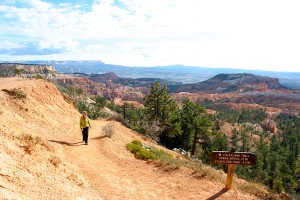 Story by Red Oelerich,
Photos by Monique Beeley –
And mighty they are. Arches, Bryce Canyon, Canyonlands, Capitol Reef and Zion. California with nine and Alaska with eight have more. But no state can match the grandeur and proximity of Utah's five. Are they alike, or in any way similar? Sure. All are blessed with red rock splendor and myriad scenic vistas. All have pristine beauty and serenity. All have a wealth of backcountry adventures. And all have colorful and welcoming gateway communities providing the necessary lodging, restaurants, guide services, gear/photo shops and support for visitors.
But do they differ from one another? Absolutely! To visit one is to miss out on visiting four. Or visiting four is to miss experiencing one, and that one just may just have proven to be your favorite.
Here, from southwest to southeast Utah, are "The Mighty Five"
Zion
|
Bryce Canyon
|
Capitol Reef
|
Arches
|
Canyonlands
"Mighty Number Two" – Bryce Canyon National Park
Perched high on the Paunsaugunt Plateau in southern Utah, the approach from the west through colorful Red Canyon in the Dixie National Forest gives the visitor a sample of what's to come. This is "Hoodoo Country."
Bryce Canyon became a national park in 1928. Although the smallest of Utah's national parks, what it lacks in size Bryce is huge in splendor with its other-worldly unique geology - a series of horseshoe-shaped amphitheaters carved from the Paunsaugunt Plateau in
southern Utah. The erosional force of frost-wedging and the dissolving power of rainwater have shaped the colorful limestone rock into bizarre shapes, slot canyons, windows, fins, and spires - the "hoodoos." Tinted with colors too numerous and subtle to name, these
whimsically arranged rocks create a wondrous landscape of mazes, offering some of the most exciting and memorable walks and hikes imaginable.What to do. The first view of Bryce is from the rim looking down. And what a view it is! But it's time to stop gawking and start walking. Bryce has several trails beginning on the rim descending down into the amphitheater. Moderate hikes have steep grades, elevation
changes and, what you hike down, you eventually must climb back up. The Navajo Loop begins at Sunset Point and drops through a slot canyon where stately Douglas firs stretch to reach the sunlight high above.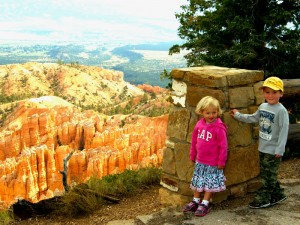 For the more adventurous there are several longer and more testing routes with multiple elevation changes. Combining some of these hikes can also add to the adventure. Consult a trail map or ask a ranger about Navajo and Peek-A-Boo or Navajo, Queens Garden and Peek-A-Boo.
Ponderosa pines, high elevation meadows, and fir-spruce forests border the rim of the plateau. Photography and wildlife viewing are favorite pastimes here. Bryce Canyon is a veritable outdoor aviary and zoo. Over 210 species of feathered friends reside or have been observed in or near the park.
The canyons and plateau of Bryce Canyon National Park are home to many animals.
Frequent sightings of mule deer, Desert Bighorn Sheep, Rocky Mountain Elk and pronghorn are common. Less common, but possible, are black bears, coyotes, mountain lions and other mammals.
Bryce Canyon also has three species that are listed under the Endangered Species Act – the Utah Prairie Dog, the Southwestern Willow Flycatcher and the majestic California Condor. If you're fortunate enough to spot a condor, be sure to report your sighting time and place to a
ranger.
For the kids, Bryce also offers a Junior Ranger Program. And a with a stop at the bookstore in the Visitor Center they'll find books of all sorts, stuffed animals, CDs & DVDs, posters, hanging mobiles, magnets and hiking gear...and plenty of post cards! In spring, summer and
fall, there's a daily Rim Walk with a park ranger.
The staff also offers evening programs, full moon hikes, astronomy programs and daily geology Talks. These highly informative sessions conducted on Inspiration or Sunset Point last only about ½ hour, short enough to hold the kids attention.
Although difficult to pull away from the outdoor splendor, a visit the historic Bryce Lodge is a must. A National Historic Landmark, the decor and atmosphere maintains that authenticity while tending to guest's comfort and needs. And guess what? No televisions!
The Bryce area boasts some of the world's best air quality, offering panoramic views and approaching 200 miles of visibility. This, coupled with the lack of nearby large light sources, creates unparalleled opportunities for dark sky stargazing.
The Backcountry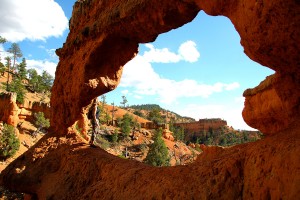 For the avid backpacker, Bryce Canyon's backcountry trails present deafening solitude, lush forests and meadows screaming with wildflowers, wildlife in their habitat and amazing geologic features. There are eight campsites on the 22.9 mile Under-the-Rim Trail and four campsites on the 8.8 mile. Riggs Spring Loop Trail. The trails are strenuous, with multiple changes in elevation. Elevations range from 6,800 feet to 9,115 feet. Permits are required for all overnight stays.
An exciting and different way to view Bryce Canyon backcountry is from the back of a horse or mule. Canyon Trail Rides wranglers lead 2-hour and 4-hour rides into Bryce Amphitheater along a dedicated horse trail and the Peek-a-boo Loop.
Gateway Communities
Panguitch ("big fish" in the Paiute language) is located 25 miles from Bryce Canyon. There are several motels, eateries and shops and a classic old west main street. The entire town is on the National Historic List.
Bryce Canyon City was formerly known as Ruby's Inn. In reality, the city is Ruby's Inn, just outside the entrance to the national park. Ruby's operates several lodging options, including the Bryce Canyon Grand Hotel, restaurants, gift shop/general store, grocery store, mountain bike rentals, Utah state liquor store, horseback rides, guided ATV rides, scenic flights and other services.
Tropic is a small, colorful community a few miles from the entrance to Bryce Canyon National Park. The quaint village, on Scenic Byway 12, Utah's All American Road, has motels, restaurants, B & B's, gift shops and a full grocery store. An outstanding KOA campground with gift shop, swimming pool, cabins, RV facilities and tent sites is located in neighboring Cannonville.
www.brycecanyoncountry.com
Did You Know?
Bryce Canyon National Park has a 7.4 limiting magnitude night sky! In most rural areas of the United States, 2500 stars can be seen on a clear night. At Bryce Canyon, 7500 stars can be seen twinkling in the void! (
nps.gov
)
http://www.visitutah.com/parks-monuments/mighty5/
Tags
Hiking
,
National Parks
,
Family Trips
,
Bryce National Park
Archives
2023
2022
2021
2020
2019
2018
2017
2016
2015
2014
2013
2012
2011
2010