The Green'ing of Salt Lake
Posted On

May 13, 2014
Category

Northern Utah
By Shawn Stinson –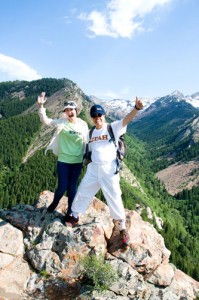 It's no secret that cities – particularly those that market to meetings, conventions and destination visitors – have worked hard to earn the right to be considered "green" in recent years. It's not just good business, as these affluent travelers now require such practices, but it's good for everyone involved, including the community itself and those who live within its boundaries.
And Salt Lake is no different. In reality, there was really no choice due to the fact that Utah's capital city markets itself as being "Different by Nature," capitalizing on its proximity to the natural wonders of the Wasatch and Oquirrh mountains, and the endless outdoor recreation those ranges offer. In fact, you'd be hard-pressed to find another city cradled by towering mountains, all just minutes from a state's economic and cultural center.
Locals have known it for decades, and visitors learn it very quickly: you can live in or around the downtown area of Salt Lake, or conveniently use it as a "base camp" by staying at any number of hotels, and have nearly immediate access to some of the most incredible outdoor experiences imaginable, both winter and summer. It goes without saying that Utah's skiing is world-class, with 11 resorts within an hour of Salt Lake City, and the spring, summer and fall offerings are equally heralded, from mountain biking and hiking to camping and fishing, and any number of other activities.
Once the decision is made to experience the great outdoors from the nearby confines of Salt Lake City, the choices open to an almost unimaginable number. Where to go and what to do? And which canyon to explore -- Big Cottonwood, Little Cottonwood, Mill Creek, City Creek, Emigration or Butterfield, or head up Parley's Canyon to Park City, where another plethora of recreational opportunities present themselves? Yes, access to the wonders of nature from the city center is unequaled by any other North American destination, all of which ties in quite well with the natural feeling of downtown Salt Lake City.
But Salt Lake's becoming green didn't just happen organically – it took many years and numerous individuals and groups planning, meeting, designing and working to make our community one that is sensitive to the environment, identifies with it and embraces it by those who call Salt Lake home…and it's an ongoing effort.
Leading up to the 2002 Olympic Winter Games, city, county and state leaders invested substantially in TRAX, Salt Lake's award-winning light rail system operated by the Utah Transit Authority (UTA). Almost immediately, ridership doubled, tripled and quadrupled initial projections, and UTA has been adding lines throughout Salt Lake valley ever since, enhancing its already extensive network of bus service. The Airport TRAX line, one of the most anticipated, opened in the spring of 2013 and now whisks travelers to and from Salt Lake City International Airport the six miles to downtown in just 20 minutes, all at a cost of just $2.50. The airport TRAX line works well for locals, who can now eschew the cost of long-term airport parking, and it's a wonderful option for visitors, making a rental car now a luxury rather than a necessity. An added bonus to the TRAX system is that the downtown core of Salt Lake is designated a "Free Fare Zone," allowing passengers complimentary travel in the central city area.
Another recent program getting people out of their cars is Salt Lake City's new urban bike-share, GREENbike. Once downtown, people can pick up a bike at any one of 12 Bike Share Stations around the city. Each station is a leisurely ride from the next station, and bikes can be 'checked out' for 30-minute trips. A 24-hour Access Pass is just $5 while a seven-day pass is only $15 and an annual pass is $75. Once on a bike, the SLC Bikeways Map helps connect riders to the area's urban environment, showing bike lanes, public transit options and routes, farmer's markets, local parks, open space and community gardens. After all, everyone loves to ride a bicycle and it's a great way to experience downtown Salt Lake, offering new and different perspectives from those garnered behind the wheel of a car.
Salt Lake's walkability has also been enhanced as of late, adding another 'green' feature to our capital city. The city's street blocks are large, but recent developments and redevelopments have added cross-through streets and walkways, welcoming locals and visitors alike to meander through the blocks, getting off the primary city thoroughfares and enjoy the nuances that make up the city's charm and uniqueness. One such redevelopment is City Creek Center, a multi-billion dollar, mixed-use project. The 23-acre, two-block development exemplifies the coexistence of an urban experience and that of the natural surroundings. It is most definitely man-made and in the heart of the city, but City Creek celebrates and highlights many of Utah's natural resources, including a running stream that features indigenous fish as well as native plant life.
Rightfully so, many urban centers are making substantial strides in becoming green, not only because it's good for business but because it's the right thing to do, Salt Lake included. We're fortunate to have city, county and state leaders, as well as an active business community and community groups, willing to plan and invest in green programs and initiatives. There appears to be a never-ending list of such programs that could be implemented within the Salt Lake community to enhance the overall health and well being of residents and visitors alike; if the past decade is any indication, Salt Lake will adopt those that complement and work well in our community, positioning itself as one of the nation's leaders in terms of sustainability in an urban environment.
Shawn Stinson is the Director of Communications for Visit Salt Lake. He lives in Park City with wife Marilyn and daughter Maddie. An avid cyclist, in his spare time he rides and rides…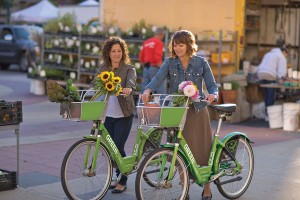 Photo courtesy of GREENbike
Launched in April of 2013, Salt Lake's GREENbike program is a non-profit, public/private partnership between Salt Lake City, The Salt Lake Chamber of Commerce and the Salt Lake City Downtown Alliance. GREENbike expects about 5,500 users during its first year, organizers said. That means during its first year of operation, 77,000 miles won't be driven in autos and 20,000 cold-car starts won't add to air pollution, according to City Hall spokesman Art Raymond.
Boulder, Colorado is considered one of the country's leading bicycle friendly communities, but Salt Lake City is on pace to outstrip Boulder's first year of bike sharing. Boulder launched its program in 2011 with 14 stations — four more than Salt Lake City — and recorded 7,000 users making 17,000 trips during a year.
GREENbike's Board of Directors reads like a who's-who of city leaders: Salt Lake City Mayor Ralph Becker, Downtown Alliance Executive Director Jason Mathis, Visit Salt Lake President Scott Beck, Salt Lake City Transportation Director Robin Hutcheson, Marketing Director for City Creek Center Dee Brewer, Deputy Director for the Wasatch Front Regional Council Ted Knowlton, Chief Planning Officer for the Utah Transit Authority Matt Sibul. Board Chair is Senior Traffic Engineer, Horrocks Engineers, Timothy Harpst.
The success of GREENbike "has surpassed expectations in every way," said Mathis. He credits the Downtown Alliance program's director, Ben Bolte, who had previously worked for Salt Lake City's transportation department. Already, plans are being made for expanding the system. "Ben has mapped out 30 potential stations downtown," Mathis said. "And we've identified $400,000 in additional funding."
Tags
SLC
,
Wasatch Mountains
,
City Creek
Archives
2023
2022
2021
2020
2019
2018
2017
2016
2015
2014
2013
2012
2011
2010