The Grand Prize - Our Summer Vacation!
Posted On

Jan 07, 2014
Category

Southern Utah
By Linzi Jensen –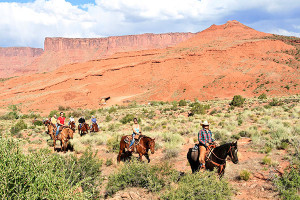 This year, thanks to Outdoor Utah and REI, my summer vacation was a blast! The Jensen family, mom, dad, my brother Zach and I spent a three-day vacation in Moab at the end of May. We stayed at Red Cliffs Lodge while we were there, and it was amazing!! We had a cabin right on the river! Inside was cool too! Zach, was excited about the TV's (there were three of them!!) When you opened the door a beautiful kitchen/family room greeted you. There was a couch, a microwave, a fridge, you name it, and they had it all; there were even a few dishes in the cupboards. Plus there was a back patio with an outdoor dining set and a couple of lounge chairs. We had a magnificent view of the stunning redrock cliffs from which the lodge gets its name.
We also had the opportunity to meet Colin, the owner of Red Cliffs. He was a really nice and responsible guy and took good care of his fields, horses, and his garden where he grows his own grapes for the wines produced at Red Cliffs, Castle Creek Winery.
Shortly after arriving, we started getting ready for our first adventure: a horseback ride! We had two guides with us, Tess and Jill and they were both incredibly nice and patient on our three-hour climb up the mountain. My favorite animal happens to be a horse so I sure had fun. When we got back we all had a quick shower then headed to the main lodge and had a wonderful dinner with Red and Monique, publishers of the Outdoor Utah Adventure Guide, and their spouses, Karen and Michael. Dinner consisted of steak, chicken Alfredo, salmon, salad, the works.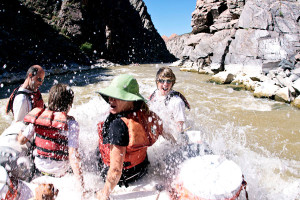 As you could imagine we didn't eat very much breakfast the next morning because we were so stuffed from the night before. Of course it might have been because we were too excited to eat very much because we were about to board the Sherri Griffith Expeditions bus for a white water rapids adventure on the Colorado River through Westwater Canyon. I was so excited! I had never been river rafting before so this was a pretty big jump for me.
When I boarded that bus my heart skipped a beat every time I thought about where we were headed; and oh man did I have the time of my life! When we first got on the river we had a quick lesson of what to do in an emergency; then we began our journey down the river. The cliff walls on both sides of us were jet black. It felt like you were entering a witch's territory, which was a little creepy if you think about it.
We stopped for lunch at a little and very muddy bank right before Little 'D' the first of Westwater's rapids. Our guides prepared a sandwich bar with all sorts of meats, cheeses, chips, and drinks. It was yummy!! Once we had cleaned up we were back on the river again for some white water rafting! Brenda, our talkative and very funny guide, took us over Little 'D' (Little Dolores), Skull Rapids, Surprise, Funnel Falls, Bowling Alley, and Sock-It-To-Me Rapids. And they were awesome!!! I've never been so jittery in my life!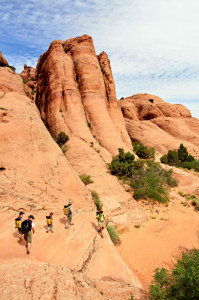 The water was the highest it had been in at least thirteen years. (At least Brenda hadn't run the river when it was this high and she has been a river guide for thirteen years.) My eight-year-old brother Zach wasn't old enough to go with us so Red took him on a daily-guided trip by Tag-a-Long Adventures. Zach had this to say: "It was really fun and I liked being with Red and I liked all the big waves the best!" The river was my dad's favorite too. He said: "It was one of the funnest experiences I've ever had! Now I know what I want to be when I grow up – a river guide!" I sure can't wait to do it again someday!
The next morning at breakfast we picked up our sack lunches to take on our exciting activity scheduled for that day. We were going canyoneering!!! We were to do two rappels hiking from the top of Negro Bill Canyon, the first into the Medieval Chamber and the second off Morning Glory Arch. They were both totally cool! After meeting our wonderful guide, Matt, we hiked for about forty-five minutes and arrived at the top of the Medieval Chamber. Matt gave us a quick lesson and we headed on down. I was the third one to go down and I was amazed at how beautiful it was inside that little cove! (Then again you've got to give it some credit because it was bigger than I thought it would be.)
Once everyone got down into the Chamber, we headed out a very narrow space in the rock and kept on hiking to our next destination. After you exited and walked a few feet it seemed like the exit route to the Medieval Chamber had disappeared into the rock. It was just like magic! When we reached the Arch, Matt set up the ropes and we started to rappel down the side of the arch. After everyone who wanted to go unaccompanied had gone down, he took Zach down with him then climbed back up the rope to assist the rest of our little group. Boy, is Matt strong! The only ones left at the top were my dad, Red, Matt and I.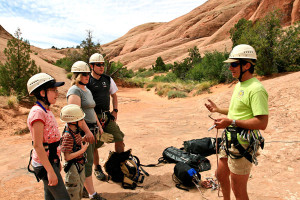 The four of us decided to do simul-rap rappels off of the arch. Simul-raps work by draping the rope off both sides of the arch to have two people descend at the same time off opposite ends of the rope. I went down with my dad and Red went down with Matt. It was a remarkable feeling to know that you could be able to just sit back in mid-air and have a short conversation with the person opposite you. I could've spent all day up there, hanging off that arch and gazing around. Once everyone was down, we pulled the rope off the arch and sat down to a refreshing lunch. The ground was almost covered in poison ivy so we couldn't exactly wander off the trail without regretting it.
It was about a two-mile hike back and let me tell you, that heat was a killer! Hiking in the sand is much different than what I am used to. I'm surprised I didn't get sunburned that day. Canyoneering was my mom's favorite. She says: "It was amazing to sit back and control your own fall to the ground. I just let myself spin around so that I could see the magnificence of every angle. Wow! What an incredible feeling!"
We spent the last night in our cabin of course, and then we packed everything up and went to the lodge for breakfast. We didn't plan on meeting anyone there but we ran into Mo and Michael and we decided to take some more pictures. We ended up meeting Red and Karen too, so again, we took some group photos. After that we said our farewells and we went our separate ways. We loved Moab so much we decided to stay a few more days at our own expense.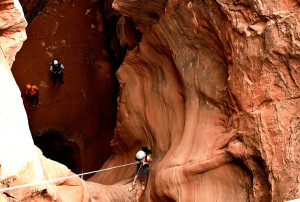 We will never forget this absolutely fantastic adventure, the kindness of everyone we met, and their professionalism. It has opened so many opportunities for us in the future. And we gained new friends. I truly hope that I will be able to go on another vacation that was half as exciting. We had so much fun!
A big thank you to Outdoor Utah, REI, Red Cliffs Lodge, Sherri Griffith Expeditions, Tag-a-Long Tours and Desert Highlights Canyoneering for making the Jensen family vacation the best ever!
Twelve year old Linzi Jensen won the Grand Prize in an essay contest "What I Did on My Summer Vacation" sponsored by Outdoor Utah and REI. Her three-day family adventure vacation to Red Cliffs Lodge near Moab was Linzi's reward.
DiscoverMoab.com
RedCliffsLodge.com
Tagalong.com
DesertHighlights.com
GriffithExp.com
Tags
Moab
,
Canyoneering
,
Colorado River
,
Family Trips
,
Horseback
Archives
2023
2022
2021
2020
2019
2018
2017
2016
2015
2014
2013
2012
2011
2010