Teach Your (Grand) Children Well (with apologies to CSNY)
Posted On

Feb 17, 2012
Category

Southern Utah
Destinations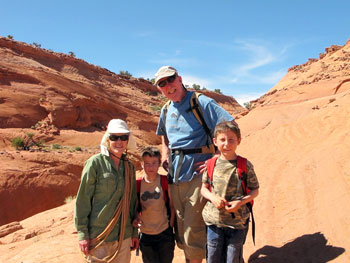 Is there anything more satisfying than enjoying Utah's great outdoors with your kids?  Maybe. Doing it with your grandkids.  And leaving the parents behind!
Eight year old cousins Max and Ethan are no strangers to Utah's outdoor adventures.  Campers, hikers, river runners, cyclists and skiers, these active youngsters started at an early age.  But this adventure is different. This one is with grandparents Namie and Pops.
N&P are also not neophytes when it comes to backcountry adventures.  Namie was a professional skier for 15 years and now competes in several road bike centuries.  Pops has been skiing since he was five and is a retired NORBA licensed mountain bike racer.  They run the west's most challenging rivers each year.  They are also seasoned canyoneers and rappellers, having experienced many of Utah's finest slots and drops – Birch Hollow, Water Canyon, Medieval Chamber, Mystery, Pine Creek, Egypt II and III, Yankee Doodle, Looking Glass and Zero Gravity, to name but a few.  But Max and Ethan have never been in a slot canyon or on a rope.  The adventure begins.
Ease into it with something familiar – camping at gorgeous Snow Canyon State Park near St. George.  Rather than the usual camp dinner of hot dogs and chili, we introduce the guys to a backpack meal of mac/cheese and eat right out of the pouch.  The lads loved it, almost as much as the S'mores.
The following morning, after breaking camp, we head to Springdale outside
Zion National Park
and meet up with our old friend, Dean Woods, owner of
Zion Rock & Mountain Guides
.  Dean and his son Little Dean (a misnomer since he's half a foot taller than his dad) are going to lead us on a hike down into a slot in an area called The Barracks, east of the park.  What a day! After an exciting Jeep ride into the canyon, Ethan and Max went stride for stride with Little Dean down to the Virgin River, climbed up into a cave used as a dwelling by native Fremont's centuries ago,  marveled at their wall art across the way and continued down river into the slot.  After hiking back up and saying our adios's to Dean & Dean, four tired adventurers spent a restful night at
Zion Mountain Ranch
.
On to State Hwy 12, Utah's only designated National Scenic Highway and day three, a breather – an easy hike in Red Canyon aptly named the Arches Hike.  Eight year olds love climbing up and sitting under an arch, and this hike has many.  Then on to another Utah national park gem, Bryce Canyon, where we do the enjoyable and popular Mossy Cave hike, a short and easy hike where the guys see hoodoos, a powerful waterfall, and the mossy cave with icefalls.  We fill up the afternoon with a backcountry drive to the massive Grosvenor Arch and return to Hwy 12 via picturesque Kodachrome Basin State Park.  We stay the night in the tiny town of Tropic at the home of friends John and Marsha Holland, owners of
Bryce/Cannonville KOA
. The lads pitch a tent and sleep under the Bryce night, reputed to be one of the world's finest star gazing venues. 
(Note: John and Marsha Holland graciously hosted our dinner, evening's stay and breakfast, but if your travels take you to Bryce and Tropic, you may want to book a room at the lovely Stone Canyon Inn.)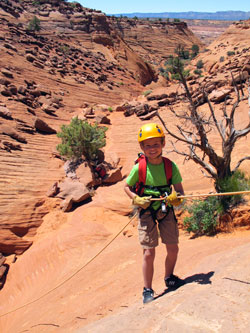 On to still another tiny town of Escalante bordering the huge, wild
Grand Staircase Escalante National Monument
, nearly two million acres of Utah backcountry and destined to stay that way.  We check into the
Circle D Motel
where we will enjoy a comfortable two night's stay and dine in their fine restaurant, the
Circle D Eatery
.
Aaron Johnson,
Grand Staircase Adventure Guides
, leads day hikes in the Monument.  We enlist Aaron to go into Zebra and Tunnel Slots, off of the famed Hole-in-the Rock Road. Zebra and Tunnel are straightforward, non-technical and flat out gorgeous. The striations in the sandstone walls give Zebra its name. The stripes zig, zag and weave in fantastic patterns.  Before moving upcanyon, we shed our day packs, easier to maneuver through the narrow canyon walls.  A great intro to hiking in the Monument and a memorable prelude to a more adventuresome tomorrow.
Tomorrow arrives. We meet up with Nathan and Karen Rafferty and yet another 8 year old, their son Sam.  The three kids hit if off immediately.  Nathan is the president of Ski Utah, the marketing organization for the sport in the state.  The family is highly athletic, but like Max and Ethan, have never been dangling from a rope off an 80 foot cliff, nor have they squeezed through a 10 inch slot canyon.  Today they will.
Our good friend and guide, Rick Green from
Excursions of Escalante
, has the plan, and a good one.  An hour+ long instruction on rope management, gear usage and terminology, commands, safety and slot canyon techniques, all great prerequisites for never-ever canyoneers.  Our playground is nearby Egypt 1-1/2 Canyon, where the practice field is a mildly sloping sandstone wall of about 30 feet, enough to get the boys' attention but not nearly as daunting and intimidating as the 300 foot drop at nearby Egypt II, Namie's favorite.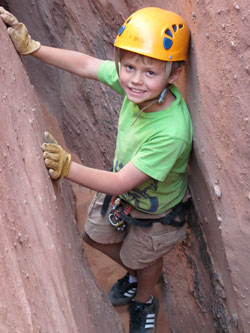 Nathan and Karen drop first, and they're naturals.  Into the sport from the get-go.  The boys go next, one at a time, parallel with Rick, who calmly tutors them on body position, brake hand usage and all the subtle nuances of rappelling.  Apprehensive at first, slowly but surely confidence and skills increase.  When Rick is convinced the lads are ready, we head into the slot for the day's adrenaline adventure.  Three eight year olds, hooked for life! Yahooo!  Back at Excursions, we say our goodbyes to the Rafferty family, vowing to plan yet another Utah backcountry adventure soon.
The 30 or so mile drive from Escalante to Boulder is, in a word, breathtaking.  Through the heart of the Monument, the road, known as "Journey Through Time", twists and turns downward to the canyon floor and the confluence of the Escalante River and Calf Creek.  From there it snakes up, ultimately over the Hogsback, a short stretch with virtually no shoulder and 1000 foot drops on both sides.  Sure to raise one's pucker factor on the first encounter.
In Boulder, we expose the boys to some Utah Native American culture at the
Anasazi State Park
.  This ancient village was once one of the largest Ancestral Puebloan communities.  Know as the Coombs Site, it may have housed as many as 200 people, believed to have been occupied from AD 1160 to 1235.  Archeological excavations at the site have revealed more than 100 structures and have unearthed thousands of artifacts, many on display in the museum.  A little cultural history to go along with outdoor adventure never hurt an eight year old.
Up and over mighty Boulder Mountain, through towering alpine forests of pine and aspen.  The diversity of the Utah landscape is never ending.  Views of the jagged Waterpocket Fold in
Capitol Reef National Park
and the mysterious Henry Mountains are stunning.  On into the gateway town of Torrey, where Hwy 12 ends, and into the Park for another popular Utah classic, the hike to Hickman Bridge.
Finally, homeward bound.  But first, a side trip to another Utah wonder,
Goblin Valley State Park
. The vast landscape of sandstone goblins may have visitors wondering if they're on Mars or in Utah. The movie, Galaxy Quest, was filmed here because of its unearthly scenery. Scores of intricately eroded creatures greet visitors to Goblin Valley. The young men hike among these rock formations and discover numerous haunting coves.
Alas, tired yet fulfilled, the five day adventure excursion ends.  But not the countless memories for Ethan and Max.  Nor for Namie and Pops.
If you go:
StateParks.utah.gov
ZionRockGuides.com
Zion Mountain Ranch  ZMR.com
Koa.com/campgrounds/cannonville
EscalanteCircleDMotel.com
GrandStaircaseAdventureGuides.com
ExcursionsofEscalante.com
Tags
National Parks
,
Family Trips
,
State &Amp; Nat'L Parks
,
Slot Canyons
,
Grand Staircase
,
Scenic Byways
Archives
2023
2022
2021
2020
2019
2018
2017
2016
2015
2014
2013
2012
2011
2010