Take a Journey Through Time – National Scenic Byway 12
Posted On

Apr 08, 2010
Category

Southern Utah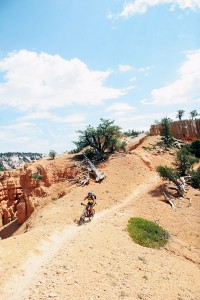 With all the beautiful landscape in and around Capitol Reef National Park and the picturesque town of Torrey, and with all the quality flyfishing, it makes for a difficult decision to depart and head on.  But don't fret.  You'll soon be rewarded almost beyond belief. The 130 miles of State Hwy 12 from Torrey to the intersection of US Hwy 89 near Panguitch is designated a National Scenic Byway and Utah's first All-American Road.  The route leads travelers through some of Utah's most dramatic and stunning scenery.  Arguably, the most dramatic and scenic in the entire country.
From Torrey the road, aptly named Journey Through Time Scenic Byway, winds its way south and upward past Pleasant Creek and Oak Creek through the Dixie National Forest.  Towering pines and aspens form a veritable tunnel along the way in this high alpine landscape.  Several overlooks, Larb Hollow, Steep Creek and Homestead are well worth visiting since panoramic views of Capitol Reef, the Waterpocket Fold and the Henry Mountains in the distance will demand the camera. The route roughly parallels the Great Western Trail (GWT) up to the summit of Boulder Mountain ("Boulder Top" to locals.)  The GWT is a major national trail running from the US borders with Canada to Mexico, bisecting Utah for nearly 400 miles.  The GWT has many sections of parallel trail to allow both motorized and non-motorized users to co-exist. Hikers, mountain bikers, horsemen/horsewomen and ATV riders, share the resource!  If you're still itching to hook into some wily trout, there are many high alpine lakes up here, although most are more reachable by horseback.
The highway descends off of Boulder Top to the tiny, historical town of Boulder.  Don't blink or you'll miss it.  Boulder's claim to fame is that it was the last town in the country to have mule train postal delivery.  Stop in at the fascinating Anasazi State Park or take a side trip on the historic Burr Trail. Only slightly more populous, Escalante is but 30 miles southwest.  But an incredible 30 miles through the Grand Staircase Escalante National Monument.  At one point the road traverses over the Hogsback, where deep slickrock canyons gape open on both sides of the road, thousands of feet down to the floor.  Best the driver slow here and keep both eyes on the road, until safely on the turnout.  If time permits, a great side trip is the Hells Backbone Road loop around Box Death Hollow.  4WD and high clearance recommended.
Boulder and Escalante combined have a population of less than 1100 hearty souls, yet these two southern Utah communities provide much of the necessary services and outdoor recreation support to the 1.9 million acre Grand Staircase Escalante National Monument.  Hiking and backpacking, pack animal trips, canyoneering and horseback/flyfish excursions are major activities in GSENM and on Boulder Mountain. It seems that most every citizen is involved in one way or another – lodging, gear sales, guide services, etc.  The new and impressive Interagency Visitor's Center houses BLM, US Forest Service and National Park personnel.  Stop here for brochures, topo's, information, to view displays and, most importantly, advice on where to go, how to enjoy and survive in the vast wonderland that is GSENM.
On to Bryce Canyon National Park.
Bryce is a short and scenic drive from both Zion and Capitol Reef, roughly midway between the two, but oh so different from its sister national parks.  Capitol Reef and Zion are viewed from their canyon floors looking upward to huge redrock monoliths.  Conversely, Bryce is viewed from its rim looking down onto hundreds of convoluted spires known as "hoodoos."  Hiking down into this fascinating landscape is a rare treat.
Bryce hiking trails are rated easy, moderate and strenuous but be aware that all begin at the rim and descent into the canyon.  He who goes down, must come back up.  The Queens Garden Trail beginning at Sunrise Point, descending 320 feet, is considered the least difficult trail entering the canyon from the rim. Traveling this trail you will see many hoodoos, representative of garden like features. Using your imagination you may be able to see Queen Victoria at the end of a short spur trail, overseeing the garden before her.
The trail to Tower Bridge begins at Sunrise Point and heads northeast along the Fairyland Loop. This trail is considered a "moderate hike" due to the drop in elevation from the rim down to Tower Bridge of 950 feet, and takes about 2-3 hours to complete the 3 mile hike. Once at Tower Bridge one has the option of returning to Sunset point or continuing on farther around the Fairyland Loop. For all hikes in Bryce good shoes/boots are a must and carry plenty of water.
Horse and Mule Rides are an alternative way to see the canyon. In spring, summer and fall, Canyon Trail Rides wranglers lead 2-hour and 4-hour horse and mule rides into Bryce Amphitheater along a dedicated horse trail and the Peek-a-boo Loop Trail.
Finally, the Journey Through Time Scenic Byway descends from Bryce down into Red Canyon with more eye-boggling landscape.  Some of Utah's finest mountain biking is here with Thunder Mountain rated the best by many seasoned riders.  Trails in Casto and Losee Canyons are multi-use - hiking, mountain biking, off-road vehicles and horse.  Other trails in Red Canyon are designated hiking only and one of the best, if time is a factor, is the 3/4-mile Arches Trail. This great family hike features 15 arches along the route and a comfy cove for a picnic lunch.
www.brycecanyoncountry.com
www.escalante-cc.com
Tags
Hiking
,
Mountain Biking
,
National Parks
,
Grand Staircase
,
Scenic Byways
,
Dixie National Forest
Archives
2023
2022
2021
2020
2019
2018
2017
2016
2015
2014
2013
2012
2011
2010