Some, Some Summertime!
Posted On

Jun 17, 2012
Category

Northern Utah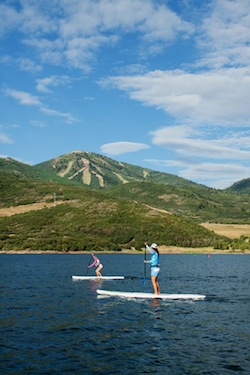 By Stephanie Potempa –
Utah may be known for having the greatest snow on earth, but summers are one of the state's best kept secrets, especially in Northern Utah, where long, sunny days with zero humidity and cool, star-filled nights are the norm. Whether you're into casting flies or drifting lazily in a tube; a hard core mountain biker or a scenic hiker; enjoy roughing it in a tent or have a penchant room service – Northern Utah has something to offer everyone. Plan to spend some time this summer exploring Utah and Wasatch counties, discovering the many opportunities that await you.
Take I80 east from Salt Lake City before heading south on highway 40 towards Heber.  First, stop at Jordanelle State Park, one of two recreational reservoirs in Wasatch County, the other being Deer Creek; both with stretches of sandy beaches, fishing and boating.  Rock Cliff, located on the southeast side of Jordanelle, offers a quieter experience for those looking to fish from shore or in non-motorized craft, and has an informative nature center and nearby hiking trails. Hailstone, situated on the west side of the reservoir, has plenty of amenities for RV's, boaters and campers. Here you might enjoy a picnic lunch at one of the many scenic spots overlooking the Jordanelle with the Wasatch Range rising in the background, the peaks still blanketed with snow. Get your sea legs with a sailing lesson or test your balance on a stand-up paddleboard. For those looking for a faster pace, both wave runner and boat rentals are available from Jordanelle Rentals.  To make it an overnight, consider booking one of the new cabins located within the Jordanelle State Park for a unique vantage point and a campy feel. The cozy cabins provide all the creature comforts including kitchenettes and electricity. Think s'mores around the campfire before climbing into a warm bed, waking well rested to sunrise over the water.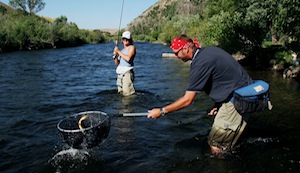 Next, continue south into Heber Valley, one of the prettiest in the state with Mt. Timpanogos looming down from 12,000 feet above. As you head into Heber, note the Provo River, a blue-ribbon, brown trout fishery meandering through the valley and dotted with anglers casting flies. Make a mental note to get in touch with Trout Bum2 (
www.troutbum2.com
), for the insider scoop on the best fishing holes, riffles and runs and a fly tying lesson. If you've brought mountain bikes along, Dutch Hollow, located within Wasatch Mountain State Park, is a great place to test out the knobby.  And, if you forgot it, bike rentals are available at Adventure Haus at Zermatt Resort.  This rolling terrain has something for all levels of bikers and hikers, with views to boot.  Keep your eyes out for red tail hawks, bald eagles and the occasional moose on this sage lined singletrack trail system.
After exploring all afternoon, ice-cream is a must. Fortunately, Heber Valley Creamery, situated on a fourth generation farm, is close-by. Enjoy homemade ice-cream – made by students from the University of Utah – on the patio while listening to the gentle mooing of the resident cows. Be sure to pick up a couple blocks of locally made cheese – try the popular Juustoleipa.
A room at the European-inspired and award winning Zermatt Resort in Midway, is a sure treat. Schedule a tee time on the picturesque 18-hole golf course (reduced rates after 3pm), or pamper yourself with a treatment at the spa. Plenty of other fun outdoor activities are available including an executive putt-putt course, two swimming pools, volleyball and tennis courts. Across the street at the newly renovated Homestead Resort is The Crater - a 65 foot deep caldera or hot pot, formed over 10,000 years ago.  This limestone rock formation, hollowed out by nature, is filled with 95°F mineral fed water known to have healing and restorative properties.  The Crater is available for swimming, scuba-diving and most recently, paddleboard yoga with Park City Yoga Adventures. Friday nights at Zermatt Resort offer the popular seafood buffet at Schinetter's, including a sushi bar, raw bar and plenty of decadent desserts. After dinner, gather 'round a crackling campfire beneath the stars for authentic cowboy stories from times past.
Get fueled up for another action packed day with breakfast at the fun and kitschy Fill'er Up Coffee Station in Midway - an old service station now filled with vintage toys. A visit to Heber wouldn't be complete without climbing aboard the 100-year-old Heber Valley Railroad. Plan ahead and make reservations (
hebervalleyrr.org/excursions
), choosing from sixteen different excursions ranging from adventurous to scenic. The Provo Canyon Limited offers a breathtaking ride through the glacier-carved landscape providing views of Mount Timpanogos and the Provo River.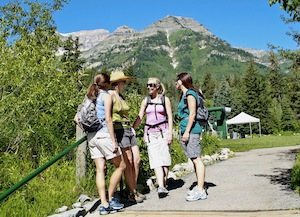 Be sure pack your hiking gear as you head toward Provo and Sundance Resort, nestled within thousands of acres of Wasatch Mountain wilderness. In 1969, Robert Redford bought the land and, with great foresight, saw the pristine area as an ideal locale for environmental and artistic experimentation. The resort boasts green policies dating back to 1969 including wind power and Sundance's own recycled glass-works kiln. Enjoy impressive views on a chairlift ride to access more than 10 miles of alpine hiking trails carpeted in wildflowers. Or, rent a mountain bike at the Mountain Outfitter shop and cruise through 25 miles of singletrack.  A unique opportunity rises with full moon guided hikes and chairlift rides. Enjoy lunch at the Foundry Grill, a casual dining experience with lovely patio seating or make a picnic with tasty selections from The Deli, both located at the base of the mountain.  Be sure to spend some time browsing for a worthy souvenir at the General Store, the store that provided the inspiration for the Sundance Catalogue. If you've timed your visit to coincide with one of the many summer productions at Sundance, throw down a blanket and enjoy theatre under the stars for the musical, "Seven Brides for Seven Brothers", at the Eccles Outdoor Amphitheater.  The Bluebird Café' Concert Series in July features singer / songwriters from Nashville's famed Bluebird Café.  Visit
www.sundanceresort.com
for specific dates and times.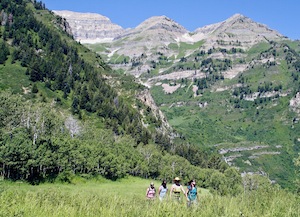 The summer season seems to go by quickly in Northern Utah, but the days are long and are packed with concerts, festivals and events for all ages. The Timpanogos Storytelling Festival, free Thursday night concerts in Heber City Park, the Utah Valley Marathon and the Wasatch County Fair are just a few examples of the unique happenings in both Heber and Utah valleys this summer.  Visit 
uvtogether.com/home
and 
www.gohebervalley.com
for dates and information.
Now that the snow has melted and summer has arrived, be sure to make some time to explore Utah and Wasatch counties to discover for yourself why so many have come for the winters and stayed for the summers.
Tags
SUP
,
Provo River
,
Flyfishing
,
State &Amp; Nat'L Parks
,
Heber Valley
Archives
2023
2022
2021
2020
2019
2018
2017
2016
2015
2014
2013
2012
2011
2010