Snowbird and Solitude – High Elevation Getaway from Salt Lake City
Posted On

Apr 08, 2010
Category

Northern Utah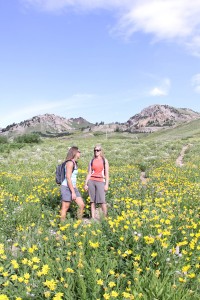 Solitude and Snowbird Ski Resorts are great destinations for a summer getaway. Their proximity to Salt Lake City in the Cottonwood Canyons makes them ideal for a quick reprieve from the hustle and bustle or for an active multi-day vacation. The high elevation of both resorts means temperatures tend to be moderate and comfortable. The majesty of the Wasatch Mountain Range beckons visitors to hike through the surrounding shaded forests or soak up the sun in an idyllic mountain meadow, lavishly colored with wildflowers. Solitude and Snowbird have extensive mountain bike trail systems throughout their surrounding mountains that are within a short pedal from resort centers.
Snowbird and Solitude feature a wide and diverse variety of summer events, activities, dining and lodging options. Both resorts offer lift served mountain biking and mountain scooters (a great option for less experienced riders), hiking, wildflower tours, trout fishing ponds for the kids, and scenic chairlift and/or tram rides. In addition, each offers its own unique activities, such as disc golf at Solitude. Snowbird has bungy trampoline jumping, two separate climbing walls and a zip rider that whooshes harnessed riders a thousand feet down a suspended cable from a 50 foot tower near the top of the Chickadee lift to the Snowbird Center. Other activities available at Snowbird are horseback riding, outdoor concerts, the annual Oktoberfest and more.
Whenever you plan activities in the mountains, be sure to bring sunscreen, plenty of water and your camera. You just might have the chance to spot and photograph wildlife such as deer, moose, many types of birds and other mountain critters.
For a complete list of activities and events, see the following websites:
www.snowbird.com
www.skisolitude.com
Tags
Climbing
,
Snowbird
,
Wasatch Mountains
,
Festivals
,
Solitude
,
Disc Golf
,
Concerts
Archives
2023
2022
2021
2020
2019
2018
2017
2016
2015
2014
2013
2012
2011
2010