Rainbow Bridge the Real Way, the Navajo Way
Posted On

Apr 17, 2013
Category

Southern Utah
By Douglas Haag, Photos by Monique Beeley 
–
Make sure to visit Rainbow Bridge Photo Gallery
Canyonlands Field Institute (CFI) of Moab guides a five-day hike to Rainbow Bridge near Lake Powell in the Glen Canyon National Recreation Area in southeastern Utah. You hike while pack stock, in a separate and distant train, carry the camp and cooking gear. The easier and much more popular way to get to Rainbow Bridge is by houseboat or water craft, but to walk to this magnificent work of nature over rugged ground for four days really appealed to me - doing it the harder way. The way of the Navajo almost a century ago.
We met at Recapture Lodge in tiny Bluff on a beautiful southern Utah spring evening to be briefed by CFI Director and Naturalist-Guide, Karla VanderZanden. The hiking party consisted of eleven; three adventure-seeking clients, the staff of three from the Outdoor Utah Vacation Guide documenting the adventure for a story in their 2006 edition, and their three spouses. Karla had enlisted her friend from Moab, Jose Tejada, to come along as a swamper (a backcountry term for general helper). Jose, a bear of a man with jet-black hair and full beard, both sprinkled with silver, had just acquired ownership of the river company where he has guided for over 22 years, Sheri Griffith Expeditions. He's full of wit, stories and a delight to have along.
We packed our tents and bedrolls in CFI's pack bags and boarded their van the next morning for our first leg - to Navajo National Monument over the border into Arizona for a quick view of Betatakin ruins and a picnic lunch. Next, on to Navajo Mountain Village, a community of some 200 Natives scattered widely across the high desert, looking west to their sacred mountain that rises from the village base at 6500 feet to10,300. Red sandstone rock (Navajo sandstone, of course) juniper cedars, pinion pine, black bush and a myriad of desert and cactus flowers painted a glorious springtime in the desert.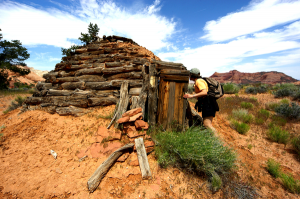 Here we met our Navajo hosts, the gracious Atene family. The patriarch, grandpa Buck Navajo (his real name) and mother Rose, a traditional Navajo woman who lives the old way for part of the year - in a Hogan, tending her large flock of sheep with the help of some capable and independent dogs. Rose had ten children, some of whom we met. Son Eric was to be our pack master, with the help of a relative, Randall from the Monument Valley Tribal Park, a genuine cowboy with rodeo scars to prove it. You knew he was a cowboy just by looking at him. Several other Atene family members - Eric's brother, sisters, his wife Charlene and 11-year old nephew Andrew, a budding wrangler in his own right, joined us. Several of the Atene family had earned college degrees from Northern Arizona University and said that education is an important factor in getting meaningful jobs. However, they wish to continue to respect, maintain and live their culture and heritage.
That evening, by the glow of the setting sun, dinner of steaks and salad was accompanied by traditional beans and fry bread prepared by the Atene women. Afterward, the family retold the history of the Navajo Mountain Community, located in an isolated western part of the Navajo reservation, in a remote part of the country.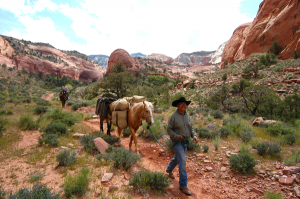 In 1864 Kit Carson was rounding up all the Navajos to move them to New Mexico. 13 men and 13 women and children, led by Hoshkinini, hid out in the labyrinthine canyons on the north slopes of Navajo Mountain. They successfully eluded Kit and his boys in blue. These 26 are the strong-willed ancestors of the present-day community of Navajo Mountain. Never signed a treaty and never conquered. And rightly proud of it today. In 1868 the United States government allowed the Navajos to return to their ancestral home after a delegation went to Washington to plead their case.
After dinner, 82 year-old Buck Navajo chanted a very touching and spiritual prayer of blessing asking for a safe journey for us to Navajo Bridge, a very sacred place for them.
Around the fire, Karla told of the first Anglos to see the bridge. In 1909 there were persistent rumors that the Navajos knew of a large stone bridge in a remote canyon. Two Anglos (a Mr. Douglass and a Mr. Cummings, a university professor) each hired Paiute guides, Nasja Begay and Mike's Boy (also known as Jim Mike). They were in direct competition with each other, eager to be the first to "discover" the bridge. It seems that Begay actually knew where the bridge was, and Jim Mike was only guessing. Anyway, the two parties eventually agreed to work together and raced onward. Begay held the secret to the way because only he knew of a steep slot canyon that led down into a tributary of Bridge Canyon. Today, near the bridge, there are two plaques mounted on the sandstone wall that acknowledges the efforts of Begay and Jim Mike in leading the two white men to the site. Good for them! The local Indians first found it first – not Douglas or Cummings.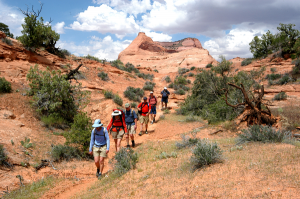 After a long and memorable day we pitched tents among the trees around the Atene's home. That evening we were serenaded by dogs, coyotes, horses and burros under a gazillion stars, and sleep came easy.
After early breakfast we were trucked several miles to the trailhead. Eric, Charlene, Randall and Andrew loaded gear on the horses and mules and we started hiking with Karla setting the pace, Jose at the rear. That morning we stopped to see an old Hogan lived in by a Paiute named Toby Owl. Mr. Owl had died about 15 years ago and his Hogan was left undisturbed. We learned that there are male and female Hogan's. Not as to who may have lived in them, but the construction of the Hogan itself.
The landscape was beautiful, going west along the north side of Navajo Mountain. Red sandstone cliffs, streams in the washes, views of the Kaiparowits Plateau far to the north/northwest and to our south. And the flowers! The desert in full and glorious bloom! And always the backdrop, Navajo Mountain, its peak covered with snow. By our noon break for lunch, and to 'pump' water, we had crossed Cha and Bald Rock Canyons. Eric and his pack train passed us at lunch and went on to Surprise Valley, our evening campsite. Surprise Valley plays a part (romance!) in Zane Grey's book, The Rainbow Trail. A stunningly beautiful place. We hiked 6 miles this day – not long, but strenuous with all the ups and downs. A bath in the nearby stream was cold, but refreshing and the mating frogs provided a delightful serenade that night.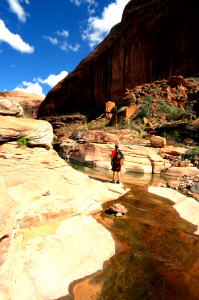 The next day Charlene left us and rode one of the horses back home after breakfast. As we hiked out of Surprise Valley we passed Owl Bridge, named for Toby Owl's family. We were in a high valley with salmon-colored Entrada formation above the Navajo sandstone. Below the Navajo sandstone is the Kayenta formation (mainly limestone or shale) that is harder and over eons has intercepted water flowing through the porous Navajo, resulting in springs at the junctures. In some of the creek beds, the Kayenta looked like gray shingles.
Today, we lunched in Oak Creek Canyon. (How many Oak Creek Canyons must there be in the world!) Today's hike was only 5 miles but again had many elevation changes that are hard on my right knee. We went down Nasja Begay's secret slot canyon leading into a tributary of Bridge Canyon. This was steep and rocky but we reached our evening camp about 2:30 p.m. The weather was threatening, so we pitched tents in a hurry. An hour later, we had a hard rain and, since I had the largest tent, I invited Eric, Randall and Andrew to share it while we waited it out. The storm produced some rolling thunder like I had never heard before, some rumblings continuing for almost a half a minute.
The last leg on Saturday was only about 3½ miles, but all downhill, even harder on my aching knees. We hiked down Bridge Canyon to the confluence of Red Bud Creek, where the more difficult backpack route around the south of the mountain meets the Bridge Trail. That afternoon, I had my first glimpse of the great Rainbow Bridge – awesome!
It was still about a mile away, but it's so immense that I could see a piece of it down the canyon. About a half mile later I reached camp, but was hurting too much to go on to the bridge. The last couple of miles we were all 'doing our own thing' in the canyon and going at our own pace. Some were taking a dip in plunge pools, others meditating, and all taking in the unbelievable scenery. Back 80 years ago, the campsite had been a stopover for tourists who rode horses down the Red Bud Trail one day, view the bridge, and ride out the next. All that is left of the camp today is about a dozen rusting metal bed frames and springs, but they still made for a bit more comfort for us than the hard ground!
Before our final dinner, we camped under high sandstone cliffs and watched cliff swallows do their aerial circus act up and around them. Then, suddenly they would disappear over the edge, as if they had enough insects for their evening meal. After dinner Eric told us a bit about the Atene family and his desire to keep their culture alive. Eric and Charlene have three young sons and he's a teacher at the Montezuma Creek Community elementary school.
On Sunday, the last day, we hiked to the base of the bridge, revered by the Navajo. We all paused while Eric offered a silent prayer, which allowed us to pass beneath the span towering above. Nobody spoke while we all walked slowly through. Soon, the waters of Lake Powell appeared below. Eric and his crew and pack animals had to start the return trip because the horses were eager to get home. It would take them only six hours. Throughout the hike, I had marveled at how they could keep their stock from straying too far, for they hobbled only one horse. But they still had to round them up each morning. Eric, Randall and Andrew just seemed to love to chase horses. I think they would let them loose on purpose, just so they could chase them. It was a poignant parting from these new friends.
Less than two miles down the trail we came to the dock where two boats met us for the trip up Lake Powell. One final venture was a visit to the Cathedral in the Desert, a fantastic grotto complete with a waterfall and small sand beach beneath. Soon, the lake's rising waters, about nine inches a day, will leave the entire site beneath the surface. Who knows when it will re-appear? Sadly, perhaps never. At Hall's Crossing, CFI had a van waiting to transport us back to the motel in Bluff. We completed our five-day loop late afternoon and said our goodbyes to newfound hiking friends. Hopefully, we'll all meet again on the Rainbow Trail with the Atene family, Jose and our gracious hostess, Karla. We were all quiet with our own thoughts. Mine were of a hike that this hiker will never forget.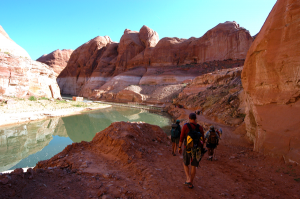 Douglas Haag lives in Boulder City, Nevada. Since his retirement he has been a volunteer hike leader for ten years at Lake Mead National Recreation Area for the National Park Service. Doug's book is titled 15 Winter Hikes in Lake Mead National Recreation Area.

Editor's Note: In the course of publishing the Outdoor Utah Vacation Guide and maintaining content on our four Web sites, the staff of Outdoor Utah has the privilege of experiencing many of Utah's premier outdoor adventures. The Rainbow Bridge hike was one of these, and on this trip spouses accompanied us. To a person, we all agreed (which seldom, if ever, happens) that this was one of the best. From a recreational standpoint the hike, taken alone, is outstanding. But there are many great hikes in Utah. However, the historical, cultural and spiritual aspect that the Rainbow hike adds to the experience creates something special. The knowledge, wit and charm that Karla VanderZanden, Jose Tejada and the Atene family bring to the trip make it so.
CFI has a regularly scheduled Rainbow Bridge hike this fall on October 11-15, and two more next year, April 18-23, and again in October 2006. Or, put your own group together (minimum of 6) for a custom charter. Incidentally, the Rainbow hike is suitable for a wide range of ages (minimum 12 years) and physical abilities. Fit 80 year-old seniors have hiked the trail. Bring the family. The kids will learn more in five days in the backcountry than in several semesters in the classroom!
Tags
Hiking
,
Southern Utah
,
Backpacking
,
Rainbow Bridge
,
Glen Canyon
,
Navajo Mountain
Archives
2023
2022
2021
2020
2019
2018
2017
2016
2015
2014
2013
2012
2011
2010