On the Rim with Rim – Kaibab Plateau Mountain Biking
Posted On

Jun 01, 2014
Category

Southern Utah
Photos & story by Monique Beeley –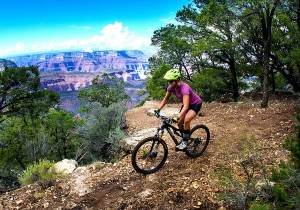 Sleeping soundly, I'm suddenly startled awake by the early morning coffee call … After taking a few moments to orientate myself with my surroundings ... sleeping bag, tent, chill in the air…my thoughts race to the events of the previous day and a smile slowly lights up … yeah … today is another day in paradise mountain biking on some of the best trails in the west. Specifically, my sister Nicole and I are on a five day guided mountain bike adventure on the North Rim of the Grand Canyon (ok, this is not in Utah) with Rim Tours, based out of Moab (this is a Utah company.)
This trip has been an adventure on my "bucket list" for many years and last fall I finally had the opportunity to check it off. Our trip commenced on the Arizona Trail, atop the Kaibab Plateau which, at its highest point, sits at an elevation of 9421 ft. and is bordered on its southern end by the Grand Canyon.
With the sun shining big and bright in the gorgeous blue sky, in the distance all I could see was a never-ending singletrack winding through heavily forested terrain … wow … this really is awesome. My cadence began to quicken as my legs warmed up … swooping up, down and all around, riding fast and furious … as I sometimes do. Thoughts of life at home and other responsibilities slowly fading and being replaced with pure joy … I really do love to ride my mountain bike, especially in places with such magnificent landscapes.
By day 3, I am relaxed, unplugged and totally immersed in the breathtaking beauty of this magical place. Our camp sits just a few steps away from an overlook of the North Rim of the Grand Canyon - a wonderful place to enjoy my morning coffee and just stare in awe at the sights that lie around and below. The morning fog was just beginning to lift off the colorful red cliff walls and brightly colored green plateaus, making for a myriad of ever changing vistas. I could have remained in this spot for hours, if it wasn't for the mountain biking opportunities the day at hand held.
The Rainbow Trail, 18 miles in length, skirts along the rim connecting five points overlooking the Grand Canyon; Parissawampitts, Fence, Locust, North Timp and Timp. Each offers a unique and spectacular view. From Parissawampitts Point, one has mind-boggling views of Tapeats Amphitheater, Fishtail Mesa, Steamboat Mountain, and Great Thumb Mesa. This fun and fast singletrack also winds its way through a forest of old growth Ponderosa pines, groves of aspens and small meadows, where wildlife abounds.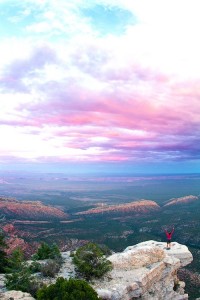 I would be remiss not to give a big shout out to Tess & Beth, our fabulous guides. Not only did they make some of the best gourmet meals ever … sometimes in the rain, but made the experience even more memorable with their immense knowledge of the area. What better way to spend five days in the backcountry, camping, mountain biking and sightseeing, than with top notch guides, doing what they do best … making everything feel easy and creating a wonderful atmosphere to fully enjoy the adventure! Here's to a job well done on the Rim … thanks Rim ladies!
Editor's Travel Tips: Kanab in southwest Utah is the gateway community to some of the state's premier adventure vacation destinations, including the Kaibab Plateau and North Rim of the Grand Canyon. With many choices for lodging, restaurants and shops, you can make this colorful village your vacation base camp.
Tags
Mountain Biking
,
Grand Canyon
,
North Rim
,
Multi-Day Guided Trips
Archives
2023
2022
2021
2020
2019
2018
2017
2016
2015
2014
2013
2012
2011
2010