Notch Peak – "Utah's El Cap"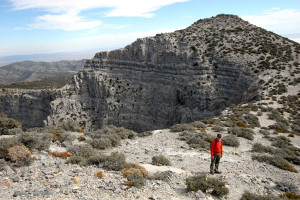 Utah is blessed with many natural wonders and fascinating works of Mother Nature. Notch Peak in the west desert is one.
Over six million visitors flock annually to Utah's national parks, "The Mighty Five". The state's national monuments and recreation areas – Flaming Gorge, Cedar Breaks, Natural Bridges, Glen Canyon and Grand Staircase Escalante and more draw adventurers in great numbers. Over forty state parks and five national forests add to the total annual visitation.
Few, but a very fortunate few, visit Notch Peak.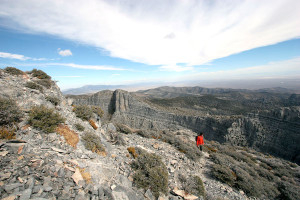 Much of Millard County is a vast and mystifying landscape - relatively unknown and unexplored to many visiting Utah. But the west desert is fascinating and beautiful in its own way – stark, rugged, mysterious. A gemstone in Utah's overflowing treasure chest. And the Crown Jewel of Millard County and the west desert is Notch Peak.
The town of Delta is 130 miles southwest of Salt Lake City. The mountains of the House Range rise about an hour's drive west of Delta and rising tallest and most dramatically is Notch Peak. This summit of this massive rock, at 9656 feet, is nearly 4500 feet above the valley floor below, making it one of the highest cliffs in North America. The north face has an uninterrupted sheer vertical cliff of over 2000 feet.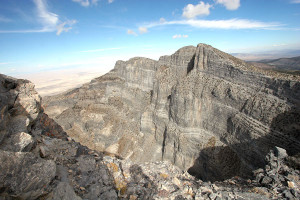 Rock climbers relish the challenge of many routes of this limestone monolith block. The enormous west face has been called "the desert equivalent of Yosemite's El Capitan", pretty rare company!
Although imposing as it appears, a hike to the summit from the east side through Sawtooth Canyon is only moderately strenuous, enjoyable and highly rewarding at the summit. Along the way are large stands of aspen and conifers. The highest ridges and peaks support a healthy population of ancient bristlecone pines. Keep an eye out for a natural arch along the way. The last push up a saddle to the summit steepens. Although there is no defined trail, cairns mark the way.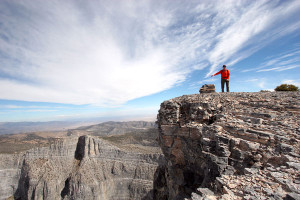 Once on the summit, views in all directions are spectacular. Although not for the faint of heart, looking downward through the notch is an adrenaline pumping experience. A huge rock cairn holds a logbook for those wishing to add their names and, if you make the climb, you should be proud to do so. The cliché, "Top of the World" is overused. Atop Notch Peak it is highly appropriate.
Sidebar:
Delta is home to the offices of Millard County Tourism. Information on House Range and Notch Peak recreation, hiking, climbing and camping and many other attractions, events and festivals can be found here. The town has several motels and restaurants and, if you enjoy authentic Mexican fare, Delta's will not disappoint.
Archives
2022
2021
2020
2019
2018
2017
2016
2015
2014
2013
2012
2011
2010