Logan, Utah—Four Seasons of Adventure
Posted On

Aug 13, 2013
Category

Northern Utah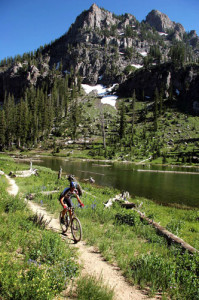 By Julie Hollist – The city of Logan in placid Cache Valley beckons you with four seasons of adventures. All kinds of adventures—from endless outdoor opportunities to award-winning performing arts and heritage. It's off the beaten path about 90 minutes north of Salt Lake City, and we like it that way.
One of the greatest things about Logan is how close everything is. It's a 5-minute drive from downtown to a picnic site in the Wasatch-Cache National Forest. You can be fishing or hiking and 15 minutes later walk into a world-class theatre production. Amazing!
Let's kick it off with Spring into Logan for family fun. The valley comes alive with beautiful new green. Cache Valley Farmer's Market starts the season. Bicycles emerge from winter hibernation replaced by skis, sleds and toboggans. Take in the "Lux Exhibit" at the Nore Eccles Museum of Art on the Utah State University Campus where you'll learn how artists use light as a medium or subject. Spring is a great time for birding along the shores of the Bear River. Rent a canoe or kayak for a close-up view, but not too close as it's nesting time for many. This is prime time for wildlife viewing in the canyon. Fun for kids of all ages is the 2013 Dog Olympics fund raiser at the fairgrounds. For a real chuckle, watch the "Owner-Dog look-alike contest." Families love Baby Animal Days at the American West Heritage Center where you can pet baby lambs, chicks, ducks, calves, pigs and more. Logan has an international film festival and snowmobile hill climbs for excitement!
Sum, sum Summertime!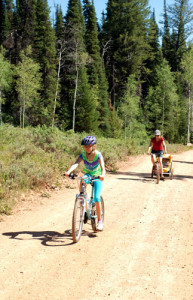 Summer is crammed with activity. By mid-June the Old Lyric Repertory Theatre is in full swing with five fantastic productions: Nunsense, The Odd Couple, The Drowsy Chaperone, The Woman in Black and James and the Giant Peach. There are concerts at the historic Tabernacle Monday through Friday, all summer long and free. To celebrate Independence Day, Logan will showcase a spectacular fireworks show July 3 with Craig Jessop's 250-member American Festival Chorus, 1,000 flag-bearing youth and an ABBA tribute band.
Experience the true frontier spirit at the American West Heritage Center, 160 acres of hands-on living history. The site features Shoshone Indians, mountain men, pioneers, and turn-of-the-century farming. You can take a wagon or pony ride, throw hatchets, make arts and crafts, listen to stories, enjoy music and more.
The Cache Valley Cruise-In (one of the largest classic car and motorcycles shows in the West) will roar into town for their 31st annual celebration July 4-6, and the award-winning Utah Festival Opera and Musical Theatre opens July 10. More than 300 performers straight from Broadway, the Met and other major stages across the country will present 129 events in 32 days. Don't miss Joseph and the Amazing Technicolor Dreamcoat, Fiddler on the Roof, Othello and The Flying Dutchman. That's not to mention Beethoven's Missa Solemnis with the American Festival Chorus, concerts, backstage tours, breakfast with the stars and academy classes.
Explore our majestic mountains with a drive along Logan Canyon National Scenic Byway. Stop and flyfish beautiful Logan River or one of the many high mountain lakes. Go biking or geocaching. Rent horses or canoes, go bird-watching, and enjoy Aggie ice cream.
All summer and fall you'll be treated to festivals, pancake breakfasts, hiking, biking, golf (on beautiful courses with astoundingly affordable green's fees), shopping and everything in between.
And add in the Cache Valley Food Tour. At this popular event, you can take your own behind-the-scenes peek at how Logan's famous ice creams, cheeses, pastries, gourmet honey products, jams and jellies, chocolates and coffees are grown or made here and then find their way around the world.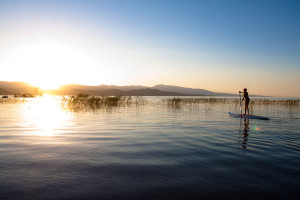 Fall in love with fall. Nature's show-and-tell will be bursting with crimson red maples and yellow aspens in the nearby canyons. Take a deep breath. Relax. Enjoy a slower pace. Explore the great outdoors by hiking or renting horses at Beaver Creek Lodge on Logan Canyon National Scenic Byway. Get lost in one of three giant corn mazes. Step back in time at the American West Heritage Center's annual Fall Harvest Festival. Get your groove on with concerts at the Ellen Eccles Theatre. Head for homecoming at Utah State University or take in a round of golf. You can run in a full or half marathon or take in the gardener's market on Saturdays.
Then there's the self-guided walking tour of historic downtown Logan for every time of year. You'll learn interesting stories and tidbits about the goings-on of early Logan when it was still the Wild West. Begin your tour at the Visitors Bureau, located in the historic courthouse right downtown.
We're a winter wonderland for adventurers and families of all ages. Take a sleigh or wagon ride through a herd of elk at Hardware Ranch Elk Refuge to view 500 bulls and cows as they wander across the meadow. Ski at Beaver Mountain Ski Resort, the longest running family-owned ski resort in the nation. Go snowshoeing or cross-country skiing, rent snowmobiles at Beaver Creek Lodge, where you can walk straight out of your cozy room and jump on a snowmobile.
There's indoor ice skating and hockey, live arts performances, great restaurants, and when weather permits, outdoor ice skating too. Access to the mountains is a quick 5-minute drive from downtown. Don't miss Logan's Winterfest the last Friday and Saturday in January. Dozens of outdoor and indoor events will keep you hopping.
Hungry? The valley has great restaurants, unique shopping and affordable accommodations from campgrounds to bed and breakfasts and brand-name hotels as well. Logan is an ideal hub for day trips to Bear Lake, Golden Spike National Monument, and Chesterfield Ghost Town. Check out visitloganutah.com for more info, a calendar of events and brochures you can download. Then come visit the helpful folks at Visit Logan at 199 North Main in the historic Cache County Courthouse. Open 8 a.m. to 5 p.m. Monday through Friday. Call 800-882-4433.
Archives
2023
2022
2021
2020
2019
2018
2017
2016
2015
2014
2013
2012
2011
2010