Logan, the American Salzburg
Posted On

Sep 06, 2012
Category

Northern Utah
By Tara Mckee –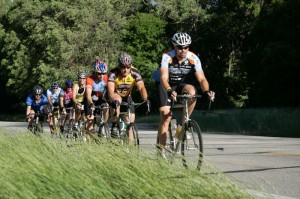 Logan, set in the heart of picturesque Cache Valley, offers abundant opportunities for the arts, culture and recreation. It is the setting for a full summer of repertory theater productions, a vibrant arts festival and plays host to an opera festival that ranks among the world's best. Its location in a wide, verdant valley dotted with bodies of water and quaint small towns provides ample opportunities for road cycling, mountain biking and other forms of recreation. The town's unique blend of operas, concerts and theater with a wide variety of outdoor adventures in the nearby mountains and surrounding countryside brings to mind the hometown of the Von Trapp family, Salzburg, Austria.
It's not often that one finds a town with so much variety to offer visitors. Over the years, this American Salzburg has become one of Utah's favorite destinations for vacationers. Where else can a couple enjoy a pleasant afternoon of cycling, followed by a romantic dinner, topped off with a delightful evening enjoying the sights and sounds of a Puccini opera or a Cole Porter musical? It's a vacation that truly enriches both body and soul.
When visiting Logan, consider staying at one of the bed and breakfast establishments in or near town. The relaxing and homey environment feels less institutionalized and the kindly hosts in the Cache Valley area are often willing to go the extra mile to make the experience a good one. The bed and breakfast inns are very popular during Logan's regular cycling events because the hosts are willing to customize the accommodations for their guests, making special adjustments for an early departure, offering a safe place to store expensive road bikes, and providing a beautiful common area for groups to meet together in the evening to make plans. Most of the Logan area B & B's have jetted tubs in the rooms to soothe and massage tired muscles and ensure a good night's rest. Look for package deals combining Utah Festival Opera and Musical Theatre tickets with a night's stay in one of the bed and breakfast inns or hotels on the festival's website:
ufoc.org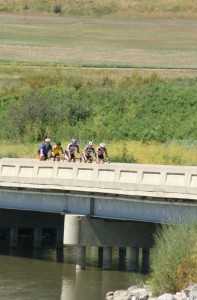 Logan's rich cultural heritage goes back over a century to the late 1800's when it hosted five community opera houses. In the 1920's Logan built the elegant Capitol Theater, it's "crown jewel." After seeing a mid-century decline in the performing arts, the theater and opera scene experienced a phoenix-like resurrection due to the inspiration and dedication of Michael Ballam. He has not only spearheaded the Utah Festival Opera and Musical Theater Festival, but also the beautiful restoration of the European style Capitol Theatre (later renamed the Ellen Eccles Theater). Ballam's next large cultural project is the restoration of the beautiful Art-Deco era Utah Theater which will enhance Logan's five-week opera festival. The festival is now ranked among the world's top 20 and pulls hundreds of artists straight from Broadway, the Metropolitan Opera and other major stages across the country. Now in its twentieth year, the festival has led the way in Logan's cultural renaissance.
One thing that Logan offers over other major opera festivals is the affordability of small town prices and a wide ranging dress code that runs the gamut from tuxedos to tee shirts. If you don't fancy opera, you can enjoy the festival's musicals or one of the repertory theater offerings in another beautifully restored historic theater, the Caine Lyric Theater. The Lyric Theater season is separate from the opera festival and runs throughout the summer and includes a musical, a comedy, a mystery and a drama. Logan has long appreciated the visual arts as well. If you happen to be there in mid-June, be sure to stroll through Summerfest, a juried arts festival that brings in over a hundred fine artists competing in a variety of mediums.
Cache Valley has some of the best road cycling country in Utah, offering quiet rural roads which link two dozen small country towns over a changing landscape. Road cycling in so popular in the Logan area, it's not unusual to spot die-hard enthusiasts riding their favorite routes in the middle of winter, but the prime cycling season is April through October. Logan's longtime popularity with road cyclists has led to its hosting of the top cycling events in the state: the MS-150, the Little Red Riding Hood Ride and the Logan to Jackson Ride (LOTOJA). Cyclists covet the valley's terrain - long flat stretches of wide roads punctuated with a few rolling hills to provide some change. Cache Valley is a full sixty miles long, stretching northward into Idaho. The valley floor is well-suited for a wide variety of rides from easy one-hour rambles to half-day cruises. For endurance riders, it's easy to add to the mixture by including some mountain terrain in the route or crossing the state line into Idaho to take in the northern half of Cache Valley.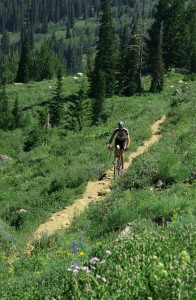 There's an abundance of great cycling routes in Cache Valley and it's not hard to find one to suit. One of the best online sources is
MapMyRide.com
which includes not only the locals' favorite loops, but also segments from cycling events and triathlons. Make a stop at the visitor's center in downtown Logan located at 199 North Main Street to pick up a free biking guide. The pamphlet-sized guide gives several suggested road cycling tours of Cache Valley with ride lengths that vary from 12 to 50 miles. The guide also offers suggestions for the ten most popular mountain biking trails in Logan Canyon. A spiral bound book, Mountain Biking Cache Trails is also available for purchase and provides a detailed guide to even more trails for the adventurous mountain biker. If you didn't bring the bike along on the trip, that's no problem! Many of the local bike shops rent both road and mountain bikes in a variety of sizes. Some bike shops go above and beyond, offering locks and helmets, and one even rents Go-Pro cameras to mount on your helmet and record your ride through Cache Valley.
The 2012 Utah Festival Opera and Musical Theater season includes performances of classic musicals My Fair Lady and Kiss Me Kate as well as the operas Tosca and Faust plus additional special performances and concerts. Be sure to check out the festival's list of special performances because they are often performed for one or two nights only. This year's offerings include Cole Porter's Girl Crazy, a musical tribute to Judy Garland and the beautiful Bach choral piece, St. Matthew's Passion, to name just a few.
So to enjoy a vacation of culture, entertainment and quality cycling, one need not board a plane for Austria. Come to the American Salzburg – Utah's Logan in beautiful Cache Valley.
A Favorite Ride through South Cache County: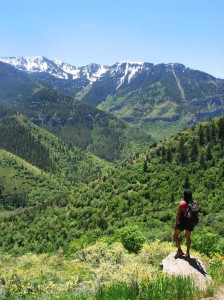 One of our favorite rides was adapted from the Little Pyrenees loop in the visitor's center biking guide and is a great tour of southern Cache Valley. We started our ride at the Providence Inn, a bed and breakfast located in a small town just south of Logan. We rode south on Providence's Main Street through the little towns of Millville and Nibley. We then veered left off the Main St./Nibley Road on Hollow Road and headed east. This quiet tree-lined road is one of my favorite places to ride on a summer's day. Hollow Road ends at Blacksmith Fork Canyon Road. A left hand turn would take cyclists on a gradual climb up Blacksmith Fork Canyon Road to Hardware Ranch for a there and back again ride, but for this loop, we turned right, headed toward Hyrum and veering southwest for a short climb and nice view of the shimmering water of Hyrum Reservoir. We then continued the ride headed west on Mt. Sterling Road, veering north to cross Highway 89 towards Wellsville. The pretty town of Wellsville was at one point the start of the Little Red Riding Hood women's ride, until the ride simply outgrew the town when the number of riders exceeded the town's population. From Wellsville the ride takes a straight diagonal line on highway 23, a lightly traveled road with wide shoulders. On approaching the outskirts of Mendon, we headed straight into town on its Main Street and turned east onto 400 North. As 400 North reaches its end, we simply headed north to turn east onto Mendon Road/600 South. The ride towards Logan on Mendon Road crosses the Little Bear River and gives great views of green farm fields and bird-filled wetlands. Upon reaching the outskirts of Logan we have often changed up the route as we have become more familiar with Logan. It's your choice here: take in the sights with a short tour of Logan's historic buildings and homes or simply head back to Providence. This loop is about 35 miles in length and while mostly flat, does have some rolling hills.
UtahFestival.org
TopOfUtah.org
BearLake.org
TourCacheValley.com
Tags
Road Cycling
,
Logan
,
Utah Festival Opera
,
Northern Utah
Archives
2023
2022
2021
2020
2019
2018
2017
2016
2015
2014
2013
2012
2011
2010