Goblins, Little Wild Horse and Bikes.... Oh My!!!
Posted On

Jun 20, 2012
Category

Southern Utah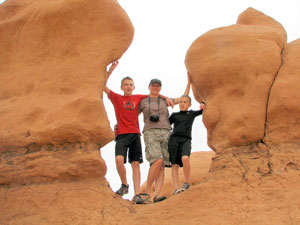 By Lori Lee –
I set a goal this year: Three family vacations with my sons, ages 14 and 10. No more whining, complaining, unappreciated get-a-ways. No, these were going to be filled with the bonding that was meant to happen on the much heralded and often overrated family vacation. These were going to be fun. And not just fun for them, (hate Disneyland), but fun for me too.
The first vacation was a 2-day ski trip to Brian Head and Eagle Point, which met all my expectations. It may have been the stern warnings about not taking any of their crap, before we drove out of the driveway that cold winter morning, that kept my little angels from the usual unappreciative babble, but whatever it was, it worked. And I put one big red check mark on my list.
As spring rolled in, ever so slowly, I looked toward the desert. Give me bike trails, give me canyons, hell, just give me sun. So we loaded up our car (joined by two other families) and sped across U.S. 6 toward desert camping below the mesas and dirt roads throwing up red dust as we picked out the perfect campsite in Wayne County.
"Wait until you see the Goblins," I promised, and their anticipation grew.
Goblin Valley and the Slot Canyons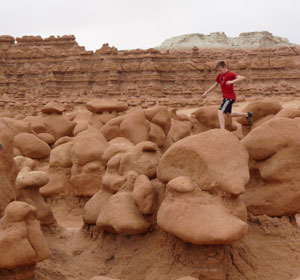 Goblin Valley rises to its eerie best after dark. A full-moon, no head lamp, and a canyon dish filled with dollops of red rock, plopped like scoops of ice cream on top of one another. Hide behind them, climb on them, run through them, lay on them. My favorite is the latter. While the dark sky, filed with unpolluted starlight runs circles around a body, unnoticed, lying flat on one of a hundred goblins…so small in a universe so big. It is a feeling of surreal observation in a world of sporadic visitation. We went to Goblin Valley twice on that trip. Once at night, to run through the gauntlet of rock spires, and once during the day, to take in the brilliant orange maze of this bizarre valley.
At night we slept beneath a red mesa towering hundreds of feet above us, just outside of Goblin Valley, our campfire warming and lighting the early spring. Goblin Valley State Park has an official campground with picnic tables, bathrooms and close camping quarters with your neighbors. When it's full though, one can head across the desert and camp for free on the surrounding BLM land.
My son Ethan is reaching the age where it is his time to be initiated into the world of canyoneering. Yes, I realize that Little Wild Horse and Bell canyons, found in the San Rafael Swell, are not what one would term "canyoneering", but they are slot canyons, and that's a start.  An 8-mile loop, the trail is beyond popular. The trailhead has a nice parking area with signs, pit toilets, and parking for 20 cars-- it seems like it's always full. Between our three families there are six children, one as young as three years-old. Tall, orange walls tower to the sky--there are spots where your shoulders barely pass between their faces, but there are sections 30 feet across as well.  We discover a variety of fun ways to hike a slot canyon-- Lenox, the 3-year-old, is a grand explorer climbing into rock divots big enough for his small body. He traverses the narrow passage with stealth and cunning. Ethan, the 10 year-old, bounds between the waves of orange rock, Camelbak® bouncing. Back and forth he runs between individual hiking parties (he must have hiked an extra 2 miles). My 15 year-old scales the walls, frictioning as he climbs, and eventually carries Lenox out in a piggy back across the final three miles.
Bell and Little Wild Horse are popular because frankly, Little Wild Horse is a sexy canyon. Undulating between narrow rolling curves and open waves of solidified sand with huecos, large and small, tantalizing the mind. It's narrow, it's beautiful, it's colorful, and it's enough of a challenge that you feel like you've had an adventure. Nothing on the trip is extremely difficult, so families flock to experience the fun of a colorful slot canyon while keeping everyone safe. As we round the sandy bend back to the parking lot we carry one poodle and one Lenox, but everyone else walks out on their own two feet. Sometimes on a family trip, that's the best you can hope for.
Mountain Biking in Price    
New to the mountain biking destination arena, Price isn't as well known as Moab or St. George, but there is cross-desert biking to be had and the drive from the Wasatch Front can be had in half the time. The Price area has approximately 75 miles of designated trails, all developed since 2002.  At that time most of the carving was done under the radar by local riders. These days, the BLM is on board and often helpful. Trails in the Price area are found in two primary areas—the first is Luke's trail, named after the pit bull that helped locals develop the trails in the early years. Luke's trail is easy to access and relatively easy, cross-desert riding, read…family friendly. The second is known as the Wedge.
The premier ride at the Wedge is named Lamar's Rim, for the gent who developed the trail, but it is more recognizable as the Little Grand Canyon rim. The trail follows the edge of "Utah's Little Grand Canyon" for 26 miles across what is basically a flat, often rocky, desert trail that winds in and out all the fingers of the Little Grand Canyon and returns on a dirt road to complete the loop. Beautiful scenery the entire route, and enough mileage to feel like you've had a good day's ride, this route was my favorite of our exploratory trip to Price.  Take plenty of water and snacks to keep you fueled.
In the BLM managed Price Canyon Recreation Area, there are some plans for new down-hill routes that are currently being developed. For more information on the progress, stop in at the BLM Price Field Office.
Another area, this one providing some mixed riding, is the Iron Wash trails.  These were developed by Dick Brass and are primarily used by motor bikes. An hour from Price, it's a bit of a drive, but will provide the most technical challenges. Expect sand washes and rocks that you have to carry a mountain bike over, as well as nice desert riding and tricky technical climbing and descending. A good place to test and practice your technical prowess.
To brave the goblins, desert biking, and slot canyons of the San Rafael Swell requires planning and an ability to be self sufficient in a crazy, beautiful, remote desert landscape. What is a family adventure, if not an escape into the unknown, to brave the finds along the yellow brick, uh, I mean orange sand road. And pack the hiking boots, not the ruby slippers. This is wild country--where you and the kids can let go and get a little wild.
Breaking news from Goblin Valley State Park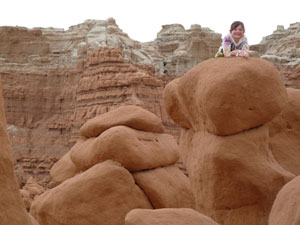 For those who want to combine adventure with just a touch of comfort, Goblin Valley now has two yurts for nightly rental.  These structures have been the primary shelters for the Mongolian herdsmen on the grassland steppes of central Asia for centuries.  The Utah State Park yurts are basic, yet spacious and comfortable.  Each sleeps five, with a bunk bed double lower and single upper, and fold out futon.  Well heated and with a large circular clear dome for ventilation, temperature control is easy, even in the dead of winter.  Charcoal barbecues, fire pits and picnic tables are included and, maybe the best amenity, hot showers and full bathrooms are just a short walk away.
Rangers Sarah and Nate are extremely helpful with information on hiking in the area. The Little Wild Horse/Bell Canyon loop is a must, but there are several others that are not as popular but no less spectacular.  Ask at the Visitor's Center about the "Cave" and how to find it.  Crack Canyon is another off-the-beaten-path route.  Supplies, books, maps and souvenirs and even firewood can be purchased at the Visitor's Center.
A real treat for the kids is to locate the geocache.  With the help of a free loaner GPS unit available from the park rangers, youngsters can learn to follow the route around, over and sometimes under the mystical goblins to locate the hidden cache.  Once found, hikers can open the ammo can, leave names on the pad of paper proving success, and pick out a treasure!
SanRafealCountry.com
CastleCountry.com
River-Terrace.com
Photos by Lori Lee
Tags
Mountain Biking
,
State &Amp; Nat'L Parks
,
Slot Canyons
,
Yurts
,
Geocache
Archives
2023
2022
2021
2020
2019
2018
2017
2016
2015
2014
2013
2012
2011
2010