Girl's Night Out – Southern Utah Style
Posted On

May 31, 2013
Category

Southern Utah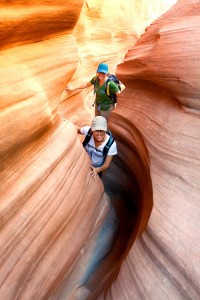 Photos & story Monique Beeley –
It's no secret that I love adventuring in Utah. Just ask any of my family or friends. I'm always filled with advice on what to do, where to go, and what see in my own large and diverse backyard…aka Utah.
From the lush green mountains and lakes of northern Utah to the red rock cliffs, canyons and rivers of southern, the opportunities are virtually endless.  My list of "to dos" keeps getting longer as years pass.  Part of the reason is that now, as a mom of a four year old, I want to explore these places with my daughter, but she is still a bit young to go on some of my favorite adventures. My hope is that in time she will be my best travel buddy.  The other part of the equitation is my desire to share some special places with some of my favorite people.
Last summer I had the opportunity to share one of my favorite spots (shh…it really is my #1, but I don't want the other destinations to feel slighted, so mum's the word) with two of my best girl friends, Jen and Julie. Both are busy moms and we all needed a retreat…away from the kids, the house, husbands, jobs…. etc.  Just 3 girls on a road trip with "Mo" at the helm, as the fearless leader. Sometimes, I joke that I should wear a sign on my back that states "don't follow me, I'm a bit directionally challenged", but that's another story, or maybe two…
Anyway, our destination for this much needed girls weekend is, drum roll please, Escalante.  If you've been there, you'll understand my love and passion for this amazing and remote area. If not, add it to your short list immediately.  Jen and Julie had not.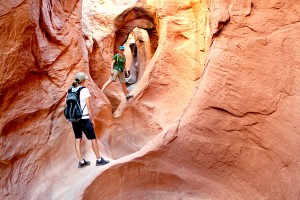 First, a little geography – the tiny southern Utah town of Escalante is located on State Highway 12,  one of the most scenic in America, awarded the prestigious "All American Road" designation in 2002. The town is about half way between two of "The Mighty Five" - Bryce Canyon and Capitol Reef national parks. With a population of about 800, Escalante has four restaurants, 13 motels/B&B's, four RV parks/cabins and a handful of shops and guide services. Its neighbor is the rugged, remote 1.8 million acre Grand Staircase Escalante National Monument. GSENM is three distinct areas: The Escalante drainage, the Kaiparowits Plateau and the "Staircase" itself, located in the western portion of the Monument. Escalante and even tinier Boulder are in the eastern "Escalante" portion of the Monument, an area measuring roughly 600,000 acres and where the colorful sandstone canyons, arches and mesas are found in abundance.
Driving into town, I'm filled with a sense a peace and welcoming comfort. I have spent many days here over the years and plan to spend just as many, if not more, in the future. We pulled into our motel, The Circle D, a comfy and newly renovated spot on the west side of town. We quickly checked in, threw our bags on the bed, put on some hiking clothes, packed a few snacks, swimsuits and sundresses (Escalante evening attire.)  The plan was to head east on the scenic highway, hike into Lower Calf Creek Falls, take a swim in one of the pools (not the kind found at your upscale country club) and then continue on to Hell's Backbone Grill in Boulder for dinner and, perhaps, a glass of wine.  (However, as the hostess, I'm the designated driver.)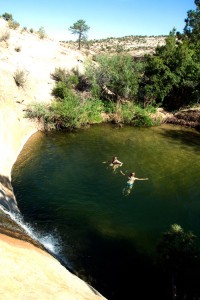 Hiking out under the falls was a bit of excitement for the girls, because we were out in a new place on a fantastic adventure together. Approaching the falls we noticed a few others in the water, so we made our way up and around the falls to another pool. This one we had it to ourselves, yeah!  It was early June and the weather was a bit hot, so the water, although cool, was refreshing.  Not much time here though, as we had a fabulous dining experience ahead. And yes, I'm sure the girls thought I was exaggerating with all my raving about Hell's Backbone.
At the car we quickly changed out of our hiking clothes, swimsuits and into our sundresses…with a quick comb through the hair and a bit of lipstick, we were ready and looking good, complimented by a bit a desert sun on our faces.  Yes, we are in the middle of this rugged, remote, off-the-beaten-path place and yet Hell's Backbone is one the state's finest farm-to-table restaurants.
Co-owners, Blake Spalding and Jen Castle's menu includes organic, locally produced, regionally and seasonally appropriate cuisine, growing many of their own vegetables and fruits in the restaurant's two gardens and on their six-acre farm.  On the drive back to our room, we all were happy, content and, of course, fully stuffed! We chatted about the excellent dinner and the day, excited for what would be tomorrow's agenda.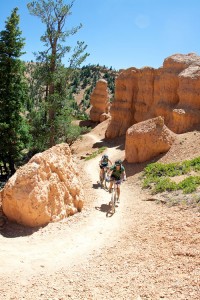 At my request, we arose early, quickly gathered our packs and snacks and were on the road just as the morning sun began to peek over the Kaiparowits.  It was Saturday and Peek-a-boo and Spooky slot canyons would be busy. I wanted to have ample time in the canyons for photography. I have a huge passion to photograph slot canyons, but not when they're wall to wall with people.  We took only one wrong turn on our way to the trailhead, but this is a bit of a remote area and the signage is slim and none! A word of advice - be sure you know where you're going before you head out into wild and wooly GSENM… (yet a few more stories here but I'll save that for another time.) The Early Bird gets the… Anyway, it paid off since we were in the canyon for at least an hour before anyone else showed up. Both Jen and Julie were awestruck at the extraordinary beauty of the two connecting slots.
That evening we dined at the North Creek Grill, located just outside of town on the grounds of the Slot Canyons Inn.  This unique gourmet restaurant offers outdoor seating only and presents a 360° panoramic view of the surrounding canyons and cliffs. We were joined by my local Escalante friends Rick and Amie, owners of Excursions of Escalante, with whom I have had many fun and exciting canyoneering and backpack adventures over the years.   Dinner, wine and the pleasant company that evening made for a lively affair.
Sunday morning, we woke leisurely and walked to the Circle D Eatery, part of the motel. Over a yummy breakfast and coffee, I gave the girls a few options for the day, which would be our last, sigh… We had our mountain bikes along and, after a couple days of hiking, were ready to ride. Although there are plenty backcountry gravel roads, there is not much singletrack in this neck of the woods, so our biking adventure would have to be on the way back home.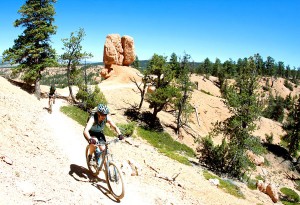 We had two spots targeted for mountain biking - first was Kodachrome Basin State Park just outside of Cannonville.  This was a short, but fun ride and served as a teaser for what was next.
Thunder Mountain, located just west of Bryce Canyon National Park, is one of my favorite mountain bike routes. Not only is a great ride but the landscape is unparalleled, with its majestic red rock spires and towers, especially if, like the three of us, you are used to riding in the higher elevations in the mountain resorts surrounding Park City.  It's very much like riding through the unique red rock hoodoos of Bryce. All three of us were grinning from ear to ear as we pedaled the twisty, turny whoop-de-do trail, stopping frequently, of course, so I could capture a few photos of this awesome ride.  Alas, all good things…
On the drive home, my thoughts drifted from the conversation, to reflecting, saying goodbye, for now, to Highway 12 and Escalante, knowing I would be back soon for new adventure in my favorite desert retreat.
Brycecanyoncountry.com
Escalantecircledmotel.com
Hellsbackbonegrill.com
Tags
Mountain Biking
,
Canyoneering
,
Ladies Retreats
,
Escalante
,
Highway 12
Archives
2023
2022
2021
2020
2019
2018
2017
2016
2015
2014
2013
2012
2011
2010