Find Yourself – Retreat at Red Mountain Resort
Posted On

Jun 20, 2013
Category

Southern Utah
State Parks
By Elizabeth Brown
My sister was turning 50. I pondered what we could do to celebrate this major life event. Mom, sis and I had often traveled together and we wanted to have another excursion for the three of us to celebrate this special year. We'd been to Hawaii and once on a cruise to Mexico. This time however, since both my sister and I were short on vacation time, we wanted to experience something we could visit for a few days that was fun, relaxing and fairly close to all of us. I live in Utah, they're Californians.
As we considered our options, the idea of a visit to southern Utah in the fall of the year was a welcoming thought - taking us out of our own worlds and into glorious redrock country.
To enhance that thought, staying at a luxurious resort spa was just the celebration we were looking for. Red Mountain Resort near St. George was the perfect place for us. In researching Red Mountain, I gathered that it would offer us the opportunity to rest, relax within our own timeframe and yet have some adventures and activities each day without being on a structured schedule.
My sister Susie and mom Betty arrived in Salt Lake City and, after a restful night's sleep, we were on our way south, striking out for the vast landscapes of southern Utah. The drive went by surprisingly fast as we caught up with each other and talk of the spa we were soon to visit. As Susie read excerpts from the brochure to us our anticipation grew:
"A World-Class Adventure Retreat blended naturally into a landscape of vivid red rock cliffs and canyons of southern Utah, Red Mountain Resort has everything you need to relax, renew and rediscover your passion for adventure. Eighty-two beautifully designed rooms and twenty-four villa suites are carefully sited on fifty-five acres of black lava gardens and fragrant mesquite with stunning vistas of the surrounding mountains. All amenities, from nutrition seminars to massages, are a short, scenic walk away."
We were hyped! Before long we were turning into the entryway of Red Mountain Resort.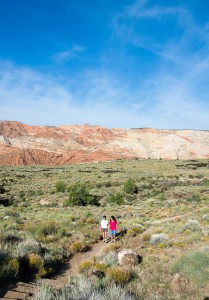 Our accommodations were nothing short of incredible. We were booked into a two bedroom villa suite and it was huge! One bedroom with a king size bed, flat screen TV, full bath with a Jacuzzi tub and shower and a private porch with a sitting area. The second bedroom was a duplicate to the first in size with two plush queen-size beds. The living area of the suite was spacious and had a full kitchen, living room and yet another bathroom. We felt like Queens! Our porch overlooked the beautiful pool area. Recalling the brochure, I thought, "No wonder Red Mountain Resort was voted the #1 Destination by Travel & Leisure 2012 Readers Survey!" It certainly had my vote and we'd only just arrived.
After unpacking, we reconvened in the living room and discussed our plans for the stay. We had a list of daily activities in which we could participate, fitness and yoga classes, strength training, hiking, biking, wellness, personal discovery, photography, nutrition and so much more! The spa was complete with its unlimited menu from body treatments to hair and skin care, foot and hand care and a variety of massages. There was so much from which to choose it was difficult to decide, but we each picked a few classes and an adventure to experience during our stay. With all our choices we still would have plenty of time to ourselves.
Dinner that night in the Canyon Breeze Restaurant was another delight. As we walked into the restaurant, there was a small band playing soft music. My expectation for the cuisine was not particularly high, considering we were dining at a spa - carrots and a small piece of chicken was what I envisioned - but we dined like Kings (even though we were Queens!) We enjoyed Pan Roasted Sea Bass, New Zealand Rack of Lamb and Hawaiian Yellow Fin Tuna. It was a wonderful gourmet surprise!
Arising early after a restful night we donned yoga clothes and, before breakfast, headed to our first class of the day, Morning Stretch. The session was meant to enhance flexibility with exercises, the use of straps, tubing and exercise balls. I thought it was a great way to wake up the body!
After class, breakfast - a wide range of hot items, cereals, fruit and coffee or tea - then the day took off! We dropped in on the Melt Method class that I found to be very fascinating. It's a self-treatment method utilizing three small balls of different sizes and firmness, resulting in improved flexibility and mobility, posture and range of motion. Something everyone can do for their own personal well-being.
The afternoon was whisked away as we enjoyed a late lunch. Mom and Susie had booked an adventure with the Wild Mustangs and I was off to the pool. As we regrouped later for dinner we shared our adventures. I found that the trip to see the wild horses was not only fun and exciting but very moving and meaningful. Part of the fee charged for the adventure is donated to the care and adoption efforts of these beautiful horses, an impressive and inspiring policy.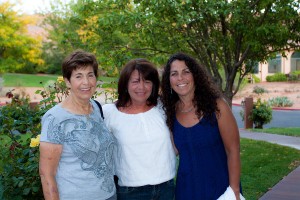 The next morning dawned with the rising sun glowing on the surrounding red rocks. After breakfast, we decided to head into Snow Canyon State Park, immediately adjacent to the Resort. Majestic Snow Canyon (although it almost never snows here) has been the setting for many feature films. The park is nearly 7,000 acres of red rock canyons and cliffs, lava caves and two volcanic cones. This area is one of Utah's premier rock climbing venues and we witnessed several climbers ascending the brilliant red Navajo sandstone.
With easy hiking and many photo opportunities we were constantly in awe of our surroundings. We felt as if we were truly on vacation in a world much slower and more peaceful than the one we had left behind a few days earlier.
Upon our return we packed up our belongings and before we headed into lunch, the final meal of our stay, we took a walk on the many trails surrounding the Resort. Finally, we came to the Spiral Labyrinth. We walked circles, around and around, one by one. As we came to the rock pile in the center we left a memento, turned around and walked back out, away from what we had left behind. For me, I left my necessity to be busy, always engaged in something, multi-tasking, hurried and rushed. I left behind my fear of peace and quiet, my fear of listening to the stillness in my heart. I no longer have that fear because the red rocks surrounding Red Mountain Resort showed me how to be still and quiet and find the peace in my heart.
We traveled home together, quiet, rested, relaxed and happy - family enjoying each other and discovering something special in the earth and rocks that had surrounded us for just a few days. Red Mountain will get you moving and give you a great vacation, but what you will take away is far more valuable than the exercise or the rest. Find that for yourself on your own journey to Red Mountain Resort.
Archives
2023
2022
2021
2020
2019
2018
2017
2016
2015
2014
2013
2012
2011
2010