Family Adventures - Red Fleet & Steinaker State Parks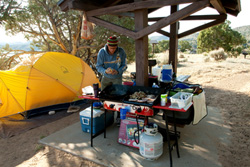 Red Fleet and Steinaker State Parks are two reservoirs located just north of Vernal, in Utah's northeastern corner. Both offer great adventuring opportunities on the water and on shore.
We selected these parks to be the perfect place to introduce Kya, our three year old daughter, to the great outdoors for a weekend of camping, dinosaur tracking, wildlife watching and rock collecting.
We had been camping with her a few times over the last two summers, but this spring trip would be a first for her to this area. My husband Michael and I have spent quite a bit of time in the Vernal area because of the epic mountain biking - so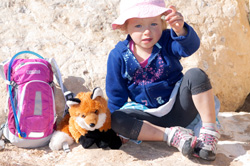 me of the best, yet relatively unknown. But the secret is slowly getting out. It's rare to see more than a few cars parked at the trailheads and, more often than not, you may be the only one on the trail.
Driving to Red Fleet State Park Friday evening, our truck was loaded with all the essentials for the weekend; mountain bikes, stand-up paddleboards and, of course, all our camping gear. It's a short 2-1/2 hour drive from our home in Park City and yet many worlds away. The scenery changes rapidly from snow-capped mountain tops to the colorful red sand of the desert, just beginning to bloom.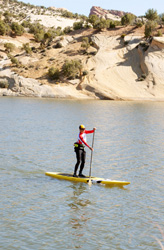 We arrived at Red Fleet around five and set up our camp. Kya was so excited to run around and look for bunnies, squirrels and lizards. The sidewalk to the restroom was paved with dinosaur tracks and, like a curious three year old, she frequently asked "mommy where are the dinosaurs?" and "will they get us?" After several times trying to explain the "where" to her question, I decided to answer with "what do you think?" which created lots of imaginary play for the weekend.
Saturday morning Michael headed out for a morning paddle before the wind picked up, while Kya and I explored the campground, fully equipped with our new pink camelback and a stuffed animal in each arm.
Mid morning we all headed over to ride Jazz Chromoly, just a few miles from the campground. I love this ride; it's a fast and fun singletrack. We swapped turns riding and playing with Kya, so we each had a chance to ride.
Sunday, our friend Troy Lupcho, a local bike shop owner and former competitor, joined us for breakfast and to try stand up paddleboar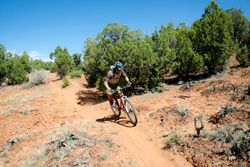 ding for the first time. He loved it! A new adventure for Troyboy in a familiar place.
Red Fleet is a great place for SUP; from the dock it's a 20-minute paddle through towering canyon walls, leading to where Ashley Creek flows into the reservoir.
We sent a few hours at the beach of Steinaker Reservoir playing in the sand while Michael went out for a paddle on the water. The weekend was still a bit chilly, so water play for Kya was not an option, although there were a couple crazy girls jumping in from a swimming dock in the water about 20 yards out. S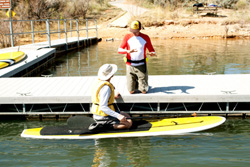 teinaker has great beaches and the campground is full of big shade trees. I few years back, Michael and I camped here on one of our spring trips and the memory of a wonderful weekend prompted our return. So if you're looking for a fun-filled weekend, try the twin Utah State Parks, Steinaker and Red Fleet.
stateparks.utah.gov/parks/red-fleet
stateparks.utah.gov/parks/steinaker
Dinoland.com
Altitudecycle.com
Tags
Mountain Biking
,
SUP
,
State & Nat'L Parks
,
Dinosaurs
,
Camping
Archives
2023
2022
2021
2020
2019
2018
2017
2016
2015
2014
2013
2012
2011
2010