Big and Little Cottonwood Canyons: Salt Lake's Twin Giants
Posted On

Sep 03, 2013
Category

Northern Utah
By David Grover —
One of the most enticing things about a visit to Salt Lake City is the myriad of recreation opportunities right out the back door. Just 35 minutes from all that downtown has to offer are seven canyons cut into the Wasatch Mountains. Two of these, Big and Little Cottonwood Canyons, are some of the most popular areas for the perfect summer playground.
Biking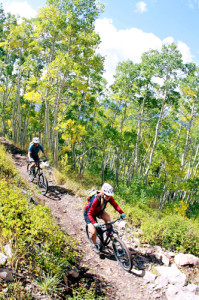 Utah has long been synonymous with mountain biking and diverse recreation, and one of the highlights of the Cottonwood Canyons is that many of its stellar hiking trails are also open to fat tire riding.
Ask any local mountain biker what his or her favorite trail in the Salt Lake area is, and more often than not the answer will be "The Wasatch Crest Trail." The Crest is a 20-mile section of the 3,000-mile Great Western Trail System, which runs from Canada to Mexico. The route takes riders from the top of Big Cottonwood along the "Backbone of Utah," offering a 10,000' high roller-coaster ride with views of Park City to the East, and the Salt Lake Valley below.
Albion Basin in Little Cottonwood offers more meandering routes through a lush alpine valley laden with beds of wildflowers. These rides take cyclists' breath away not only from the beautiful vistas, but also from the oxygen-deprived air at 9,000 feet.
Serious road cyclists find the Cottonwood Canyons a veritable breeding ground for high-altitude training. Grunt the 17-mile climb to the top of Big Cottonwood, and be rewarded with an exhilarating white-knuckled descent. Shorter but steeper, Little Cottonwood hosts the annual Snowbird Hill Climb, gaining 3,000 vertical feet in under 12 miles. Because of heavier weekend automobile traffic, these rides are most safely done while playing hooky during the week.
Rock Climbing
The Cottonwood Canyons are well-known climbing areas, with a history of traditional climbs and bouldering in Little Cottonwood, and excellent bolted routes in Big. Charlie Sturgis, self-proclaimed "Minister of Outdoor Satisfaction" at White Pine Touring in Park City, moved to Utah from Chicago in 1975 and hasn't stopped climbing since. "One of the cool things about climbing in the Cottonwood Canyons is you have so many options that it makes for a world class climbing environment," he says. In Big Cottonwood, Sturgis says climbing in the "S" turns is not to be missed. "Between routes in the upper and lower wall you get quite a variety. Big Cottonwood offers a long season, and you can get out of the summer heat," he says.
Whereas Big is slippery quartzite, Little offers "sticky," glaciated Granite to its climbers. The latter also features multi-pitched climbs, which means climbers can walk a bit and get away from weekend crowds. With pitches from 5.8 to 5.13+, the Cottonwoods offer something for every climber. For more info on Cottonwood Canyon Climbing or to book a guided tour, call White Pine Touring at (435) 649- 8710, or email [email protected].
Hiking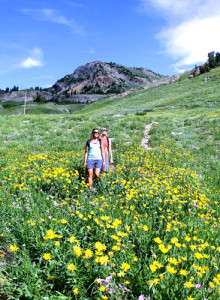 As world-famous powder melts from the vertical rock of The Cottonwood Canyons, lush green meadows and cool, evergreen-shaded trails offer hundreds of off-road options for recreational pedestrians. Take a breathtaking family-friendly stroll in a kaleidoscope of wildflower color in Albion Basin at Alta Ski Resort, or bag eight peaks each over 10,000 feet on the Ridge Loop as it traverses the mountains surrounding Brighton Ski Resort.
A trailhead leading to four alpine lakes begins at the south end of Brighton's parking lot in Big Cottonwood. Ascend 600 feet in a quarter mile to visit emerald green Dog Lake. Stop for a picnic, or continue along the trail to Lakes Mary and Martha, and end at Lake Catherine. Other trails in Big Cottonwood with water for the main course include Silver Lake/Lake Solitude at Solitude Ski Resort, and Lake Blanche, which brims with views of Monte Cristo Peak (11,132), and Dromedary Peak (11,107'). Lake Florence and Lake Lillian are a quarter of a mile to the west. Head to Lake Lillian's outlet during spring runoff where a spectacular waterfall spills 40 feet through a crack in the cliff.
Venture 5-1/2 miles up Little Cottonwood to the White Pine Lake trailhead and continue up less than a mile to Snowbird Ski & Summer Resort for a challenging walk on one of the many trails. Better yet, take a ride on one of only three aerial trams in North America. On the ride to the top of 11,000' Hidden Peak, your tram operator relates local folklore, and describes the area's flora and fauna. On a clear day, the reward is a view reaching 100 miles. As diverse Big and Little Cottonwood Canyons are for recreation opportunities, they're also a fragile ecosystem and an important source of water to the Salt Lake Valley. Both canyons are watershed areas, so there is no camping within 200 feet of lakes or streams, and swimming or washing dishes in the water is not allowed. Dogs are also not permitted in the canyons. To learn more or volunteer, contact the Cottonwoods Canyon foundation at (801) 947-8263 or www.cottonwoodcanyons.org.
Tags
Hiking
,
Mountain Biking
,
Climbing
,
Big Cottonwood Canyon
,
Little Cottonwood Canyon
Archives
2023
2022
2021
2020
2019
2018
2017
2016
2015
2014
2013
2012
2011
2010