Southern Utah Mountain Biking Round-up
Posted On

Jul 10, 2020
Category

Southern Utah
Mountain Biking
State Parks
Family Friendly
If you are heading south for some two-wheeled adventuring, be sure to check out these family-friendly beginner/intermediate trails. Many of these locations offer a "staked-loop" system, which is great for families who may not all ride at the same level. These new and popular trail systems offer multiple shorter loops, each at a different level, so everyone can ride at their own ability and then meet up back at the trailhead.
With over 60 miles of trails and more in the works for 2020, Cedar City is quickly becoming a mountain biking destination.
The Iron Hills Trail System is located less than a mile off of I-15 (exit 57) and is a stacked loop system that offers eight trails ranging from beginner to advanced. From the Southview Trailhead, our favorite beginner loop is Lichen it /Iron Giant, which is a total of 5 miles. For the intermediate riders the Lichen It/Lava Flow loop is amazing. Both sections are directional trails – Lichen It is uphill mountain biking only and Lava Flow is downhill only. These two options are great for families that have riders of different abilities. Everyone can ride Lichen It together and then choose between the beginner or the intermediate option for the downhill. Or, start with the beginner and then progress to the intermediate. The Southview Trailhead has bathrooms, running water and a bike-repair station.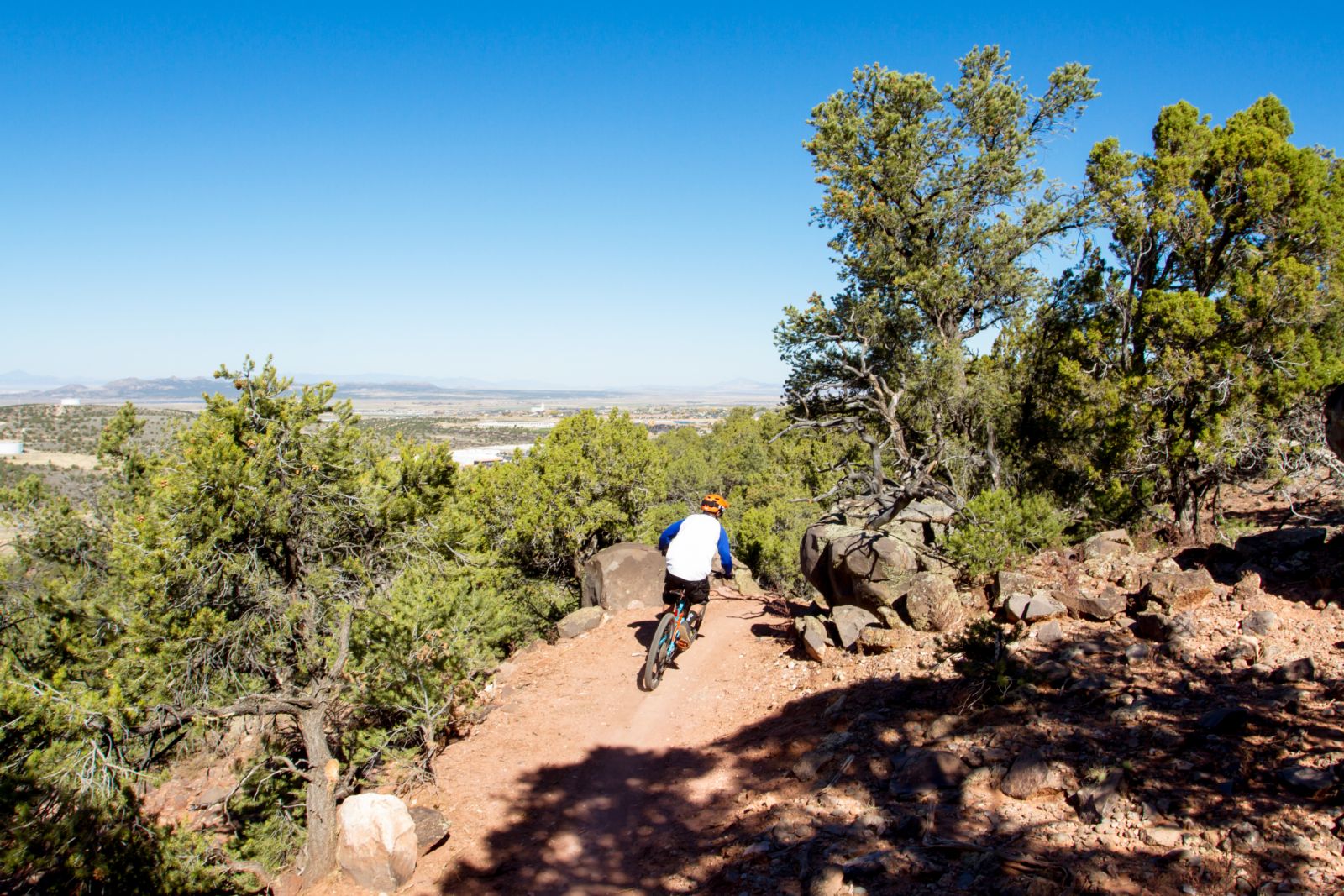 The Three Peaks Trail System is located 10 miles northwest of Cedar City. This 27-mile stacked loop trail system is part of the Three Peaks Recreation Area, where you can picnic, camp, play disk golf, and hike. There are specific areas for both motorized and non-motorized recreation in this 6,000-acre BLM recreation area. The 1.6-mile Practice Loop is a quick and easy ride for beginners and the 4-mile Race Course Loop is a fast a flowy intermediate ride.
Bike Shop – Family Bicycle Outfitters
Beyond the Bike – Frontier Homestead State Park or the Cedar City Aquatic Center
Price is 120 miles southeast of Salt Lake City and offers some great spring mountain biking opportunities. This area often gets overlooked as a mountain biking destination, but it should be on your list for the spring.
The Wood Hill trail system is 20 miles of trails atop a high desert mesa just north of Price. The trailhead has ample parking, a restroom, and an information kiosk. For the beginner riders, Solis Way to Bill Sandy is an easy 1.2 mile out-and-back option. For the intermediate rider this can be combined with the Luke's Trail for a fast a flowy 9-mile ride.
Bike Shop – Altitude Cycle
Beyond the Bike – Desert Wave Pool
The small, somewhat sleepy town of Green River is a great basecamp for exploring the San Rafael Swell, Goblin Valley, and the Green River. This area also has a couple of great mountain biking options to add to their adventure quiver.
The Athena Trail, located in Green River was completed in March 2018. This intermediate 5.5-mile loop is a flowy classic desert ride. The vertical gain is about 600 feet and there are a couple short climbs. The trailhead (no bathrooms) located less than a mile from the I-70/Green River exit.
Goblin Valley State Park is 46 miles southwest of Green River. The Wild Horse Mesa mountain bike trail, located near the campground at the park, is a stacked loop system with 7 miles of beginner/intermediate single-track. The riding is fast, flowy, and offers amazing views of the San Rafael Reef and the Henry Mountains in the distance.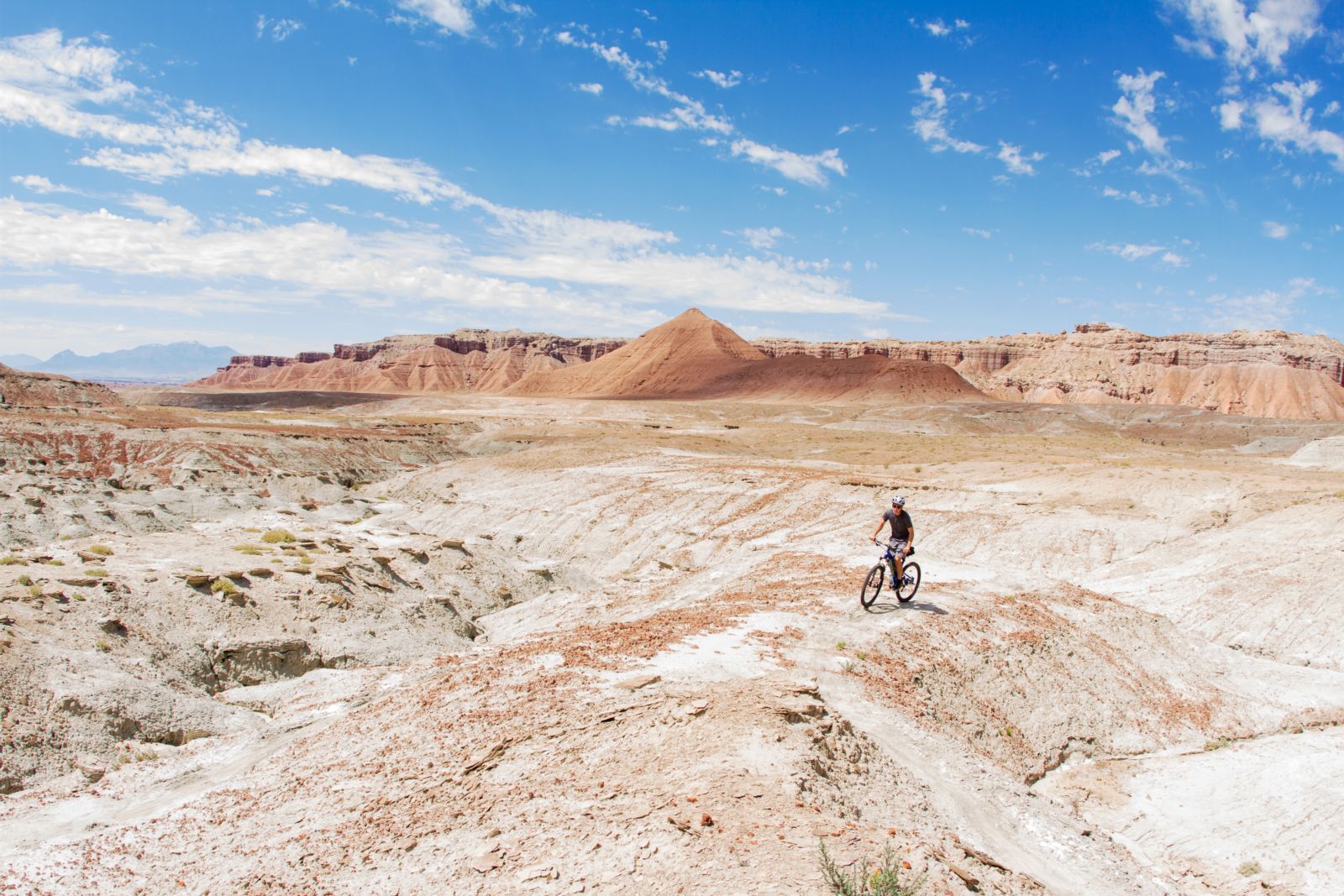 Bike Shop ­– Currently there are no bike shops in Green River, closest shops are in Moab or Price.
Beyond the Bike – John Wesley Powell River History Museum
Vernal is a great and lesser known destination for spring mountain biking, and is just a quick 170 miles from Salt Lake City. This area boasts of 60+ miles of single-track desert riding between both the Red Fleet and McCoy Flats areas. Each location offering beginner to advanced riding in a stacked-loop system.
The Red Fleet Recreation Area is located 11 miles north of Vernal on HWY 191 on the Donkey Flat Road. There are two main parking areas. The first one is less than a mile on the left-hand side and the second is 2.4-miles. Both parking areas provide restrooms. Jazz-Chrome Molly is a fast and flowy 6-mile intermediate loop with 600 feet in elevation gain. For the littles in the family, there is a ¾ mile mellow downhill section starting from the first parking area that makes a great and easy shuttle for the little riders.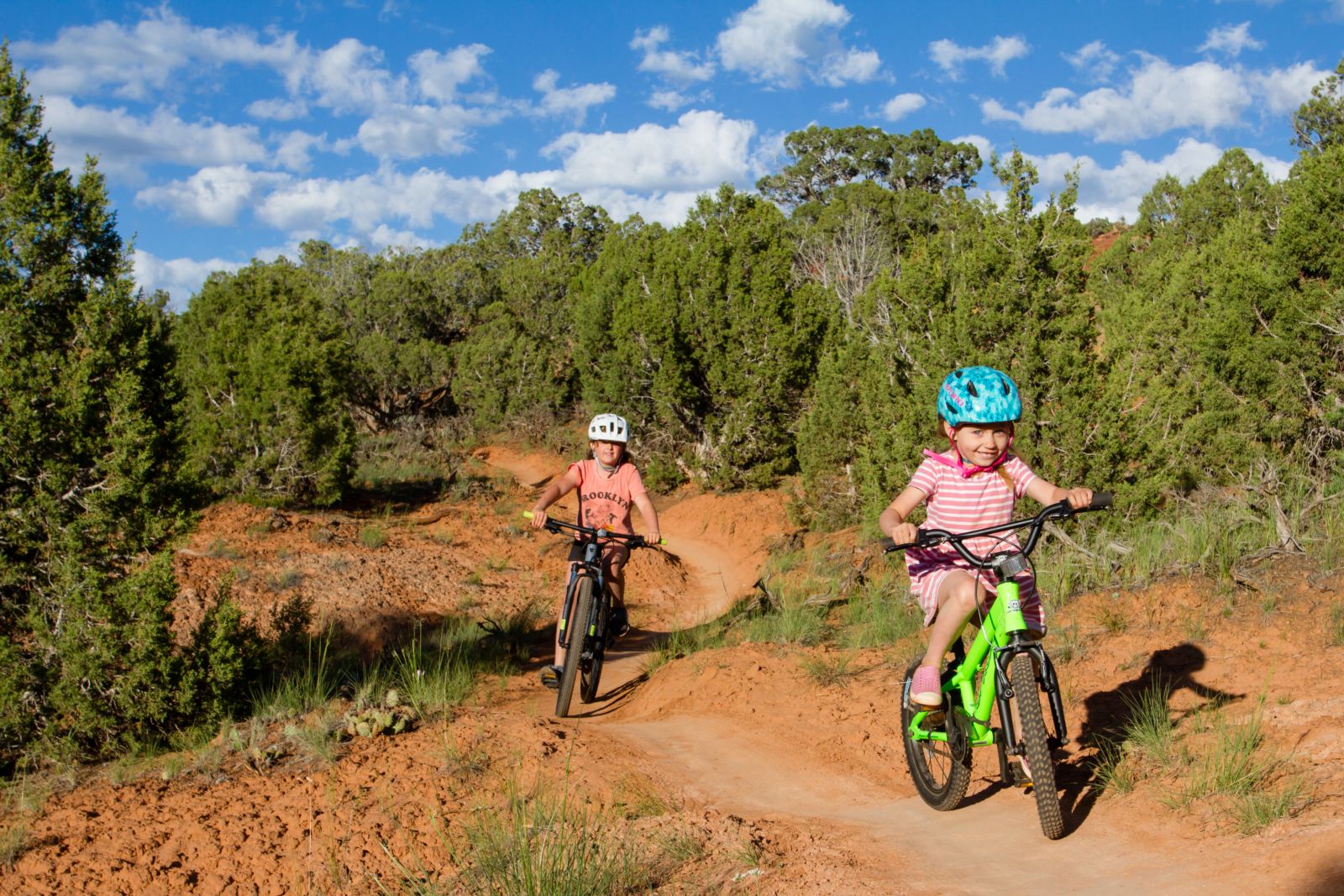 McCoy Flats is located 6 miles west of Vernal on HWY 40. Turn left onto the McCoy Flats Road, and then drive 3 miles to the trailhead. The trailhead offers a shaded picnic pavilion and restroom. This is the best area for beginner riders. The Combo Trail is a 1.5-mile (out-and-back) that parallels the road, making for easy turn-a-rounds if necessary. The next step-up would be to combine the Combo Trial with And Cookies to make a 3.8-mile loop. Once this combo is mastered, try adding Got Milk? to make the Goat Milk and Cookies 5.8-mile loop. Because the trail is called And Cookies sure to pack your favorite cookies to eat on the trail.
Bike Shop - Altitude Cycle
Beyond the Bike – Explore Red Fleet State Park, hike the Dinosaur Trackway or play in the water at the Red Fleet Reservoir
Archives
2022
2021
2020
2019
2018
2017
2016
2015
2014
2013
2012
2011
2010