Road Trippin Scenic Byway 12
Posted On

Jun 12, 2019
Category

Southern Utah
Road Trips
Hiking
Family Friendly
Guided Adventures
By Breana Wright
Road trips are about the most All-American vacation there is. You, your family, the highway, and some favorite tunes – where time isn't measured by mile markers, but by moments. Utah's Scenic Byway 12, is the best road-trip highway on the planet, passing through Red Canyon, Bryce Canyon National Park, Grand Staircase-Escalante National Monument, Boulder Mountain, and Capitol Reef National Park. Few highways in the world offer as much jaw-dropping scenery and adventure in 120 miles, so we packed up the car, the kids, the bikes, and hit the open road for an adventure.
Our first stop was the paved bike path the runs through Red Canyon and the Dixie National Forest. This scenic path is 17-miles long, winds through the alpine forest and majestic red rock hoodoos and ends in Bryce Canyon National Park. Hiking in Red Canyon is great too, the 1-mile Pink Ledges Trail and the 0.7-mile Arches trail, which takes you past 15 arches! After the bike ride, we stopped at Bryce Canyon Pines Restaurant for some of the Ethyl's famous homemade pie.
We drove past the main entrance to Bryce Canyon National Park and stopped at the Mossy Cave Trail. Having some time before the sun went down, it was the perfect quick stop. The girls were thrilled to have some water to play in and explore, we took our time on the trail and just let the kids be kids. The Mossy Cave Trail is a mile long and ends at a mossy grotto supplied by an underground spring.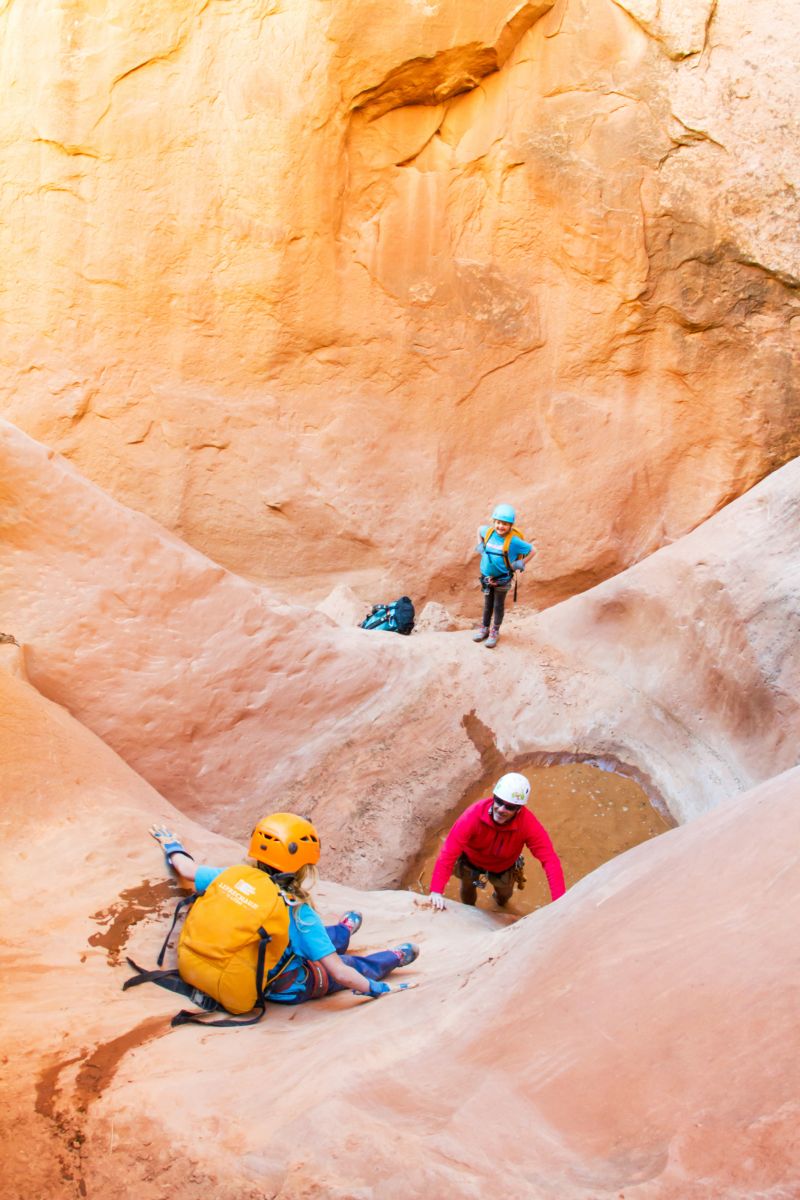 Back in the car, and on the road again, our final destination for the day was the Circle D Motel in Escalante, where we quickly unpacked and headed to bed. We had a big day ahead of us: our very first canyoneering trip! The next morning, we made our way to Excursions of Escalante. Our guide was Rick Green, the owner and who has been guiding slot canyons in the Grand Staircase Escalante National Monument (GSENM) for the last 18 years, and we instantly felt comfortable and excited about the day ahead. I rappelled first so I could comfort my daughter as she made her way down. Watching her rappel was a moment I'll never forget! She was so brave and so proud of herself. With everyone down, we descended into a magical slot canyon. Rick shared past experiences of the many animals he has rescued in these canyons. One our trip, we rescued a baby rattlesnake and a tarantula, which of course thrilled the girls! At one point, I looked up, following the walls until they were so narrow that just a thin crack of the blue sky peeked through. I saw a plane fly by and was humbled by how small I felt in this tiny canyon, that by plane, you would probably miss with the untrained eye. A few hours, and three rappels later we emerged from the canyon and started the hike back to the car. Smiling brighter than the desert sun, I knew this was a trip I would never forget.
With just one more day of exploring the diverse and magical landscapes surrounding Escalante, we headed to Peek-a-boo and Spooky Slot Canyons. These amazing canyons glowed vibrantly in the morning sun. I would suggest getting an early start, as these canyons have become very popular. Following our slot canyon adventure, we stopped for a late picnic lunch at Devils Garden. Which is an ideal spot nestled in a natural rock playground where the girls could run freely and explore the various sandstone formations.
The next da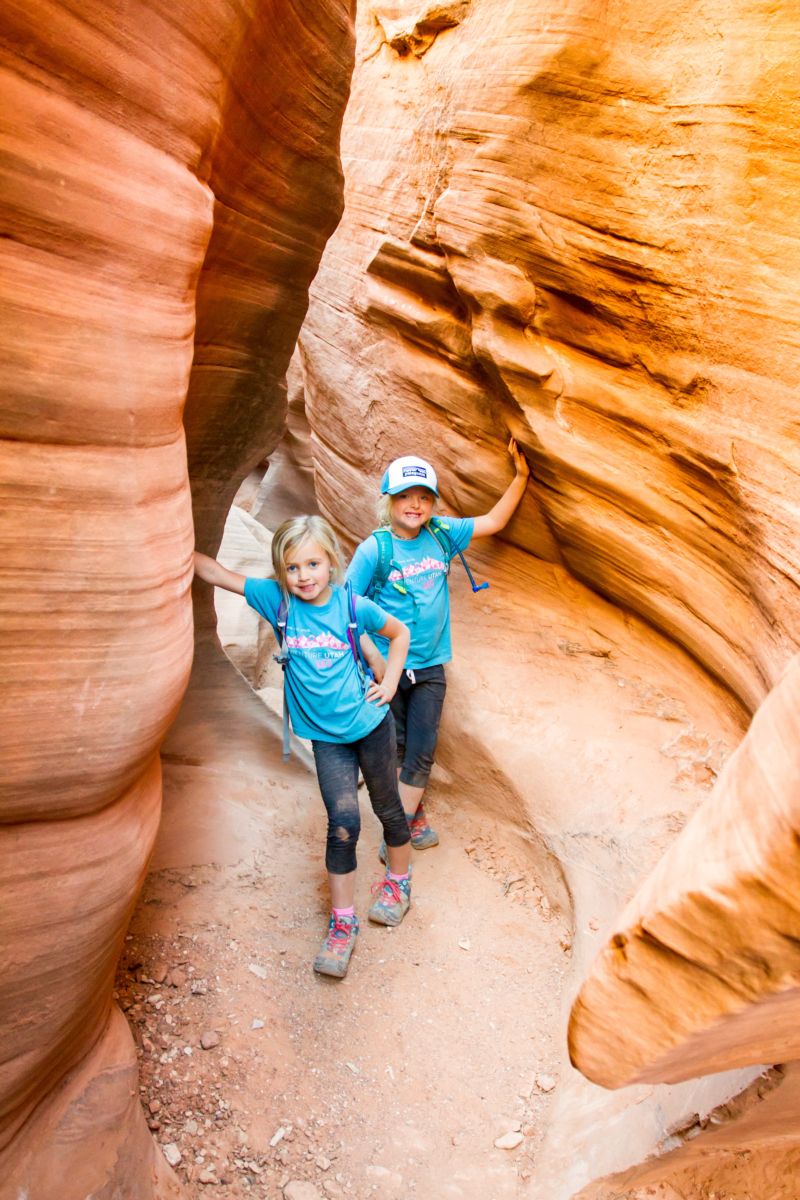 y we were back on the road again. Driving Highway 12 through Grand Staircase Escalante National Monument is something everyone should experience. We took our time, taking pictures of the beauty around us. We stopped for lunch at Burr Trail Grill in Boulder. Making our way up and over scenic Boulder Mountain, we arrived at the Broken Spur Inn, in Torrey for our final leg of the trip: Capitol Reef National Park.
The next morning, we ventured into Capitol Reef to hike the Cohab Canyon Trail. This 1.7-mile trail offers gorgeous views of the valley floor and stunning rock formations. If you keep your eyes peeled you can find a cool slot canyon off the right of the trail as you're hiking in, which is well worth the search efforts. This trail ends with panoramic views of Capitol Reef and the historic town of Fruita. It was our final day but we wanted to squeeze in one final hike. We chose the Hickman Bridge Loop which is 1.8 miles. This is a fairly easy trail with views of Capitol Dome. With plenty of spots to stop and explore, we took our time on this trail. The trail loops under Hickman Bridge and can really get a grasp on how massive it is. We made our way back to the car and took a scenic drive around the park before making our way back home.
The best thing about road trippin' on Highway 12 is that you can truly make it your own. With so many adventures and wonderful sights to see, you can do this trip every year and still have plenty of new and exciting experiences!
Archives
2023
2022
2021
2020
2019
2018
2017
2016
2015
2014
2013
2012
2011
2010