Road Trippin' A Red Rock Winter Retreat
Posted On

Jan 15, 2021
Category

Southern Utah
Road Trips
Hiking
State Parks
Family Friendly
Winter
By Monique Beeley
When you think of a family winter retreat, what are the first images that come to mind? Is it the classic Norman Rockwell scenes with vintage sleds, ice skating, sipping hot chocolate, and the sounds of sleigh bells ringing on a horse drawn carriage? Or, is it swooshing down a nicely groomed slope or whooping it up in the deep powder at your favorite mountain resort, followed by fireside après ski treats? Thankfully, living in Utah means all of these are definite possibilities, and would create some epic family memories. But, for a uniquely UTAH winter retreat, consider a visit to red rock country. Here, the vibrantly colorful landscapes are magically covered with a white blanket of snow creating epic landscapes for exploring. Because this is the off season in red rock country, the opportunity for solitude and serenity abound.
Ruby's Inn located just outside Bryce National Park, is the perfect winter base camp for exploring Bryce Canyon, Dixie National Forest, Red Canyon, Kodachrome Basin State Park, and Grand Staircase Escalante National Monument. Ruby's Inn has a great indoor pool, full service restaurant, gift shop, ice skating rink, and an onsite Nordic Center providing rental gear for snowshoeing, ice skating, and cross-country skiing. And they also offer horse-drawn sleigh rides as well!!
Bryce Canyon National Park in the winter is a magical experience that every Utahan must experience, at least once. After that one experience, I guarantee you will be returning to do it again, and again. It might even become a beloved winter tradition for your family.
Before we go any further, let's cover the know before you go basics to ensure you and your family have the best experience possible.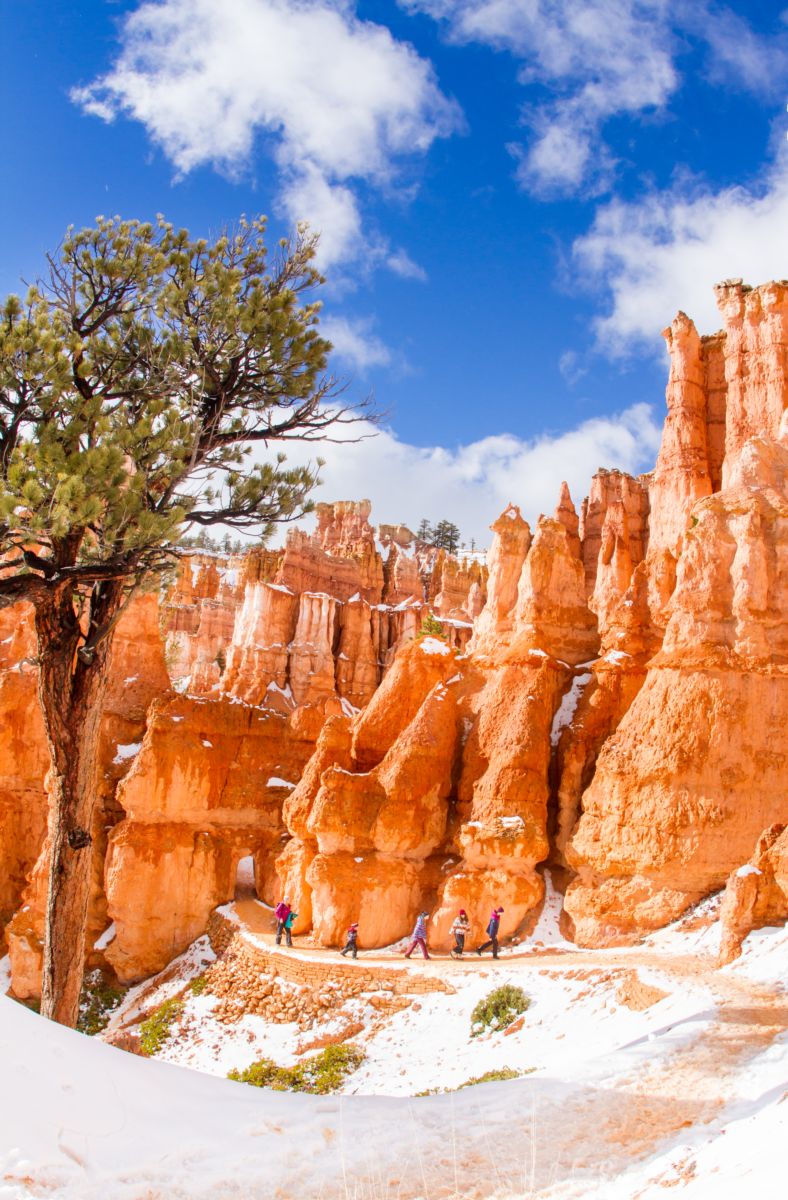 Bryce Canyon is Utah's highest elevation national park. The main area of the park ranges in elevation from 8,000' at the park entrance to the highest point 9,105' at Rainbow Point. Mossy Cave, located 7 miles northeast of the main entrance, is the lowest point with an elevation of 6,819'. In January the average snowfall is 19 inches and the temps range from 36 to 15 degrees Fahrenheit. The only two roads in the park that are closed to vehicles in the winter (Fairyland Point and Paria View) are open to cross-country skiers and snowshoers. After a snowstorm, the main road temporarily closes at mile marker 3 to allow snowplows to clear roads. Closures can last anywhere from a couple of hours to a couple of days, depending on the length and severity of the storm. The main amphitheater viewpoints at Bryce Point and Inspiration Point remain open as much as possible. The visitor center is open daily during the winter 8:00 am to 4:30 pm.
During the winter, visitation drops by about 92% (2018 January 32,433 to July 430,020) which means this is the best time to visit for those wanting to avoid the crowds and find solitude. Plan for weather to vary daily as well as hourly. The trails along the rim and into the amphitheater can be frozen and icy in the morning hours and then become slushy and muddy midday. The best footwear for these conditions is waterproof hiking boots and then adding a traction cleat like Yaktrax. This combo will keep your feet dry and give you added traction needed on icy trails. And as conditions change throughout the day, the traction cleats are easily removed and stowed away in backpack.
In addition to the hiking and cross-country ski routes in the Bryce Canyon, there are also 30 km of groomed Nordic trails just outside the park in the Dixie National Forest. The best access point is from Ruby's Inn where you can also rent gear at the Winter Nordic Center. Cross-county ski packages (poles, boots, skis) are available for $10 per day / $7 half-day. The Rim Trail is a 1.85-mile loop from the Nordic Center that winds through ponderosa pines leading to amazing views of Bryce Canyon.
Kodachrome Basin State Park is 20 miles from Ruby's Inn. The elevation is 5,800' which is significantly lower than Bryce Canyon. Winter temps here are warmer, averaging 45 degrees in January. This park makes the perfect day trip if the weather in Bryce is a bit blustery. If you are heading to Kodachrome, be sure to stop at Mossy Cave on the way. This easy trail is less than a mile round trip and well worth the visit.
There are a few good trails to explore in Kodachrome Basin. The Nature Trail is an easy 0.5-mile loop that has interpretative signs along the route. Angel's Palace is a moderate 1.5-mile (out-and-back). The Panorama Trail can be done as a 3-mile or 6-mile loop, and winds through the west side of the park, and offers many amazing views and unique geologic features. If you are looking for a winter "glamping" experience, the two bunkhouses at Kodachrome are open and heated in the winter. Each bunkhouse has a twin over queen bunkbed, a futon, dinner table, mini refrigerator, outdoor grill, and picnic table.
Grosvenor Arch in the Grand Staircase Escalante National Monument is 11 miles southeast of Kodachrome Basin on the Cottonwood Canyon road. This road is unpaved past Kodachrome and is typically accessible when it is dry during the winter months. Following a storm, the road becomes muddy and may be impassible. Grosvenor Arch is actually two arches standing 150 feet tall, with the larger arch having a diameter of 100 feet. From the parking area there is a 0.25-mile paved path leading to the base of the arch. There is a picnic area and vault toilet at the trailhead. There is no cell service at this location or at Kodachrome Basin.
The Grand Staircase Escalante National Monument has very limited winter facilities. The Cannonville BLM Visitor located at 10 Center in Cannonville is not open during the winter, but they provide area maps and brochures in their outside kiosk. For current road conditions, call the Kanab BLM office. They are open Monday-Friday, 8am-5pm, 435-644-1300.
Another recommended day trip is Red Canyon (7,400' elevation) in the Dixie National Forest, which you most likely passed through on your way. This beautiful area located just 7 miles from Ruby's Inn is often thought of as a mini Bryce because of the red rock hoodoos that fill the landscapes. There are a few different hiking options from the Red Canyon Visitor Center: Pink Ledges, Birds Eye, and the Golden Wall. Pink Ledges interpretive trail is an easy 0.7-mile loop that winds through pine trees and red rock hoodoos. The Birds Eye Trail is a 1.8-mile out-and-back that can be accessed from the visitor center or a small parking area just as you enter Red Canyon, 3 miles east on HWY 12 from the junction with HWY 89. The Golden Wall trail is accessed by crossing HWY 12 and then heading west on the Red Canyon Bike path for 0.2 miles. This trail is moderate and can be done as a 2.1-mile out-and-back, or combine it with the Buckhorn Trail to make a 4.7-mile loop. Another favorite in this area is the Cassidy Trail, accessed from the Red Canyon Trailhead located 1 mile east of the Red Canyon Visitor Center. This trail is moderate and can be done as an out-and-back or combined with the Rich Trail for a 4.2-mile loop.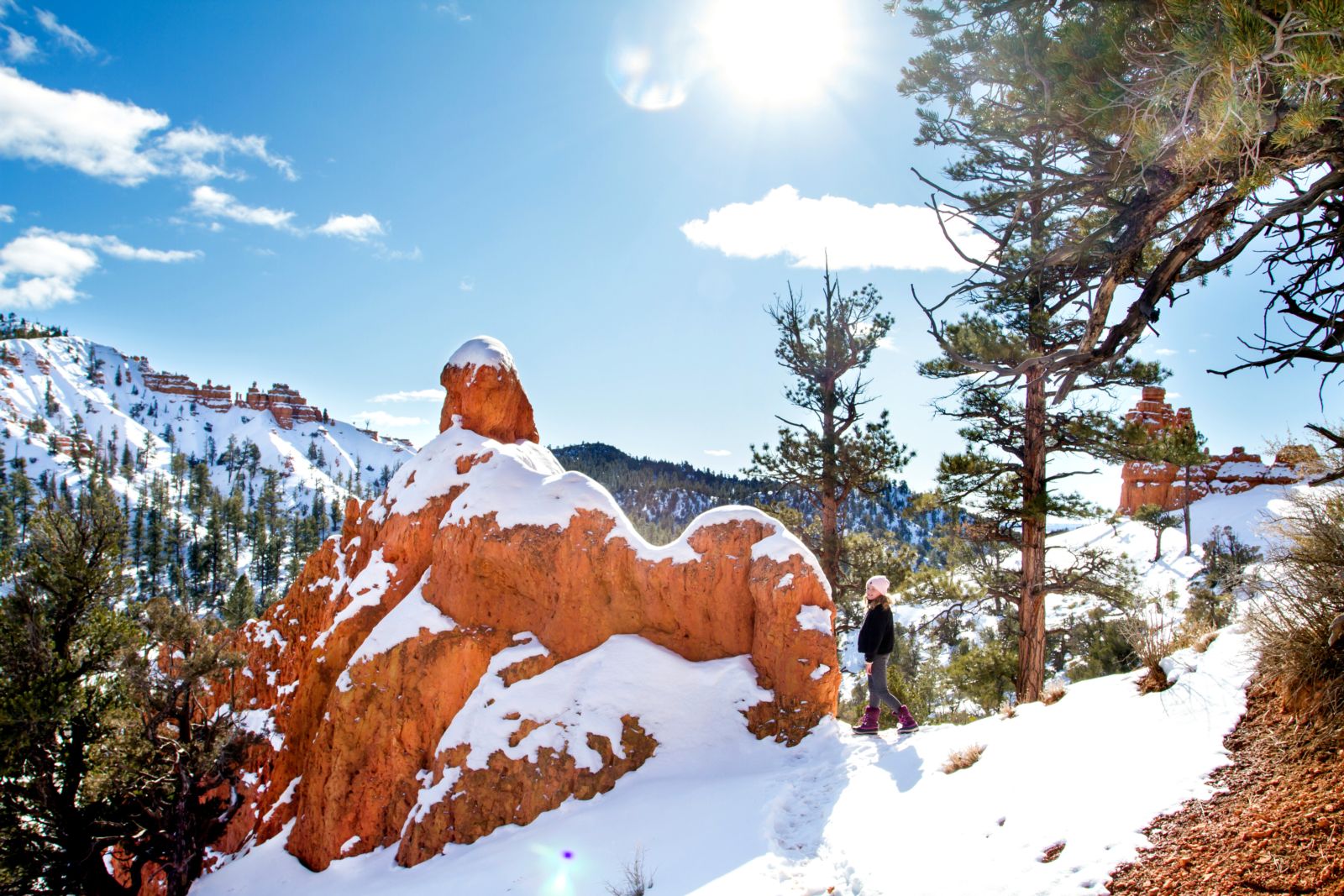 Red Canyon has limited winter facilities. The visitor center (435-676-2676) will be open only a few weekends this winter, but they will have area maps and brochures available in their outside kiosk. There are vault toilets at the Thunder Mountain Trailhead and the Red Canyon Trailhead. The Dixie National Forest - Powell Ranger District office located at 225 East Center Street in Panguitch, is open Monday-Friday, 8am-430pm, 435-676-9300 .
NPS.gov/brca/planyourvisit/winter.htm
Archives
2023
2022
2021
2020
2019
2018
2017
2016
2015
2014
2013
2012
2011
2010