How To: Dress For Success
Posted On

Jan 04, 2021
Category

Gear
Family Friendly
Educational
Winter
By Monique Beeley
One of the biggest challenges when playing outdoors in the winter is knowing how to "dress for success." Success, in this case, is keeping the kids cozy and dry, and everyone happy.
Layer, Layer, Layer are the three most import aspects of dressing for successful winter adventures.
#1 Base Layer: (Aka Long-Johns) This layer is a breathable, fitted synthetic layer (never cotton) that helps wick sweat away from your skin and helps regulate your body temperature.
#2 Insulating Layer: This mid-layer is all about retaining your body heat. This layer could be fleece, wool, or down. Wool is best for snowshoeing or cross-country skiing where you may be working up a sweat. Down is perfect for less active adventures such as snowmobiling or tubbing. Fleece is the most affordable of the three.
#3 Outer Layer: This is the weather-proof layer that protects you from the wind, snow, and rain and is the icing on the cake. FYI, this is the one layer you will probably want to spend the most on. A Gore-Tex® breathable outer shell worn as a top layer will keep the heat in and the wetness out, creating smiles all around.
Here are some of the benefits of layering versus wearing just a big puffy coat. Part of living in the mountains is dealing with the temperature changes that will happen many times throughout the day. Having multiple layers means you can make adjustments as the day warms up or as the storm rolls in. What you wear as you climb the hill is not the same as when you are descending.
Ok, now moving to the extremities… let's talk hands and feet.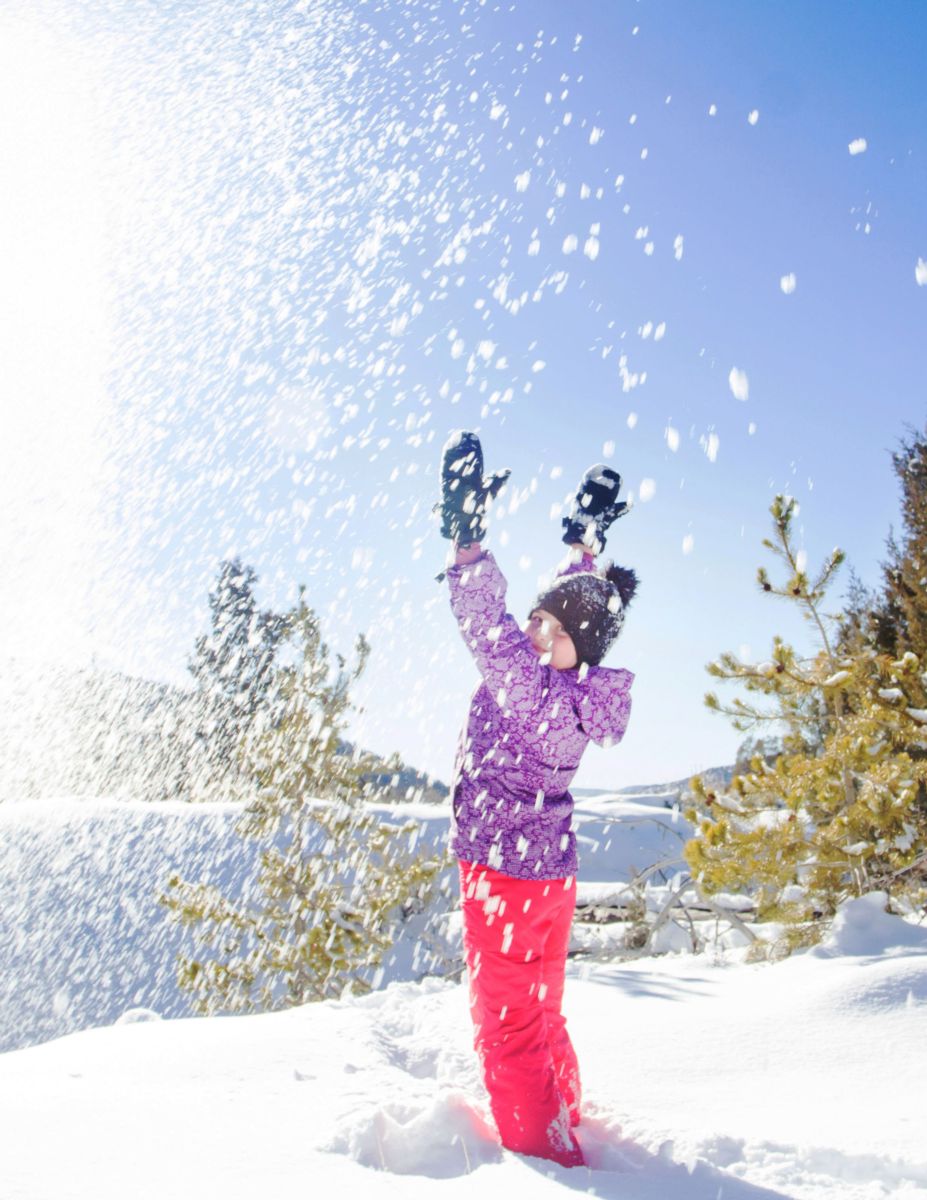 HANDS: Gloves versus mittens. Mittens are typically warmer and better for younger kids. On colder days, layering a thin synthetic glove liner with a mitten is a great option. If you know your child will have their hands in the snow all day, pack an extra pair of gloves and swap out midday. Even the most "water proof" gloves can become wet and soggy overtime especially if your child likes to eat snow.
FEET: First of all, never, ever wear cotton socks when playing outdoors in the winter. As you sweat, cotton socks will absorb and hold moisture making your feet wet and cold. Merino wool or synthetic fibers are best. The biggest advantage of Merino wool is that it is thermostatic (temperature regulating), so your feet stay comfortable at a range of temperatures. Advantages of synthetic socks are that they tend be less expensive than wool and can be more durable.
For really cold temps, or for the kid that always has cold feet, layering socks is on option. Similar to the three-step layering plan above, incorporate a lightweight wicking sock with a lightweight wool sock. If layering socks, be sure your boots have enough room for this technique. Too many socks can have the opposite effect. A tight squeeze cuts off circulation, and this will make feet colder. Make sure you are able to wiggle your toes in the socks as well as in the boot.
BOOTS: Snow boots have a temperature rating system ranging from 32 to –40 degrees Fahrenheit. In Utah, you will probably want a boot rated 30 to –0 degrees Fahrenheit for active adventures like snow play, hiking, and sledding. For snowmobiling or ice fishing, you would want the next step colder rating. Second, be sure they are waterproof not water resistant. Third, sizing up a half size is a good idea to allow room for thick socks or layering if needed.
Last, but definitely not least, is the HEAD, which if not properly covered will undo many of the aforementioned tips, especially with kids. Whether your style is a beanie, a stocking cap, or an ushanka, covering your noggin is a no-brainer in the winter. For years the widely circulated myth that "you lose 40-45% of your body heat through your head" kept people (including myself) in the mindset that wearing a hat kept you significantly warmer in cold temps. This myth, now debunked, is thought to have been derived from a misinterpretation from studies done by the US Army in the 1950s. We now know better, and the heat loss from your head is around 10%, which directly correlates with the fact that the head makes up about 10% of the average adult's total body surface area. Knowing that kids' heads are larger in proportion to their bodies, it is more important for infants, kids, and teens to keep their heads covered. The head percentage numbers for infants is 21%, kids (ages 5-9) is 15%, and teens (ages 10-16) is 13%. So the next time your child whine,; "why do I have to wear a hat," you can use these numbers to prove your point.
Now that you have the Dressing for Success basics, get out there are play in our epic snowy mountains!!
Archives
2023
2022
2021
2020
2019
2018
2017
2016
2015
2014
2013
2012
2011
2010