Glamping in Utah State Parks
Posted On

Aug 10, 2020
Category

Southern Utah
Hiking
State Parks
Family Friendly
Central Utah
Have you been wanting to introduce your family to camping, but not sure where to start? And every time you start the "shopping list" for camping gear, and then do a research on the cost and options, you get quickly overwhelmed with everything that might be needed to personally enjoy those cozy campfire marshmallow roasting and epic starry night images that are plaguing your social media feed. And, to that add the thoughts of the time/money investment in something new that may not even be a fit for your family (chances of this are pretty slim). Yes, all of these thoughts are probably running rampant in your head.
Let me redirect you here to the world of "glamping," which is essentially glam – camping. And fortunately, there are many options throughout Utah that will allow you to test the waters before fully committing to becoming a camping family. Also, don't let the "glam" in glamping scare you off, thinking this option may come with the "glam" price tag as well. Yes, there are plenty of high-end glamping options, as it's kind of trendy at the moment, but there are also plenty of affordable choices, which is what we are highlighting here.
First, I want to give a little out shout to our truly amazing and world-class Utah State Parks. Did you know that we have 44 parks here in Utah. Many of which rival National Parks throughout the country. A few years back, many of these parks started adding something new to their already existing campgrounds. First it was just a few cabins at Palisade State Park in 2009. Then, after seeing the demand for this alternative to traditional camping, they fully jumped into the glamping scene, adding more cabins at more parks and then yurts, teepees, hammocks, Conestoga wagons, and most recently, a replica of a Native American Pithouse. The total number of options now, is 86 in 19 different state parks.
Here are some of our favorite Utah State Park glamping destinations:
Fremont Indian State Park tops the list with the recent addition of a replica of a Native American Pithouse, which we were lucky enough to be the first overnight guests (aka guinea pigs) this past fall. We were not sure quite what to expect, but we were all pleasantly surprised by the amazing craftsmanship and beautifully exposed logs on the interior. The exterior was made of a combination of soil and rocks from the area. An overnight in the Pithouse combined with a day spent exploring the archaeological sites and museum at the park made for fully-immersive and educational adventure. This park also offers two teepees in the Castle Rock Campground and two cabins the Sam Stowe Campground.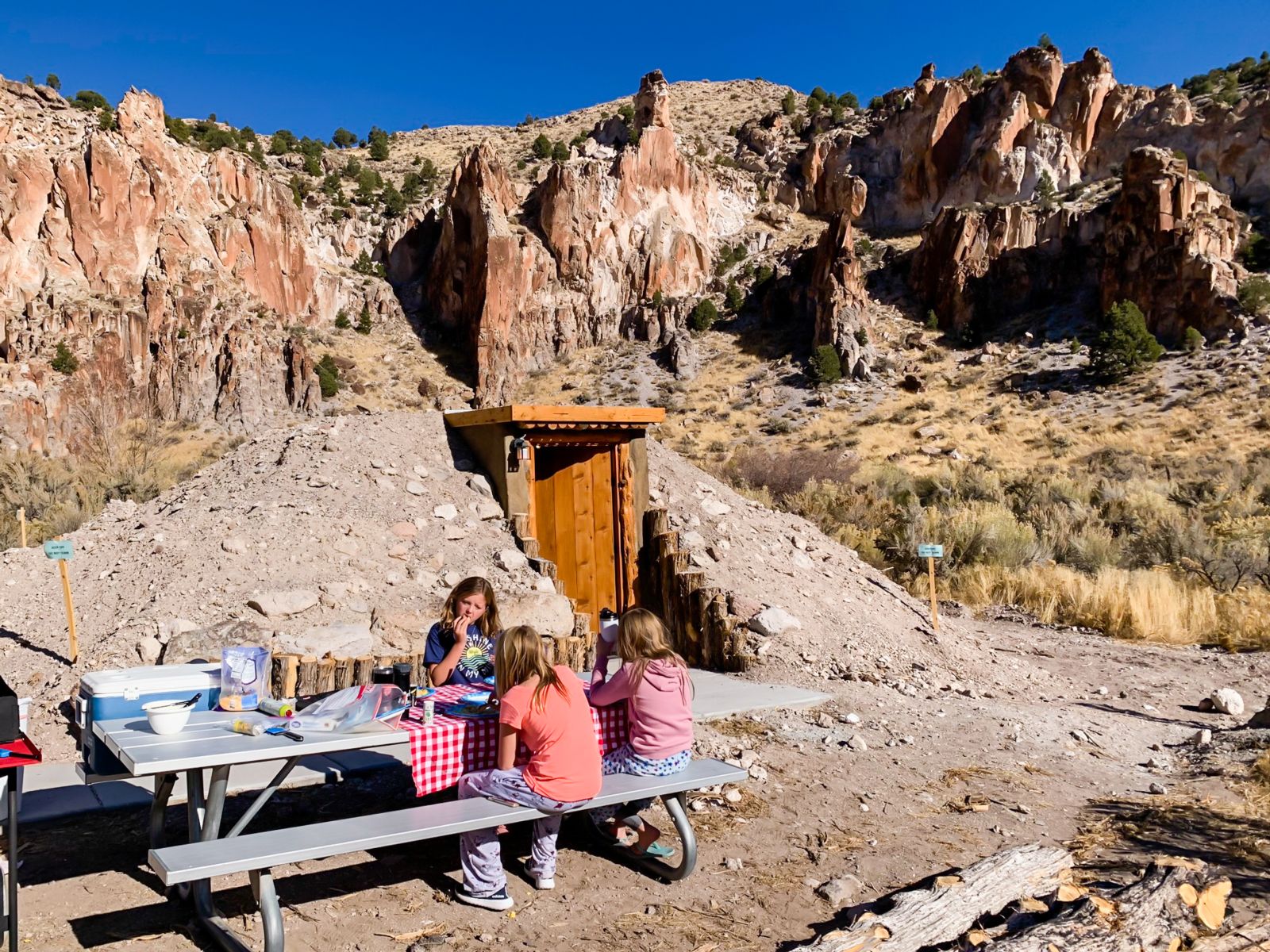 Next up is, Kodachrome Basin State Park, located 20 miles southeast of Bryce Canyon National Park. This amazing red rock wonderland is a family-friendly paradise. The park has numerous easy hiking trails and with an onsite horseback riding guide service as well – Red Canyon Trail Rides – for those wanting to explore the park via horseback. The park's two cabins are called the Bunkhouses, each sleeps five (twin/queen bunkbed + futon), and has air conditioning, a small dining table, refrigerator, outdoor grill, firepit, and picnic table.
Fred Hayes State Park at Starvation, located 115 miles southeast of Salt Lake City, is a great destination for water recreation and beach time. The park, originally named Starvation State Park, was rededicated in 2019 in memory of Fred Hayes, who was the director of the Utah Division of Parks and Recreation from 2012 – 2018. Hayes was a true campaign of our state parks and recreation throughout Utah. The park offers three cabins, each sleeps six (queen bunk bed plus futon), has air conditioning, a small dining table, refrigerator, microwave, outdoor grill, firepit, and picnic table. Onsite recreation rentals include boats, PWC, water trampoline, and paddleboards.
Goblin Valley State Park, located 220 miles southeast of Salt Lake City, is by far one of the top family-friendly destinations in Utah. What kid wouldn't want to free-roam through the Valley of the Goblins? The park has two yurts, each sleeps six (queen bunk bed plus futon), a small dining table, refrigerator, outdoor grill, firepit, and picnic table. For those looking to step-up their adventure game, this park has an onsite canyoneering guide service – Get into the Wild – that will take your family on a wild adventure through the Goblin's Lair.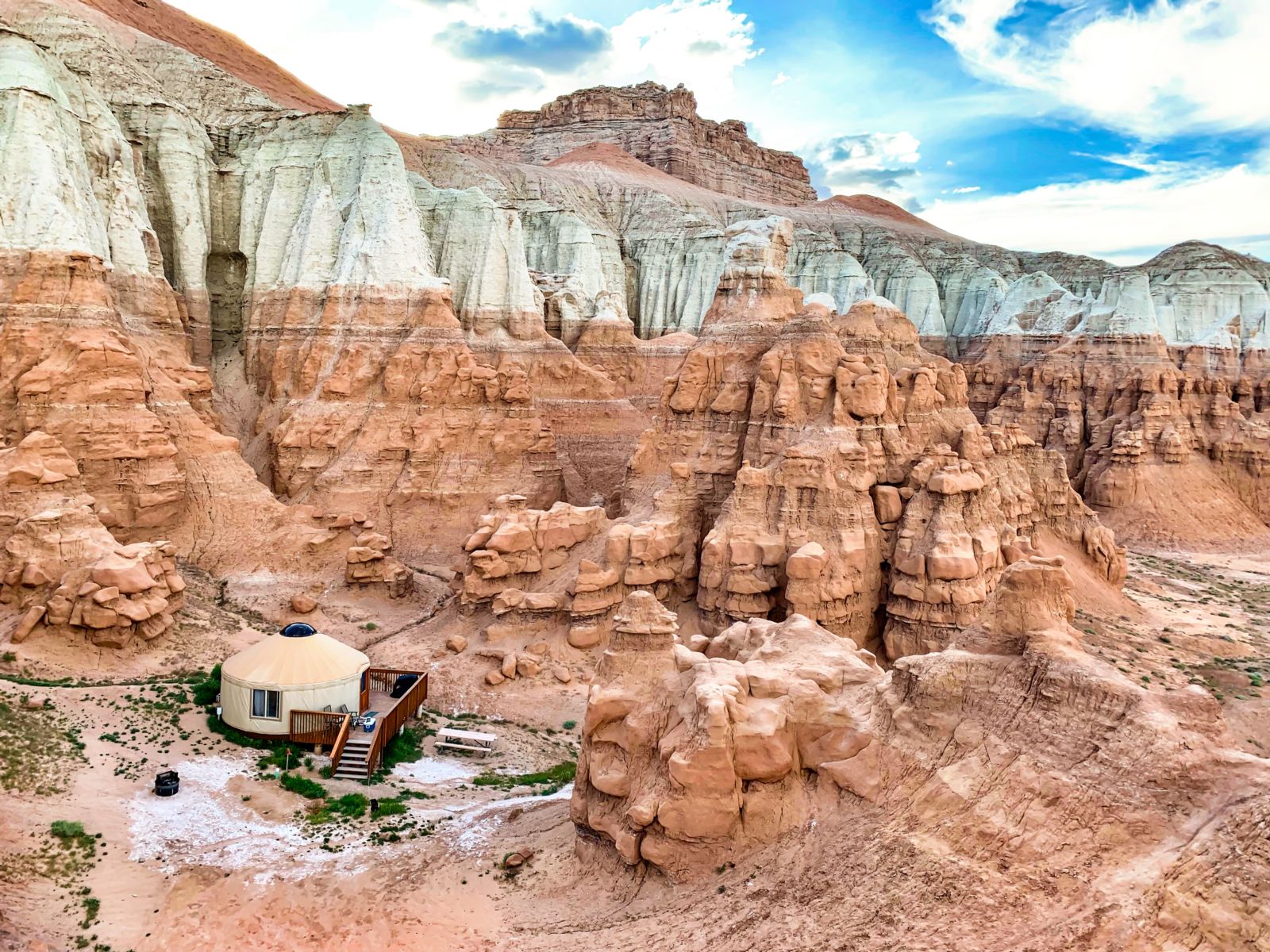 East Canyon State Park comes in as the King of the Mountain and offers cabins, yurts, Conestoga wagons, an RV trailer, a hammock camping structure, and… it's only 30 miles from Salt Lake City. The outdoor recreation here centers around the 684-acre reservoir which is a popular spot for boating, fishing, paddling, and swimming. Hiking and mountain biking options can be found nearby on the Mormon Flats trail.
Tags
State & Nat'L Parks
Archives
2023
2022
2021
2020
2019
2018
2017
2016
2015
2014
2013
2012
2011
2010