Fall Road Trippin' in Southeastern Utah
Posted On

Oct 07, 2020
Category

Southern Utah
Destinations
Road Trips
Family Friendly
Guided Adventures
By Monique Beeley
Leaving the Wasatch Front in the rearview and heading south feels like taking a step away from the fast-paced action of the epicenter of our state and stepping into the soothing sights, the quieter sounds, and the surreal landscapes of the central and southern part of our state.
One of the many things I love about Utah is the diversity of our landscapes and the recreational opportunities that each provide throughout the seasons. Summer is the time to heed the call to the red rock country that is primed and ready for adventure.
The Price Canyon Recreation Area (105 miles from Salt Lake City) is a BLM managed recreation area located high above the city of Price at an elevation of 8,000 feet. There is a campground with 12 sites ($8 per night), picnic areas for day use, restrooms, and hiking trails.
If you have never pulled off the road at bottom of Price Canyon on US 6, and stopped in Helper (111 miles from Salt Lake City), this is a must on your next roadtrip. This small quiet town is truly an up and coming destination that has a lot to offer. Helper is named after the helper engines that were required to assist trains traveling west to Salt Lake City make it up the steep 15-mile climb into Price Canyon.
First place to visit is an educational stop at the Western Mining & Railroad Museum (296 S Main St., 435-472-3009). Then be sure to grab a bite to eat at the Balanced Rock Eatery, just down the road (148 S. Main, 435-472-0403). Or, if coffee is what you need, check out the Happiness Within Coffee Shop (153 S. Main St., 435-472-2326). Your next stop on Main Street is the Historic Lincoln Hotel (54 S. Main, 435-650-4180) which has been recently renovated into a Harley Museum with vintage-style studio lodging. No stop in Helper is complete without a walk along the Price River Parkway Trail or a swim at the Helper City Pool (411 Spruce St., 435-472-0103). The pool opens July 1st and costs $5 each or $15 for a family of 5.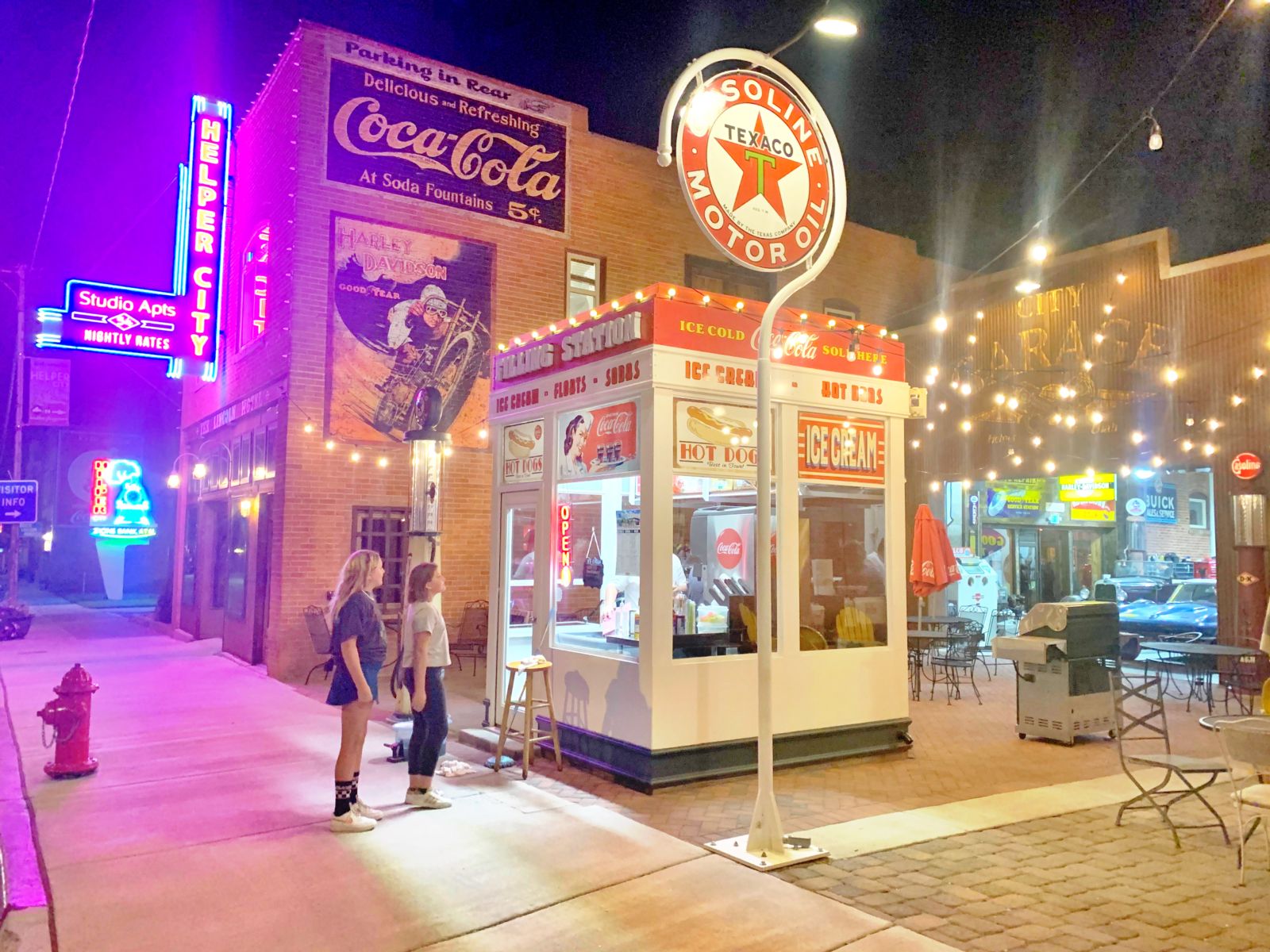 Ninemile Canyon is said to be the world's longest outdoor art gallery. This canyon has the highest concentration of rock art in the U.S. with close to 1,000 rock art sites. Located 10 miles southeast of Price, this canyon is 46 miles long and worthy of at least a half-day side trip to explore the treasures found within the canyon walls.
The town of Green River (181 miles from Salt Lake City) is a great base camp for adventuring in the San Rafael Swell, Goblin Valley, and the Horseshow Canyon section of Canyonlands National Park if you have a day or two to add to your Road Trip itinerary. But for those just passing through, looking for a quick bite, museum stop, or walk along the Green River.
Ray's Tavern (25 S. Broadway, 435-654-3511) is locally-owned and well-known in the outdoor enthusiast community. It's the place the river guides and mountain bikers frequent après' adventure. The John Wesley Powell River History Museum (1765 Main, 435-564-3427) is also the local visitor center, where you can find bathrooms and information about the area.
Swasey's Beach located 10 miles north of Green River is a great location to cool off and play in the Green River. This white sand beach that is shaded by towering cottonwood trees is the perfect family playground offering both day use and camping options.
Moab (233-miles from Salt Lake City) is truly one of Utah's greatest outdoor towns. Where many, many adventure memories have been made over the years. Located in the middle of town, the Moab Information Center (25 E. Center St., 435-259-8825) is the best place to get all the latest information, fill up a water bottle, or use the restroom.
Some locally-owned breakfast/lunch spots are the Moab Garage (78 N. Main, 435-554-8467) and The Love Muffin (139 N. Main, 435-259-6833). If you are needing to grab some groceries, The Moonflower Community Market (39 E 100 N.,435-259-5712) is a great option. For outdoor gear or to chat with some great locals both Gearheads (1040 S. Main, 435-259-4327) and Moab Gear Traders (300 S. Main, 435-355-0333) are open 7 days a week. If you are looking for local Moab art and jewelry; Moab Made (82 N. Main St., 435-210-0650) is a shop dedicated to local artisans.
Stay an extra day for a private guided adventure. Moab is home to epic outdoor recreation and also home to many highly trained guide companies that can take your family on an unforgettable adventure. How about a half-private guided canyoneering trip? Desert Highlights (16 S. 100 E., 435-259-4433) is a small locally-owned guide service the offers a couple of different tours that are perfect for families. Have you heard of "Rockaneering"? It's a term used by Moab Cliffs and Canyons (253 N. Main, 435-259-3317) for a family-friendly guided adventure that is both rock climbing and canyoneering.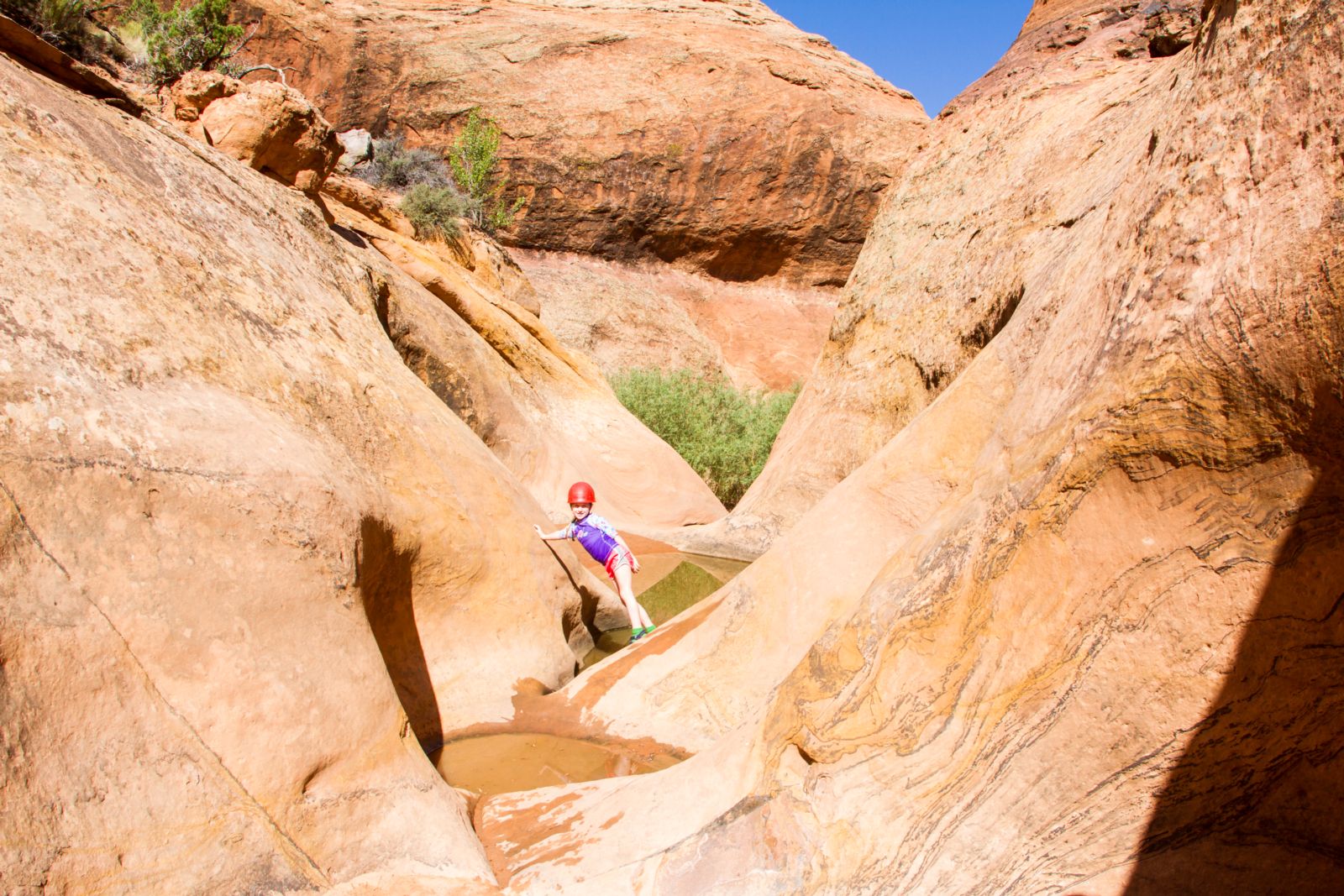 Monticello is located 54 miles south of Moab (287 miles from Salt Lake City) and sits in the shadows of the eastern side of the Abajo Mountains. This high elevation small town sits at 7,070 feet above sea level and is the gateway to the Indian Creek Unit of Bears Ears National Monument. The Canyon Country Discovery Center (1117 N. Main, 435-587-2156) is a great educational stop to learn all about the Colorado Plateau, featuring both indoor and outdoor exhibits, and several kid-friendly hands-on learning stations. There are also picnic areas and restrooms on-site. The Monticello Visit Center (216 Main, 435-587-3401) provides local information as well as local maps and books. The locally-owned burger, fries, and ice cream spot is The Shake Shack (364 N. Main, 435-459-2394), and another great food option is JaRoen Thai (380 S. Main, 435-587-4000). Have you tried black light miniature golf? Check out The Silver Queen Miniature Golf (80 S. Main Street, 435-587-2256) that is located at the local Merc True Value Hardware Store.
Blanding (20 miles south of Monticello on US 191) is the gateway town to three National Monuments: Bears Ears (Shash Jaa Unit), Natural Bridges, and Hovenweep. The Blanding Visitor Center (12 N. Grayson Pkwy, 435-678-3662) is the local stop for the latest information. The Edge of The Cedars State Park Museum (660 W. 400 N., 435-678-2238) is a must-see when in Blanding. This museum has the largest collection of Ancestral Puebloan pottery on display in the Four Corners Area. Stop by The Patio Diner (95 N. Grayson Pkwy, 435-678-2177) for a burger or cool off with an ice cream treat.
Bluff (20 miles south of Blanding on US 191) is a tiny town with a population of 320 residents that sits between the San Juan River and the southern end of Bears Ears National Monument. Bluff is also 47 miles from Four Corners Monument, 51 miles from Monument Valley, and 25 miles from Goosenecks State Park. This tiny town packs a punch for the outdoor adventurer.
A couple of locally-owned dining locales to check out are the Twin Rock Café (913 East Navajo Twins Dr., 435-672-2341) and Comb Ridge Eat and Drink (680 Main St., 435-485-5555). Then check out the Bear Ears Education Center (567 W. Main, 435-414-0343) to learn more about Utah's newest National Monument.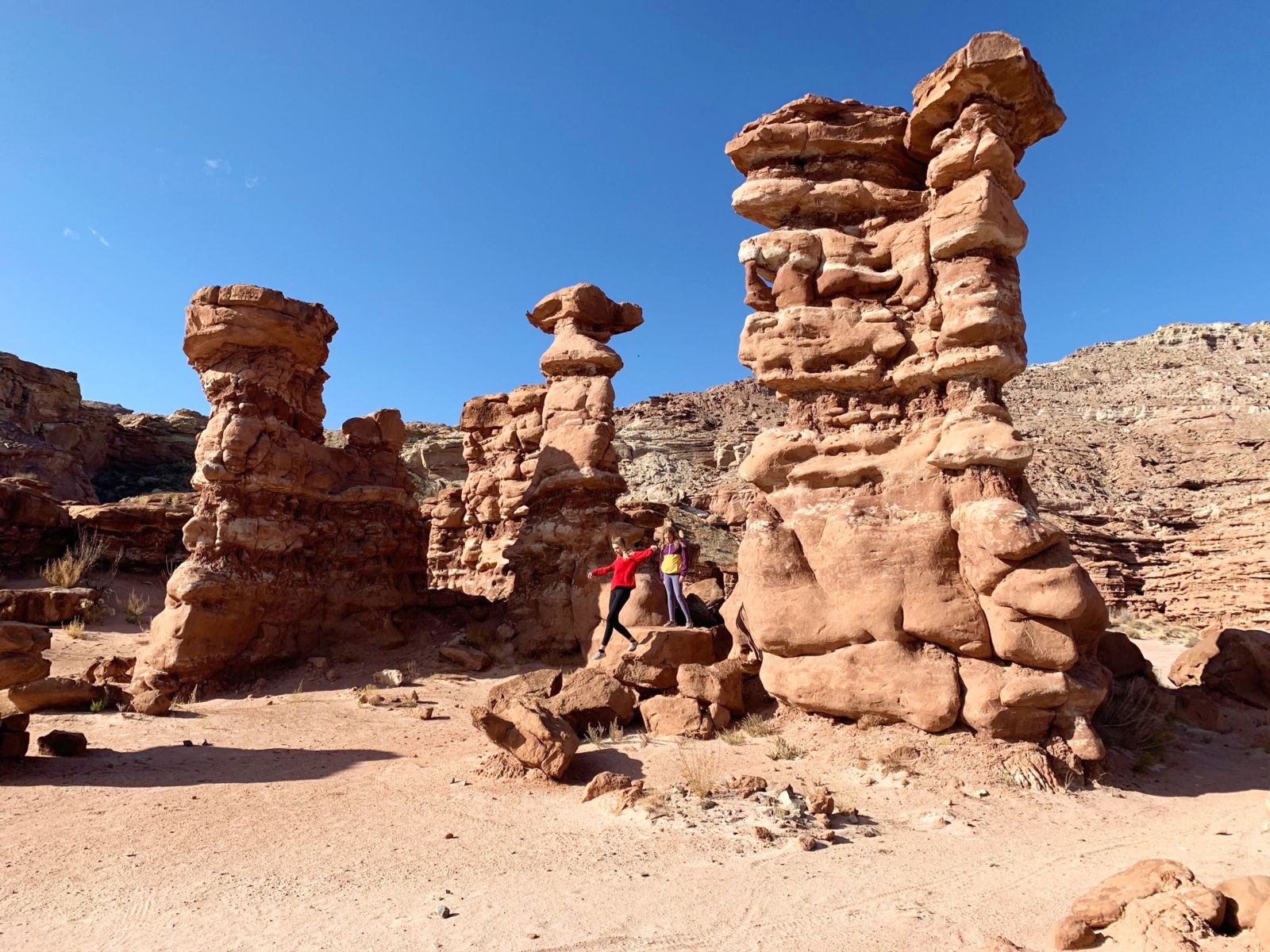 Recapture Pocket located 8 miles northwest of Bluff is a mini Goblin Valley filled with hoodoos and cool rock formations. This remote area is accessed from US 162 to CR 217/216 (dirt road), there are no facilities or restrooms, so be prepared and always pack out everything when you leave.
Tags
Hiking
,
Rock Art
,
Moab
,
Helper
,
Green River
,
Monticello
,
Blanding
Archives
2023
2022
2021
2020
2019
2018
2017
2016
2015
2014
2013
2012
2011
2010