Dinosaurs, Trails and "Glamping"
Posted On

Jul 02, 2017
Category

Northern Utah
State Parks
Family Friendly
Educational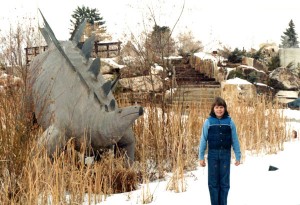 By Monique Beeley –
Growing up, I spent a lot of time in the great Utah outdoors with my family. Some of my much loved early memories are of Lake Powell, Bear Lake and, perhaps my favorite, the land of the Dinosaurs, aka "Dinosaurland!"
When I was a child, my parents would often take my sister and me for a day to visit Dinosaur National Monument, which received its designation in 1915. Today, the monument straddling two states includes 210,000 acres of wilderness canyons carved by the beautifully rugged Green and Yampa rivers.
Vernal, the gateway community to the region, is located in northern Utah, just three hours east of Salt Lake City. Dinosaurland is home to an abundance of family friendly outdoor fun - everything from Dinosaur bones and petroglyphs to lakes and rivers teeming with trophy-sized trout.
From Vernal we would head up to Flaming Gorge Reservoir for some camping, fishing and exploring the numerous hidden canyons of the Lake. With over 350 miles of shoreline this picturesque reservoir is 91 miles in length and loaded with popular game fish - rainbow trout, Kokanee salmon and smallmouth bass.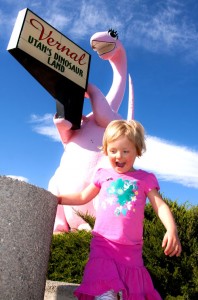 Last summer I had the opportunity to introduce my daughter to the wonders of this area, all of which conjure up fond memories of my childhood. Our family road trip began on Utah Hwy 40 with our first stop at the sandy beaches of Starvation State Park. This quiet and peaceful reservoir is the perfect stop for a picnic lunch and water play. Back on the road we passed through Duchesne. The surrounding area is a fly-fisherman's paradise, offering dozens of lesser-known fishing spots and numerous rustic lodges.
Heading further east we soon approached Vernal, where we planned to stay for two days. First on the list was a return visit to Dinosaur National Monument and the Wall of Bones. The newly renovated Quarry presents the opportunity to see first-hand evidence of the enormous predecessors that freely roamed throughout this area. The rockstars (no pun intended) of the Quarry include hundreds of dinosaur fossils of numerous species, including the Allosaurus, Apatosaurs, Diplodicus and one of the few baby Stegosaurour fossils ever found. This was a fun and educational experience for the entire family, adults and kids alike; my daughter was even able touch the baby Stegosaurus, which naturally became her favorite of the day.
We had two adventures planned for the following day; a visit to McConkie Ranch and hiking the Dinosaur Track Way. Located in Dry Fork Canyon just west of Vernal on Hwy 121, the 500-acre ranch, owned by the family for which it is named, is home to hundreds of panels of Fremont Culture rock art. The area is also listed on the Utah Historical Register and Ms. McConkie says "this ranch is thought to have more drawings in a one-mile trail than any other site in Utah."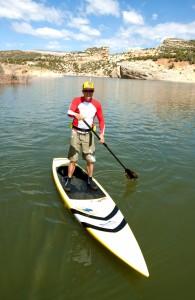 From there, we headed back to Vernal for a photo-op with the iconic pink dinosaur statue that welcomes visitors to town and serves as the area's signature.
The Dinosaur Track Way trail is part of Red Fleet State Park, just a few miles north on Hwy 191. The trail is 2.4 miles round trip with more the 200 tracks of two different types of dinosaurs clearly visible along the shoreline of Red Fleet Reservoir. This trail is a combination of sand, slickrock and sagebrush. Lots of lizards and a bunny were spotted on the route; wildlife of any kind is always a pleasant surprise while hiking. We had plenty of fun chatting about the size and shape of the different dinosaur tracks, placing our feet next to each to get a better feel for scale of size.
Early the next morning we headed to higher elevations and cooler temperatures. The Flaming Gorge-Uintas National Scenic Byway climbs the foothills passing major geological formations, reaching the one billion year-old exposed core of the Uinta Mountains near Flaming Gorge National Recreation Area. The theme of the byway is "Wildlife Through the Ages" as the route traverses one of the most abundant areas for wildlife and fossils in the west.
Along the way we spotted many deer and even a few big horn sheep. Next stop, Red Canyon Lodge, nestled in the heart of the Ashley National Forest and sitting at an elevation of 7400 feet. A private lake for fishing and canoeing was just a few steps outside our cozy cabin. After stowing our suitcases we headed over to the dock to don lifejackets, grab some paddles and jump in the canoe. What a peaceful afternoon! Well, except for the family feud – a spirited water fight with the paddles that made us all a bit wet. Nobody won. Luckily, the sun was still high in the sky and we dried quickly.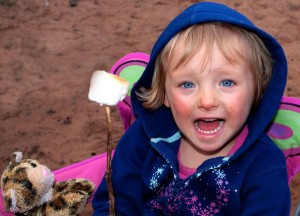 That evening's dinner at the Lodge's restaurant did not disappoint. The menu was loaded with the flavor of local western gourmet entrees and also had many options for the kids. Following dinner we made a campfire and roasted marshmallows. I guess this is what you would call having the best of both worlds, or "glamping", defined by the "Urban Dictionary" as "Going camping, but with glamour, a combination of the two words. It's like regular camping, but with nicer things than usual, being warmer, and more comfortable." We were able the sleep in a real bed, take hot showers, but also experience the great outdoors, see wildlife and have a campfire.
That night, as I sat mesmerized by the brilliant flames of the fire, my mind wandered to the joys of our current adventure to Dinosaurland and also to reminisce of long past memories when, as a child, I spent quality family time in this same amazing destination.
Author's epilog: My daughter is four. She derived an enormous amount of enjoyment from this trip, as did I. In addition, the sights and adventures that we jointly experienced were both educational and valuable to the development of a curious youngster. I can highly recommend a visit to Dinosaurland for kids, their parents and grandparents of all ages.
Dinoland.com
FlamingGorgeCountry.com
RedCanyonLodge.com
StateParks.Utah.Gov
Tags
Vernal
Archives
2023
2022
2021
2020
2019
2018
2017
2016
2015
2014
2013
2012
2011
2010