Arches...out of the Park
Posted On

Apr 15, 2020
Category

Southern Utah
Hiking
Family Friendly
Arches… out of the PARK (Arches National Park that is…)
Utah is blessed with some of the best and most iconic landscapes in the United States, if not the whole world. Every year millions of people travel from around the globe to capture a glimpse and just a few insta worthy images of these iconic natural wonders. Last year the visitation to Arches National Park hit an all-time high with 1.7 million visitors flocking to experience first-hand the extraordinary and massive natural arches that are abundant within the boundaries of this bucket list destination. This park has the largest concentration of natural arches in the world at over 2000.
Yes, the word is out, Utah is a pretty cool destination. And not one of those, been there, done that, on to the next, kind of places. It's just the opposite. Once you visit, you realize the true depth of experiences that lie within this extraordinary place, and before you leave you are already planning your next visit.
We, as Utahans, are pretty darn lucky to live amongst such greatness. If you didn't already know and it's not obvious, I'm a huge fan of our state. o much so that I've created this magazine with the sole purpose of inspiring my fellow Utahans to get outside, explore and DISCOVER our truly magnificent backyard with their families.
Okay, I should probably reign myself back inand focus on the subject at hand, which is arches, not the Park, but an arch itself. Beginning with the basics.
To be considered an arch, the opening through the rock must be at least three feet in diameter across in any direction. While we are getting a bit techy, we better address the difference between an arch and a natural bridge. An Arch is formed within a rock wall or may be free-standing and they are usually formed by a weak layer of rock after many, many years of weather and wind erosion. Natural Bridges span high above the ground between canyon walls and are formed by river and stream erosion deep within the canyons. In short natural bridges are formed by flowing water whereas arches are formed by the weathering process.
Now that we know the difference, let's dive into the good stuff…where to find both of these natural wonders outside of the Park.
Let's begin our journey on the Utah Scenic Byway 279 (aka Potash Road) which is just north of Moab on HWY 191. This 15-mile route follows the Colorado River and offers a wealth of recreational opportunities including camping, rocking climbing, hiking, river access, mountain biking and OHV trails, as well as rock art panels, dinosaur tracks and a few epic natural arches. The hikes to Corona/Bowtie, Longbow and Jeep Arches are what we will explore.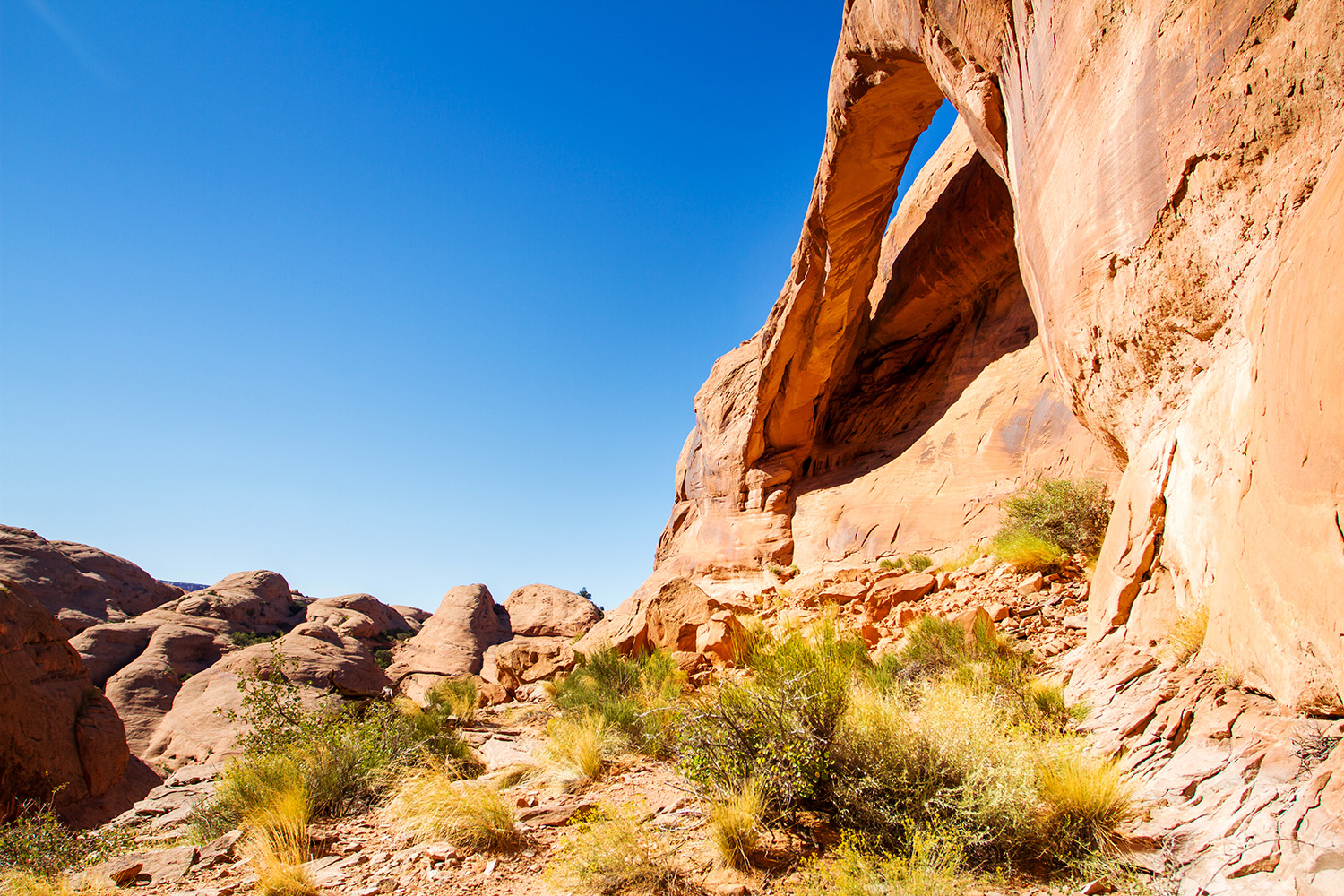 First up is Longbow Arch. This 2.5-mile (roundtrip) hike is accessed from the Poison Spider trailhead located 5.7 miles from the intersection of HWY 191. Be sure to check out the dinosaurtracks and rock art panel at the beginning of this hike. The hike is fairly easy, but there is one section in the first ½ mile that requires climbing three iron rungs that are mounted into the rock wall. From this point, the trail continues to climb for another ¼ mile and then levels out atop the slickrock. The trail is well marked with rock cairns and a few painted white dashes on the slickrock. The arch is located in a side canyon on the right side. Once you are in the canyon, the arch is visible on the left side.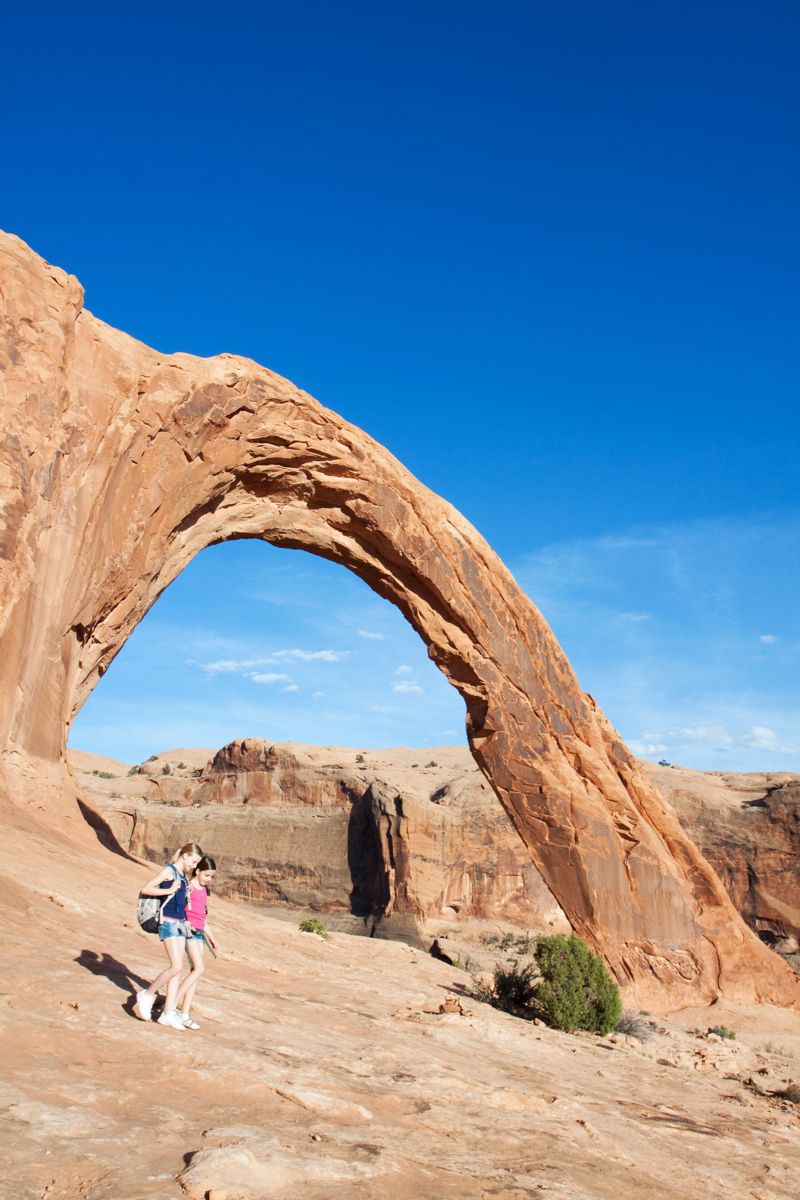 Next, just 4 miles further on HWY 279 is the trailhead for the 140-foot tall Corona Arch. The trail is a moderate 3 miles (roundtrip) and has a 2 for 1 bonus of a second arch Bow Tie. This trail does have a few areas of mild exposure. Just before arriving at the arch, there are a couple "obstacle-coarse features" which the kids love. First a section with steps carved into the rock and a mounted cable on the side to hold onto, followed by a 10-foot ladder. Both are fairly easy but may require a helping hand with the little ones. Just before arriving at Corona Arch look to your left to see Bow Tie Arch. There is plenty of room at the base of the arch to sit and have a snack while enjoying the amazing scenery.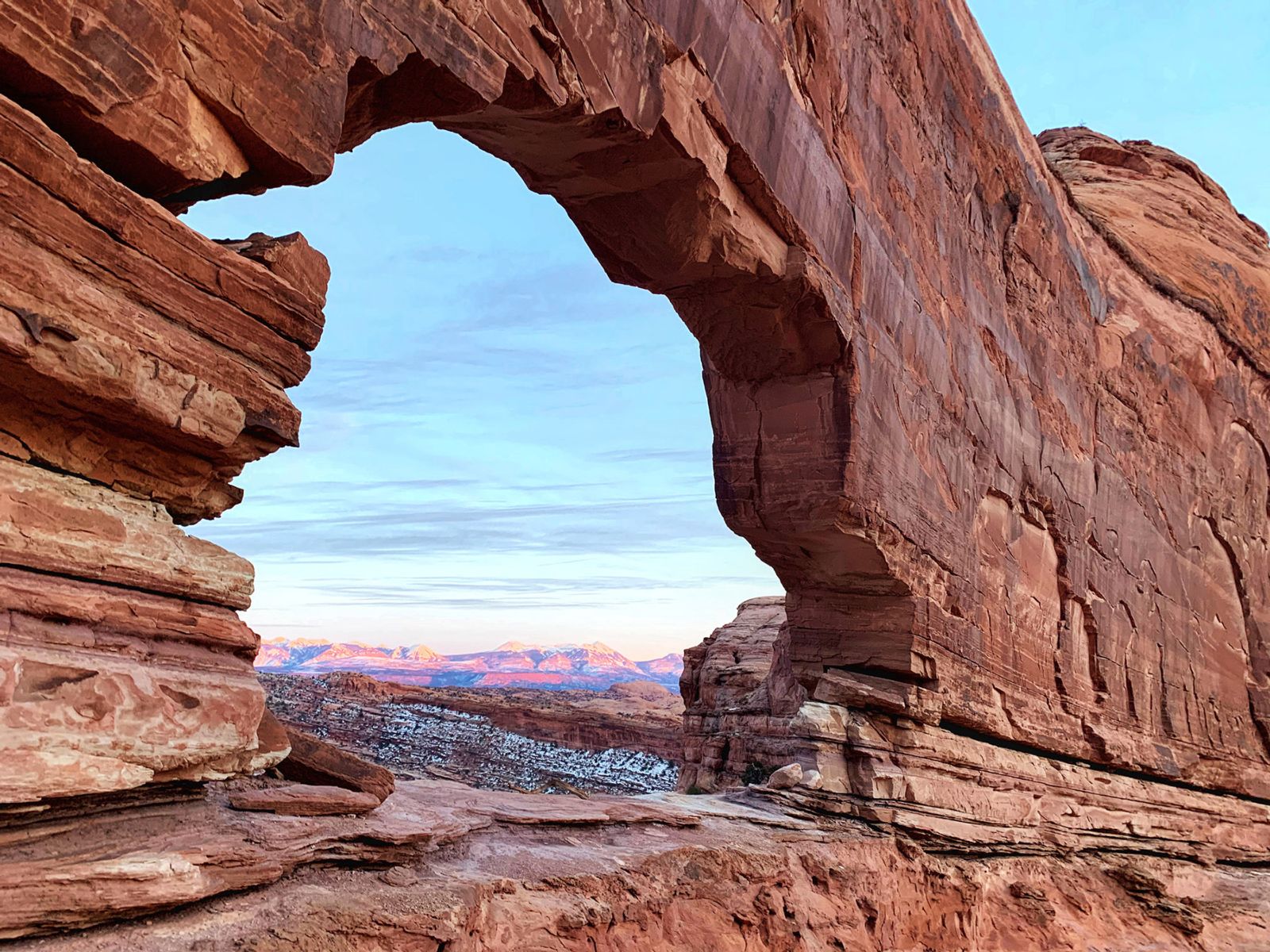 And finally, our last stop along HWY 279, just another .3 miles down the road is Jeep Arch. There is not an official trailhead for this hike, just a pull-off on the right side. The trail is a total of 4miles (roundtrip), has an elevation gain of 800 feet and is rated moderate. This is more of a primitive trail, with a few trail signs and cairns along the route. The trail begins by walking through a culvert that goes under the railroad and into Culvert Canyon (which is also a great hike). From here it is a consistent gradual climb for the next 1.5miles. There are a few sections of rock scrambling and moderate exposure along the route.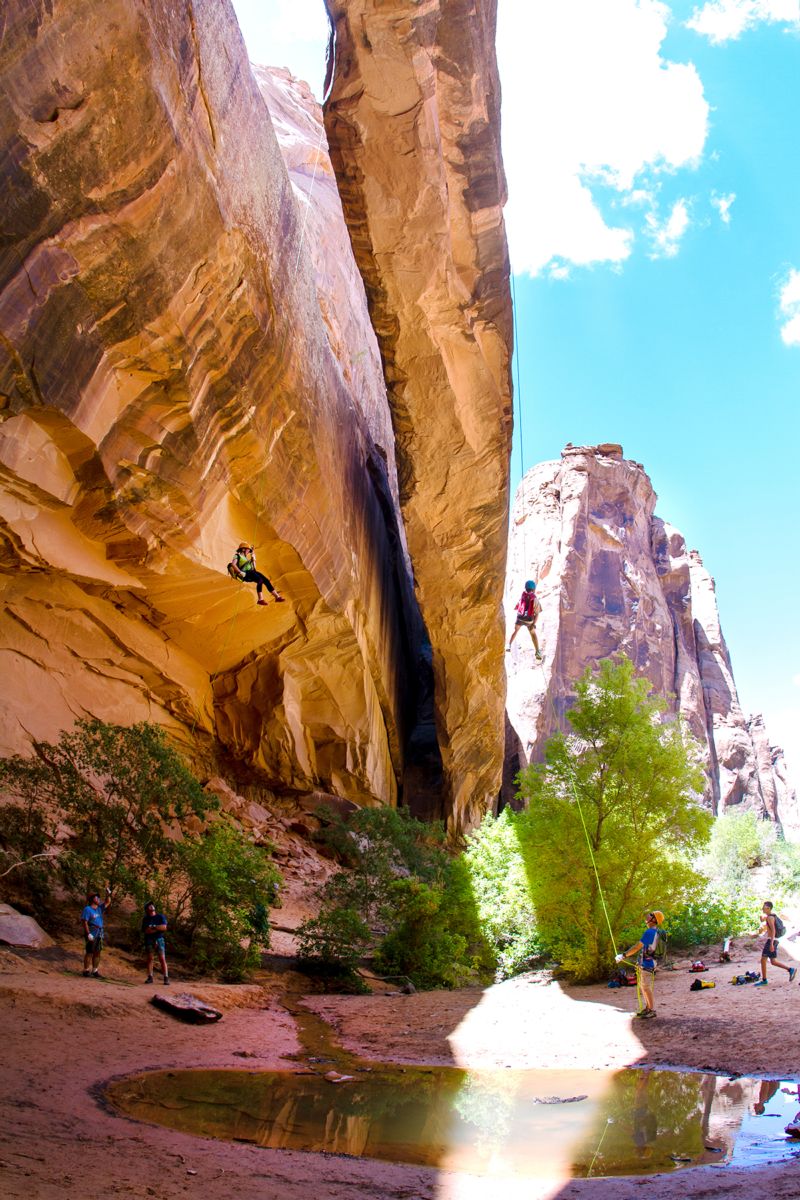 Number four on our list is Morning Glory Natural Bridge, which spans 243 feet in length and is the sixth-longest natural bridge in the U.S. As stated earlier a natural bridge is formed by moving water, which is one of the main draws here. The 4.5-mile (roundtrip) route weaves in and out of the river making it a favorite for kids. Morning Glory is accessed from The Grandstaff Trailhead which is located 3 miles east of Moab on Utah Scenic Byway 128. For those high-adventure seekers join Desert Highlights for the Medieval Chamber guided canyoneering adventure that ends with a 100-foot rappel next to Morning Glory.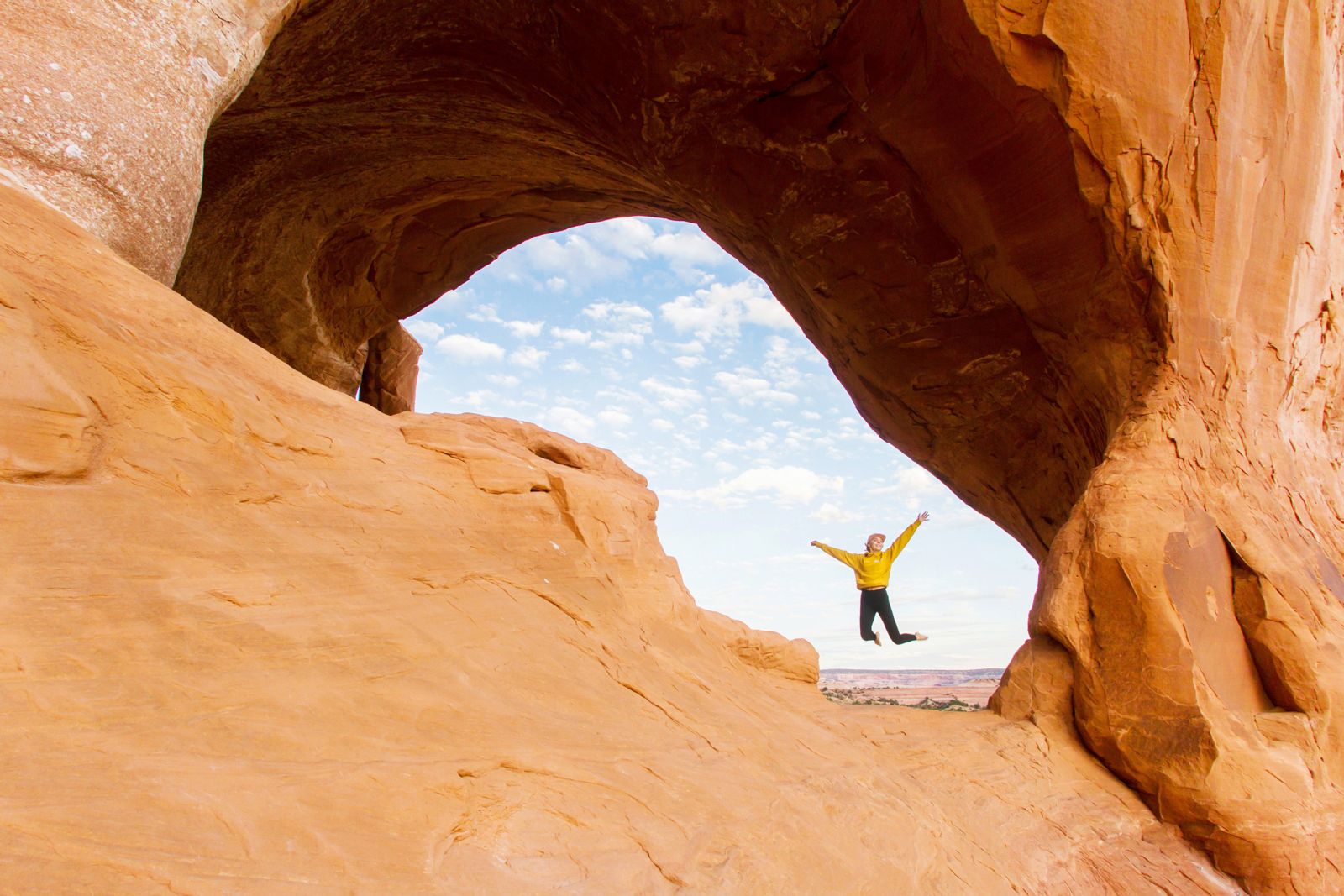 Heading south out of Moab, 22 miles on HWY 191, Looking Glass Arch was a local's secret for many years, but now both guides and visitors know about this hidden gem. This is not much of a hike because you can drive right up to the base of Looking Glass Rock. This unique and very cool butte actually has two arches and a large alcove. It's a great place to let the kids explore the slickrock and has some great photo opportunities as well. There are no facilities here so be prepared to pack out all trash and make a bathroom stop at the rest stop 14 miles from Moab along HWY 191. Looking Glass Road (County Road 131) is on your right just past the turn off for La Sal Junction. From here it is 2 miles on a dirt road.
If you are looking for easy access, Wilson Arch is just that. This roadside stop is 24 miles south of Moab (2 miles south of Looking Glass Road) on HWY 191. This arch spans 91 feet and is 46 feet high. There is a short but steep hike to the base of the arch which is about .25-mile roundtrip.
Sustainability - Don't Bust the Crust
Why is it so important to stay on the trail?
The desert is very fragile and covered with Cryptobiotic Crust which is the foundation of all desert plant life. The black, knobby crust that covers desert surrounding the trails is made up of many living organisms that are vital in maintaining the desert ecosystem. Just one-foot print in this crust can take decades to regrow and have lasting efforts on the desert environment.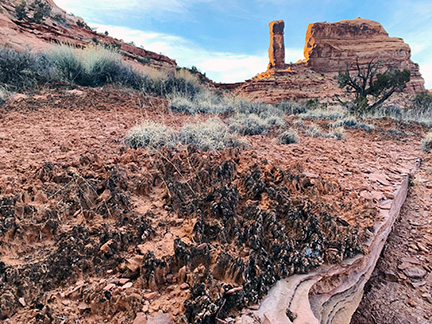 In places where hiking trails are not established it is best to walk in a sandy wash or on bare rock surfaces.
Check out DoitLikeaLocal.com for more sustainability tips when visiting the Moab area.
Tags
Moab
Archives
2022
2021
2020
2019
2018
2017
2016
2015
2014
2013
2012
2011
2010