Inclusiveness in the Outdoors - An Interview with Local Black Moms
Posted On

Jun 15, 2022
Category

Family Friendly
Educational
Publishers note: Last year in celebration of Mother's Day, we met-up with a group of local moms at the Great Salt Lake Shoreland Preserve. The goal of our outing was to photograph some special mom moments and have a conversation with Black moms about time in the outdoors with their kids and some of their thoughts on raising the awareness of inclusion and diversity in the outdoors, especially when living in a state that is predominantly white. The outdoors and our public lands ARE for everyone to enjoy. It's a place where I find solace and comfort. My hope is that WE can ALL welcome and encourage others to explore the outdoors and reap the benefits of being in nature.
First… let's meet the moms and their families:
Nailah Blades Wylie @nailahblades
Family: Monté, Zoë (7), and Jackson (4)
Moved to Utah 6 years ago from Southern California.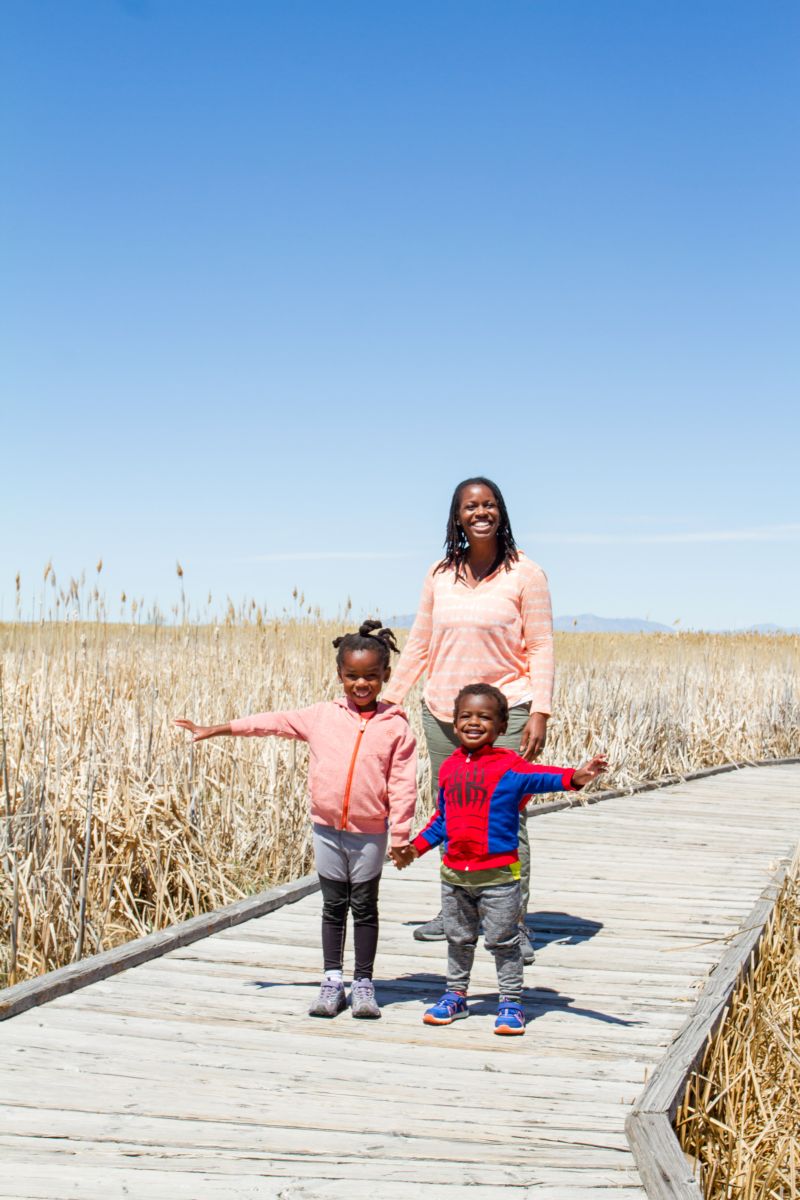 Anna Robbins @raisingrioandco
Family: Rio (3) and dog Maggie
Grew up in New Mexico and Arizona. She moved to Utah from Virginia and prior to that lived in Hawaii, California, and abroad in Asia and Africa.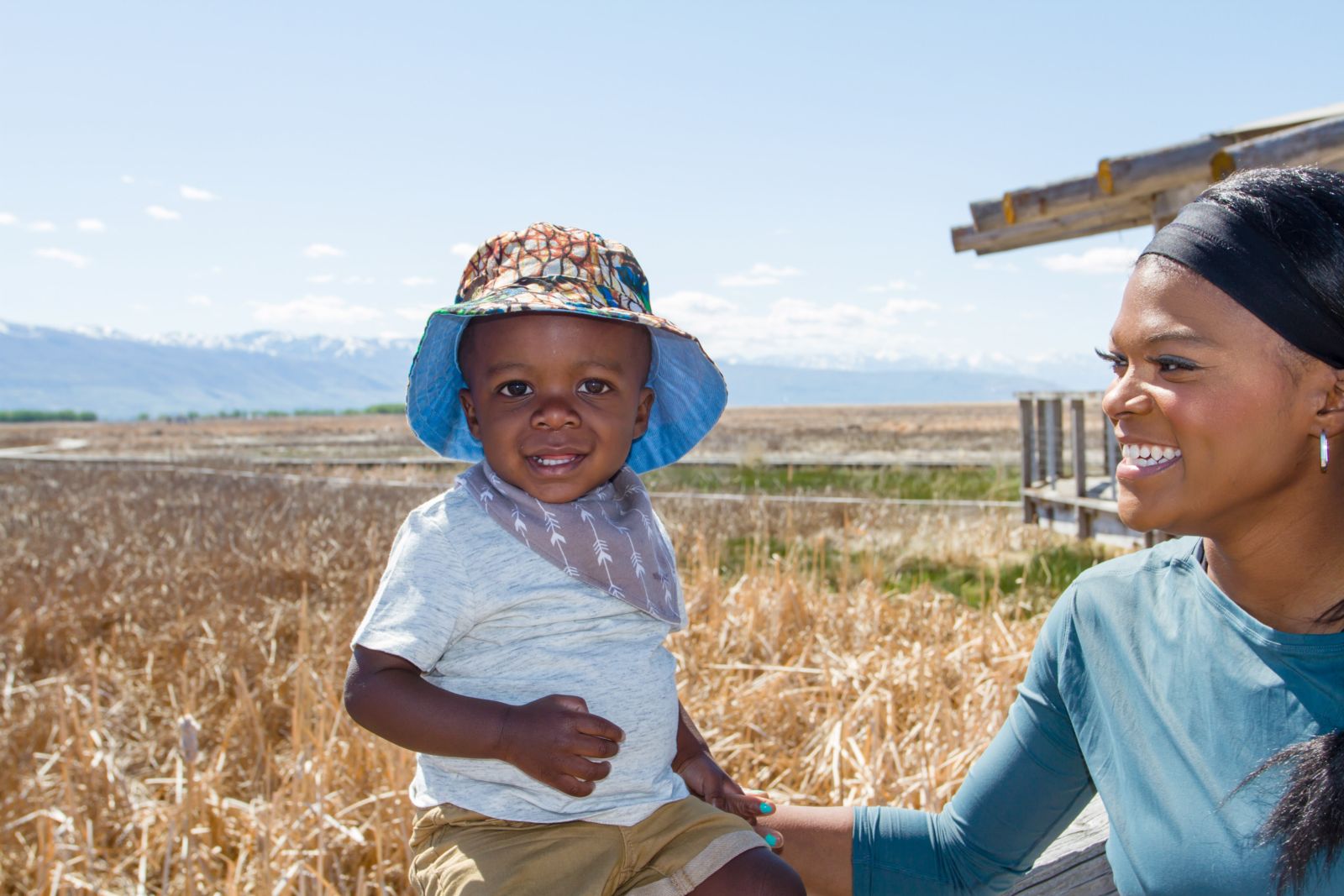 Grace Obe
Family: Jasmine (7) and son Baer (2)
Moved to Utah from Queens, New York.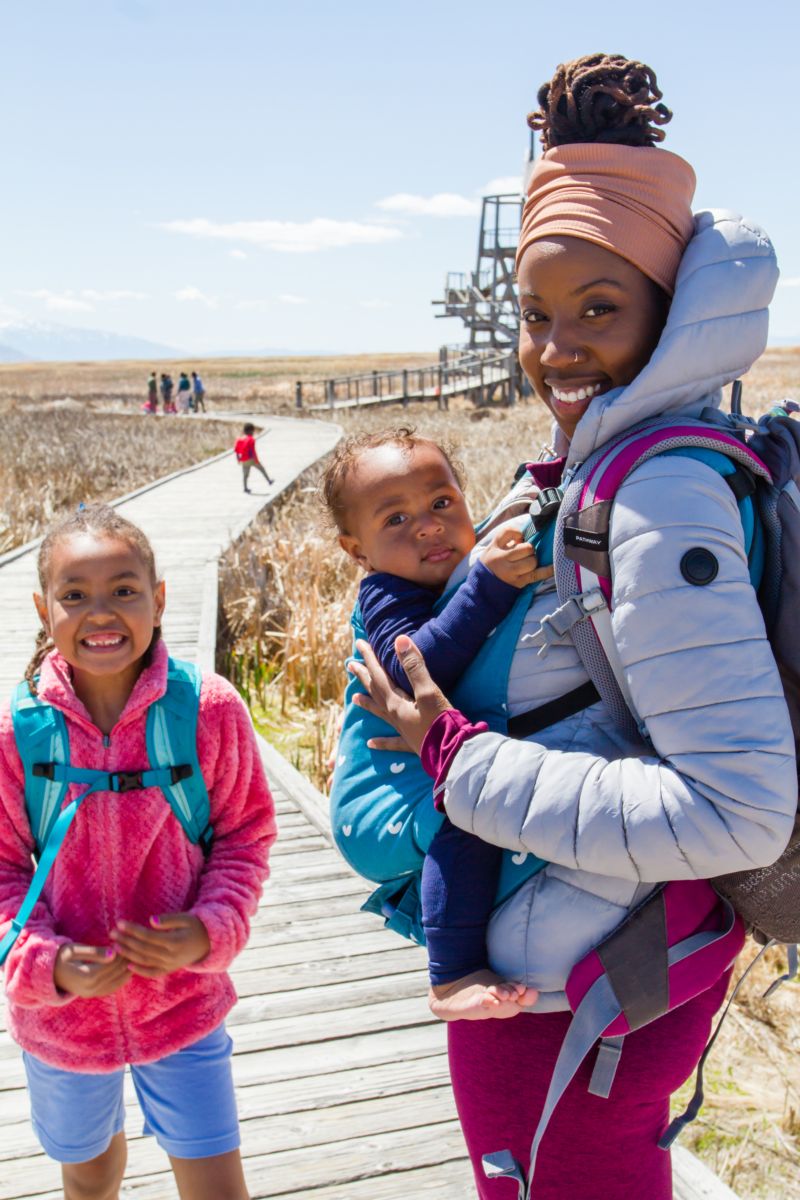 Ashley Cleveland @outdoorautie
Family: Audree (5) and a Boston Terrier
Moved to Utah in 2014 for graduate school at the U of U from Ventura, California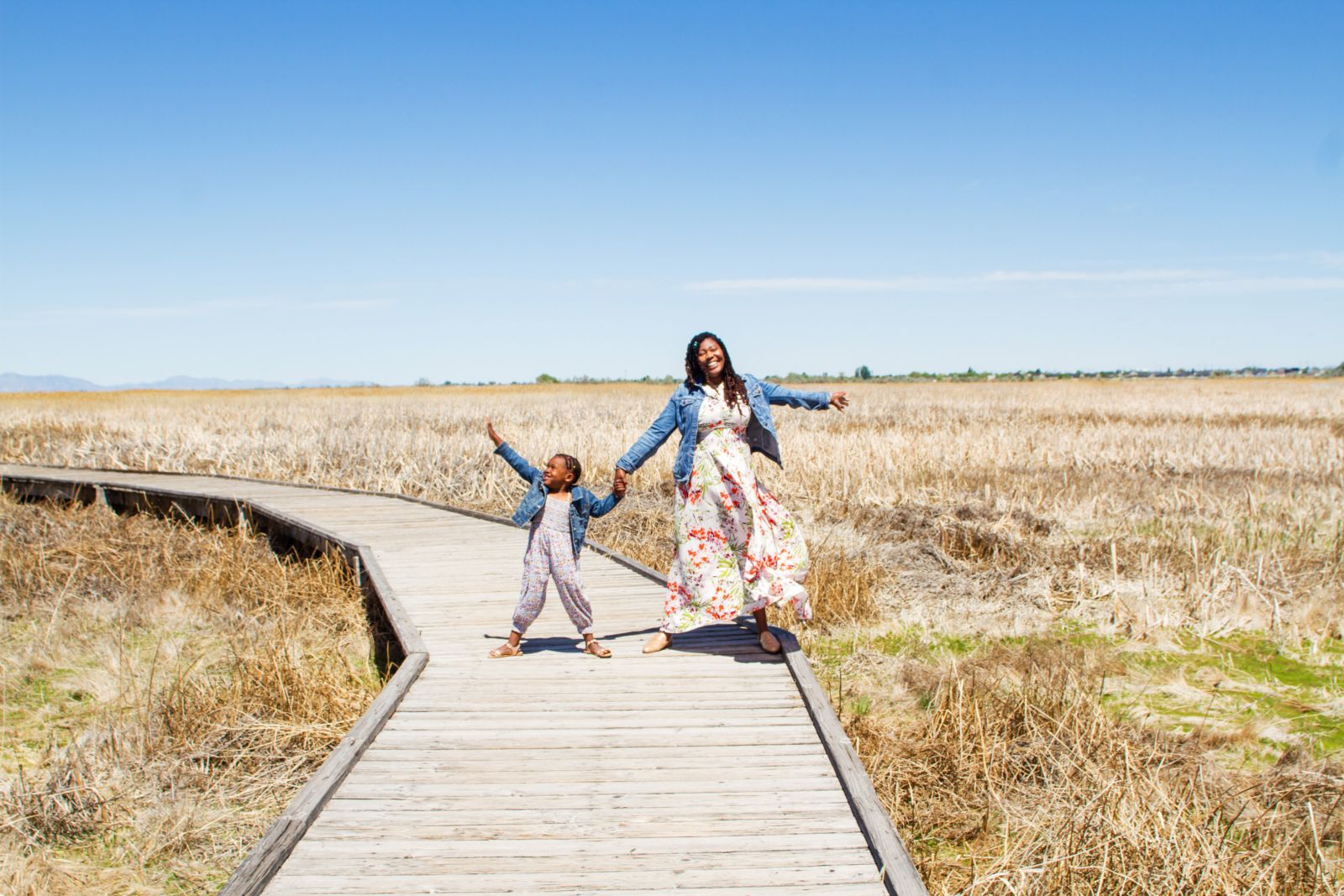 Sheena Jordan @sheendamean
Family: Frankie Jordan Jr., Larenz (12), Lyric (10), and a miniature schnauzer Winston.
Lives in Ogden.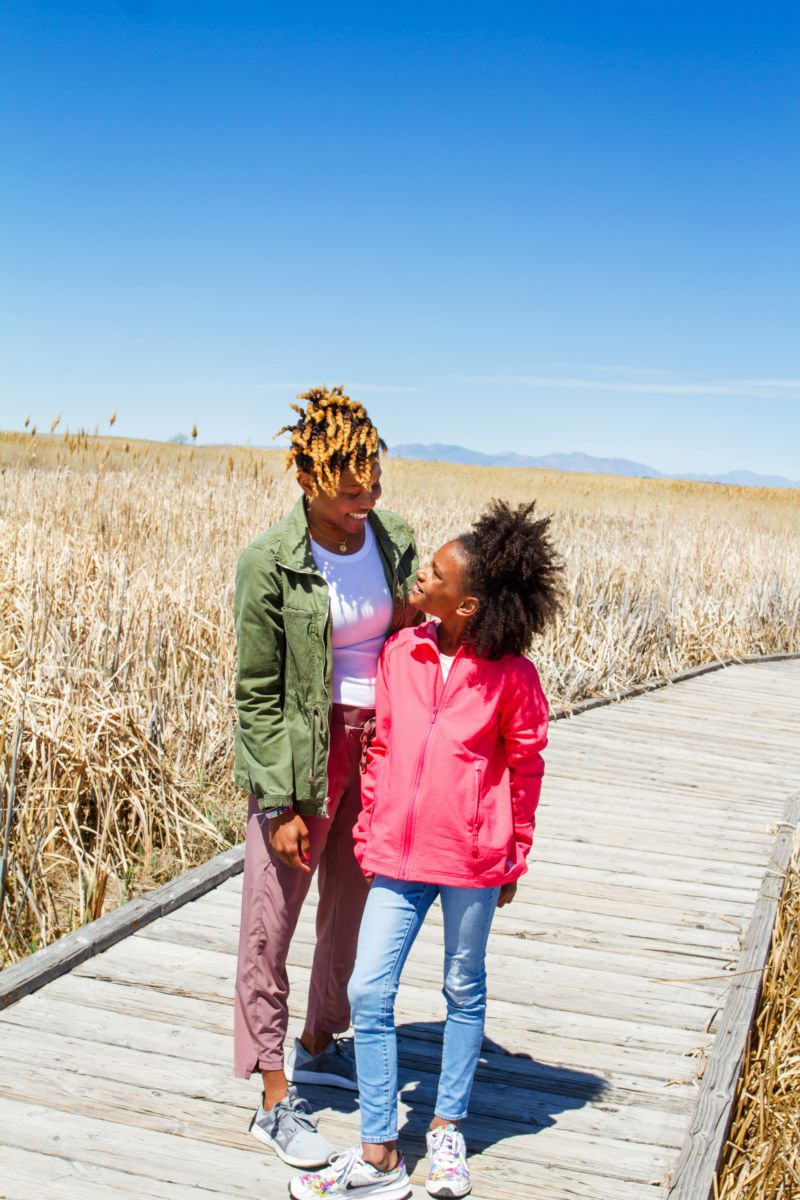 What does "outdoorsy" mean to you?
Nailah:
I believe that we all get to choose what outdoorsy means for each of us. Outdoorsy means anything that allows you to connect with nature. It can be anything from spending more time in your backyard to camping or hiking.
Anna:
"Outdoorsy" to me means an enthusiasm and passion for being outside, enjoying nature, and appreciating the gift of life in all its forms. You don't have to be an athlete, avid hiker, or anything like that. You just have to enjoy the outside almost as much, if not more, than being inside!
Grace:
It means you understand the powerful, healthy influence nature can have on a life. It doesn't mean you have to be an expert or a peak-bagger.
Ashley:
It means that you enjoy being in nature and outdoors. Growing up, I always thought you had to be what I call a "Capri Sun Kid" – in search of extreme sports or an adrenaline rush to enjoy going outside. All those commercials with the roller blading, mountain climbing, and BMX biking through mud intimidated me. Now, it means that I can lay in the grass and read in the shade as an outdoor enthusiast. I can take my dog on a nature walk or ride my bike through the city and to the Tracy Aviary and I'm "outdoorsy."
Sheena:
Being "outdoorsy" means to me that you love being outdoors. Hiking, biking, camping etc. It means you enjoy nature.
What is your favorite outdoor activity?
Nailah:
We love to hike, camp, bike, and go snowshoeing.
Anna:
I enjoy hiking and pretty much anything that gets me moving. Even just walks around the neighborhood! My family really likes hiking and camping. We're into sports as well! My son really enjoys outdoor sports and when we hike, he prefers walking on his own!
Grace:
Hiking, camping, backpacking, nature walks, and scavenger hunts. Also playing games or kicking a ball around, picnics, bike rides, talking, and bonding outdoors.
Ashley:
I have always enjoyed hiking and car camping. Recently I just have been getting into visiting hot springs and backpacking trips. I think I will always enjoy a hike or gardening though. Looking at and being near plants will always bring me joy. Spending a day at one of our great lakes or a nice kid friendly/dog friendly hike! All of us are so happy afterwards!
Sheena:
My favorite outdoor activity would be hiking. I enjoy walking along beautiful trails and seeing what Mother Nature has to offer. I enjoy being disconnected from technology and listening to the birds. As a family, we enjoy family bike rides and short hikes. We live right by the bike trail so we utilize it as much as we can.
What is your favorite Utah family location? Why?
Nailah:
We love camping as a family and one of our favorite campgrounds is Redman campground in Big Cottonwood Canyon. It's close to home so we can head there for a quick getaway, but it's still far enough for us to really immerse ourselves in nature and unplug.
Anna:
We love going down south and visiting the National Parks. It's great because there are so many, and we see beautiful places while we camp down there!
Grace:
Bells Canyon Reservoir because the hike is gorgeous any time of year, and it provides a good amount of exercise/movement for the whole family. Even toddlers. My daughter first hiked it on her own two feet at three years old.
Ashley:
Eden, Utah. From farm visits, ski slopes, the lake, camping, snow cones, fishing, and waterfall hikes. This city has so much to offer! I can't wait to give a camper trailer a try!
Why is getting outside with your kids a priority?
Nailah:
Getting outside with my kids is important because I want them to be able to really embrace their curiosity, wonder, adventure, and play. I want them to know that they're always free to explore. More importantly, I want them to feel comfortable taking up space fully in a space like the outdoors, and hopefully in all the other spaces in their lives.
Anna:
I honestly believe you can learn just as much in nature as you can in a classroom. I believe in tearing down walls and filling minds with experience and adventure. Outside is beautiful! I think it's important to go outside and learn about balance.
Grace:
It sparks creativity and learning and bonding and good mental/physical health. My daughter has a slight delay with her gross motor skills and hiking her whole life has helped us both conquer that together! We also homeschool, so this is our PE.
Ashley:
So many reasons, but for me it's the ancestral connection to the land and nature. Black Americans have a rich African heritage connected to celebrating nature. It's also the mental stress release fa' me. I want my child to know how to ground herself through the outdoors. I want to teach her about our natural resources and how to be a steward of appreciation for ecosystems. Also, I'm showing her what Black joy looks like through safety, play, and adventure!
Sheena:
I think being outside is great for your mental health and overall happiness. There is nothing better than sunshine and fresh air. It keeps everyone disconnected from technology and spending quality together time.
Why is it important for Black people to have a connection to nature? Why do you want your kids to be comfortable in the outdoors?
Nailah:
Having a connection to nature is our birthright and we all deserve to connect with it on a deep level, especially those of us who have been historically or systematically blocked from accessing nature. It's important for Black people to be able to connect to the meditative properties that nature provides and to be able to reconnect to our ancestors.
Anna:
It's important for all people to have a connection to nature, but black people need to be more represented outdoors. It seems like people box us in the category of people who don't know how to be outside?! That's ridiculous! Putting people in boxes is always ridiculous but thinking black people don't know how to be outside...that has got to be one of the most ridiculous boxes ever! I want my kids to appreciate the earth they have been given, and also learn from experiences!
Grace:
We have to return to our roots, remembering our connection to the land and to Mother Nature herself. City living and centuries of racism have kept us away for far too long, making us believe the wilderness is something to be afraid of, rather than revered. My mission is to rewild myself and my cubs, so the influence and wisdom of nature can be passed down for generations to come.
Ashley:
For health benefits, mental health services, and to restore the narrative. We have always been a part of nature. We have cared for the American land, and we deserve to have transformative experiences outdoors. To experience safety. To share our knowledge with each other in community.
Sheena:
It is important for everyone to have a connection with the outdoors and be able to bond and share your experiences with others. Starting early so they grow comfortable being out of their comfort zone and learn to respect nature.
What do you say to: "Black people don't" *insert activity or action*?
Nailah:
I usually just point to all the incredible Black people who are doing all the things we're not "supposed" to do!
Anna:
I say to "Black people don't hike or camp or swim..." Stop it. Just stop it. We do all those things and we do it with great enthusiasm and passion!
Grace:
That's a closed-minded individual who isn't ready to expand their worldview.
Ashley:
I try to convey a double narrative: 1 – It's simply not true. If you see me showing interest or participating, we clearly do. Just because you don't see us represented in outdoor recreation ad campaigns doesn't mean we are invisible on the trail. And 2 – We were also directly taught by our families that we don't do things outside of community areas. Exploring outside of designated areas could lead to extreme harm. We can't protect each other if we don't stay close, and it's still that way, it just looks different.
Sheena:
Black people don't go in the mountains, it is not safe! I tell them of my experiences of running into wildlife. I share that being cautious, aware, and prepared will help.
What is something you want Utahans to know about diverse outdoor parents?
Nailah:
We're out here enjoying the outdoors and we belong here!
Anna:
We are trying to create more exposure of diverse outdoor parents. Join in!
Grace:
We're out here and we will only increase in number. Peacefully let us recreate responsibly, for we belong here, just as much as you do.
Ashley:
We love outdoor Utah as much as you. We sometimes enjoy it for different reasons and require different access points and support, but are here, we've been here, and we aren't going anywhere – so say hi!
Sheena:
We enjoy the outdoors just as much as anyone!
We need to please remember that EVERYONE has the right to enjoy our public lands and the outdoors. As always, be kind, courteous, and encouraging when you encounter people of all races, abilities, and ages while being outdoors. These special places are for ALL of us.
Archives
2023
2022
2021
2020
2019
2018
2017
2016
2015
2014
2013
2012
2011
2010