"What Are Little Girls Made Of?"
Posted On

May 13, 2012
Category

South
Kids
(sugar and spice and everything nice)
By Red Oelerich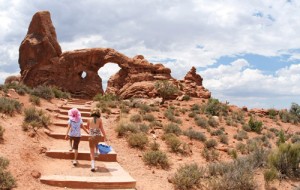 Well, yes. Five year old Maggie and her six year old cousin Ruthie fit the bill. But more than sugar and spice, both are full of spit and vinegar when it comes to having a southern Utah adventure with grandparents Namie and Pops.
What an odyssey! The journey begins near Moab with some hiking in Arches National Park. Arches is great for an outdoor experience for kids. Not only is the landscape gorgeous, the rocks, spires, columns and arches very accessible. The forces of nature have acted in concert to create the landscape, which contains the greatest density of natural arches in the world. Although over 2,000 are located within the park's 76,518 acres, the park also contains an astounding variety of other geological formations. Colossal sandstone fins, massive balanced rocks, soaring pinnacles and spires dwarf visitors as they explore the park's viewpoints and hiking trails. Throughout the park, rock layers reveal millions of years of deposition, erosion and other geologic events. These layers continue to shape life in Arches today, as their erosion influences elemental features like soil chemistry and where water flows when it rains. Does this sound like Arches beats the holy bejezus over the jungle gym at the school playground? For two little girls it certainly does!
The summer day is hot but we have plenty of water to keep active young hikers hydrated. They need it after climbing into, over and through the national park's many majestic structures. Who can be the first to climb this rock? Competitive cousins? Probably for life.
They don't tire easily, but eventually Namie convinces them it's time to go. We need to check into our reserved campsite at Dead Horse Point, one of the crown jewels of the Utah State Park system. Dead Horse Point is just a short drive up toward the Island in the Sky District of Canyonlands National Park.
The mesa that is Dead Horse Point provides breathtaking views of the canyon country of southeastern Utah and the pinnacles and buttes of Canyonlands. We pitch our tents and scour for rocks to reinforce the stakes. The wind is picking up and a thunderstorm moving in. Soon the wind is howling and our foresight is rewarded because the buffeted tents are holding. We are grateful for the shade structure that now provides shelter from a fierce yet spectacular desert thunder and lightening storm. As quickly as it arrived, the storm departs and the girls get their first campfire meal of dried, reconstituted packaged backpack food. Loved it! Soon time to snuggle into sleeping bags because tomorrow morning comes early. Very early. Four AM!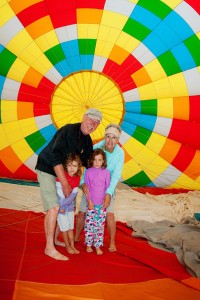 "Why are we getting up, it's still dark out?" says Maggie. "I can't find my other shoe" says Ruthie. "C'mon girls, you can snooze in the car" says Pops. Of course, they don't, curious and excited to find out about the next adventure, a "surprise." Soon, we arrive to meet up with Lou Bartell, master balloonist and owner of Canyonlands Ballooning. Lou and his crew greet us and begin unfolding the huge envelope and start inflating it. The girls are allowed to run inside the balloon as it rests on its side, giggles galore. Soon it rises skyward, tethered so not to escape until Lou gives the word. Time to board the gondola, Ruthie hops in but Maggie balks. No way Jose! She'll have no part of it. "It's going to get lost", she wails. Namie's and Pops' "surprise" seems to have backfired, so Maggie and Pops will ride in the chase vehicle while Namie and Ruthie go up, up and away!
The colorful balloon slowly rises over canyon country, growing ever so smaller in the distance. The chase and pickup are an adventure in itself. Lou has some control on where to land, but a balloon will go wherever the wind takes it and in this case to an almost inaccessable location in rugged backcountry. But these guys are pros and this has happened before. No panic, no sweat. Soon, gear and passengers are headed back to relative civilization.
Back at Dead Horse Point, we enjoy breakfast at nine (remember, we started at 4!), break camp and take a short hike on the Rim Trail, towering 2000 spectacular feet above the winding Colorado River below.
Next, we head south from Moab to San Juan County. Although sparsly populated, this huge southeastern Utah county has some of the finest outdoor recreation opportunities in the state - most of Canyonlands National Park, Cataract Canyon, Natural Bridges National Monument, Abajo Mountains, Grand Gulch Primitive Area, Dark Canyon, Monument Valley, Glen Canyon – the list goes on and on.
For this trip we head into tiny, pastoral Bluff on the San Juan River and we're hear to make a three day run from Sand Island to Mexican Hat with Wild Rivers Expeditions. Over-the-top excitement doesn't begin to describe the two girls. We check in with the owner of Wild Rivers, Kristen McKinnon and we are disappointed when she informs us she will be unable to join us. Administrative duties, darn it! But we meet Veronica (Ronni) Egan, Executive Director Of Great Old Broads for Wilderness who will be on the river with us. Kristen has generously made this trip a fund raiser for her organization that does so much good work in helping to preserve our precious lands and backcountry. Ronni is a long-time river rat and we look forward to the adventure. Maggie and Ruthie form an immediate bond with her.
We check into the historic Recapture Lodge. In the lobby there's a framed quotation from a famous novelist – "Recapture Lodge has been Bluff's center of hospitality for as long as Leaphorn can remember." Tony Hellerman, A Thief of Time." Hellerman's mystery novel about stolen rare Anasazi artifacts is in the library of the Lodge and the story line takes place in the Bluff area. When the girls are a bit older, we'll see that they read it. Although our room is comfy, sleep in next to impossible for two very hyped little girls. Incessant chatter fills the room until sleep finally pervails.
We meet our guides, Marcus Buck and Greg Woodall. Marcus is a Navajo who lives on the Tribal Park at Monument Valley a short drive south. His five year old daughter, Lalena will be joining us on the river. Lalena's mom is Irish - she's half Navajo, half Irish and all little girl. Maggie and Ruthie are thrilled to have a new playmate along. We now have three tigeresses on our hands and, even with Ronni, Marcus and Greg, we're overwhelmingly outnumbered! We load the rafts and head downriver.
As it punches through the heart of the Colorado Plateau, The San Juan River evokes wonder, beauty and solitude unlike anywhere on earth. Its aesthetic has inspired the West's finest authors, artists and photographers. The San juan's natural, geologic and human histories have endlessly indulged all and the river's serenity has made return visitors of the most travelled wilderness enthusiasts. This is a truly wonderful outdoor classroom for the girls, and we are fortunate to have two extremely knowledgeable guides and Ronni along to teach.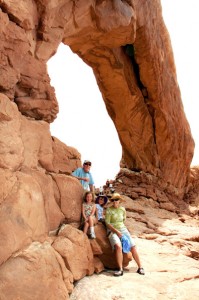 The archaeological record along the river corridor between Bluff and Mexican Hat is unsurpassed. World-class rock art panels, surface sites and cliff dwellings tell the story of the rise and fall of the region's Anasazi civilization. We eddy out shortly for a visit to the Butler Wash petroglyph panel, one of the most remarkable of the many in this area. Archaeologists have named the San Juan Anthroporphic (human-like) Style after the panel's life-sized anthropomorphs. This is all Greek to the girls, but they are facinated by the drawings on the rock!
Soon we're beached again with a short hike to the 800-year old River House Ruin. We actually climb up into the cliffside dwelling to look into the kiva and other rooms of the long-ago inhabited home of the ancients. Tiny dried corn cobs and pottery shards remain to tell us of how they lived here.
We find our riverside campsite, on a sandy beach among the cottonwoods and giant sagebrush. Playtime on the beach for three energetic little girls. Marcus entertains by floating downstream with them one at a time. "Me, me, I'm next!" they squeal. The guides prepare dinner, complete with appetizers and dessert. Sunset and campfire, then it's off to sleep under the stars.
Too soon, way too soon, we're off the river. The shuttle back to Bluff is mostly silent, reflecting on the good river time, camaraderie, and what we were fortunate to learn of the culture once here. Hugs and goodbyes for all, and we're off for the next adventure, Natural Bridges National Monument.
From Bluff, we take the scenic route – the 17-mile unpaved but good gravel surface road through Valley of the Gods, often referred to as the "Mini Monument Valley". But what it lacks in size compared to its sister to the south, if makes up for it in its own scenic splendor. The geology and views here are awe inspiring. Majestic towers and buttes, balanced rock sculptures - a truly aptly named, seldom visited slice of southern Utah. We continue back onto Utah Highway 261, "The Trail of the Ancients." After a mile the pavement ends turning to gravel leading to yet another "wow!" The Moki Dugway Switchbacks. This three mile section of road could arguably be the most spectacular in all of Utah, maybe the entire southwest! Up, up and up the steep 10% narrow and winding road to Cedar Mesa at the top. Views to the south of Monument Valley, east to Comb Ridge, north to the Abajo Mountains and west to Glen Canyon. Pops keeps a close watch on the road while Namie and the girls gawk and gasp.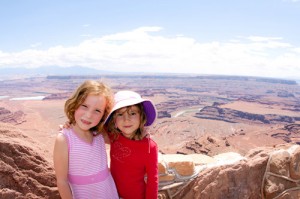 Soon we arrive at Natural Bridges, an off-the-beaten-path national monument that preserves some of the finest natural stone architecture in the southwest. The monument has been designated the world's first International Dark Sky Park due to some of the darkest night skies in the country. The three massive natural bridges are named Kachina, Owachomo and Sipapu, all in honor of the Native Americans who made this area their home centuries ago.
Amazing, the energy recovery ability of five and six year old girls. They're rarin' to go! Since we have limited time, we ask the ranger for his suggestion for which of the three to hike. He says that they're all great (naturally!) but the steepest to the base, most challenging and toughest is the world's second largest bridge, Sipapu. These are tough youngsters, so that's our choice. Steep cliff edges, three rustic wooden ladders and tight switchbacks highlight the kid's outdoor playground. We rest at the bottom, proud of the stamina of grandkids, hydrate big time and start the grueling assent back to our car.
Alas, "all good things must…" and we pack the sugar & spice, spit & vinegar duo in the car - homeward bound. Many memories for Ruthie and Maggie. And a thoroughly exhausted Namie and Pops.
Discovermoab.com
UtahsCanyonCountry.com
Riversandruins.com
Canyonlandsballooning.com
Tags
National Parks
,
Family Trips
,
San Juan RIver
,
State & Nat'L Parks
,
Hot Air Ballooning
,
Southeast Utah
Archives
2019
2018
2017
2016
2015
2014
2013
2012
2011
2010