"The Mighty Five!"#1: Zion National Park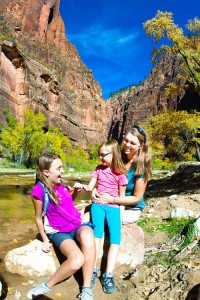 Story by Red Oelerich,
Photos by Monique Beeley –
And mighty they are. Arches, Bryce Canyon, Canyonlands, Capitol Reef and Zion. California with nine and Alaska with eight have more. But no state can match the grandeur and proximity of Utah's five. Are they alike, or in any way similar? Sure. All are blessed with red rock splendor and myriad scenic vistas. All have pristine beauty and serenity. All have a wealth of backcountry adventures. And all have colorful and welcoming gateway communities providing the necessary lodging, restaurants, guide services, gear/photo shops and support for visitors.
But do they differ from one another? Absolutely! To visit one is to miss out on visiting four. Or visiting four is to miss experiencing one, and that one just may just have proven to be your favorite.
Here, from southwest to southeast Utah, are "The Mighty Five"
Zion
|
Bryce Canyon
|
Capitol Reef
|
Arches
|
Canyonlands
"Mighty Number One" Zion National Park
Zion is an outdoor cathedral. If silence were deafening, it would be within Zion. Mere photography cannot come close to capturing the majesty that is Zion. It must be visited, experienced, felt.
Visited it is. Nearly three million visitors a year make Zion a destination. Although sometimes crowded, an efficient, free bus service from the gateway city of Springdale shuttles passengers into the park and up Zion Canyon.
And massive it is. Towering monoliths rise from the canyon floor at less than 4000 feet to nearly nine thousand feet above. The Watchman, Three Patriarchs, the Temple of Sinawava and many others form the backdrop of Zion National Park. Early morning light on the gigantic red rocks is only matched by the fading glow of sunset, each unique and fascinating.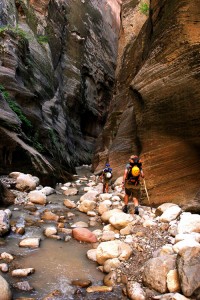 The park has more than a 1,000 species of plants ranging from tall, graceful cottonwoods growing along the river to towering pines and firs shading the higher elevations. Prickly pears, cholla, and yucca are among Zion's desert-adapted plants. The hanging gardens support brilliantly-colored shooting-stars, scarlet monkeyflowers, and Western and golden columbines.
Wildlife viewing and birding here is unsurpassed. The park's plant communities provide food, shelter, and nesting places for Zion's diverse animal life. There are approximately 67 species of mammals, 29 species of reptiles, 7 species of amphibians, 9 species of fish, and 207 species of birds. Endangered California condors soar above the cliffs of Zion. Bighorn sheep are spotted frequently and the reclusive mountain lion sometimes.
What to do
A better question, where to begin? Shuttle busses up Zion Canyon make several stops at trailheads leading to easy walks. One can exit the bus, take a short hike and return to the bus stop and continue up the canyon to the top terminal at the Temple of Sinawava. Here, a boardwalk route parallels up the Virgin River past lovely hanging gardens and springs. A popular pastime is hiking in the river traveling upstream. Sturdy river shoes and a walking stick are recommended. Both can be rented at several outdoor shops in Springdale. If you'd rather pedal, the Pa'rus Trail and Zion Canyon Scenic Drive are accessible to bicycles. The shuttles have bike racks and bicycles can be rented in town.
For the brave, Angel's Landing hike is an adrenaline junkie's rush. High above the valley floor, the final portion is on a narrow ledge with cables to grasp for security. Hang on tight! The world famous Virgin Narrows is a full day of strenuous river hiking and is rewarding for its scenic beauty and sense of accomplishment. A vehicle shuttle is required. Zion has a subway, but not like one you'd find in New York or Chicago. The Subway is another full day hike, limited by a lottery, and those fortunate enough to garner a permit will treasure the memory forever.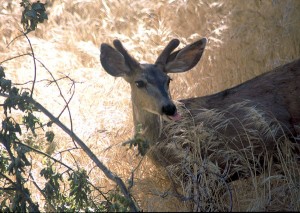 Zion may lead the world in the exciting sport of canyoneering, combining route finding, rappelling, problem solving, swimming, and hiking. With dozens of different canyons to explore, some barely wide enough for a person to squeeze through (think Fat Man's Misery, an actual route) the park offers opportunities that range from trips for beginners to experiences requiring advanced technical skills.
Ranger led activities are great for all - youngsters, their parents and grandparents. Programs are offered at Zion Canyon and Kolob Canyons from April to November. Topics include geology, plants, animals and human history on guided hikes, patio talks and evening programs. All ranger-led programs are free.
The Backcountry
Beyond the road, Zion is truly amazing. With over 90 miles of trails, 37 designated backpacking sites, several at-large backpacking areas, and 124,400 acres of designated wilderness, Zion National Park offers a variety of unique remote, pristine backcountry opportunities.
But technical canyoneering in Zion is king. However, be advised that commercially guided canyoneering is not permitted within the park. If you are experienced, physically fit, possess the necessary rappelling gear and the knowledge of how to use it, this is the place. Routes
like Englestead, Heaps and Imlay are extremely difficult, have drops of up to 300 feet and take up to 18 hours to complete. Slightly less advanced are Pine Creek, Behunin and Mystery, with its final rappel down a waterfall into the Virgin River below. There are many routes outside park boundaries of a wide range of difficulty where professional guide services are allowed.
Gateway Communities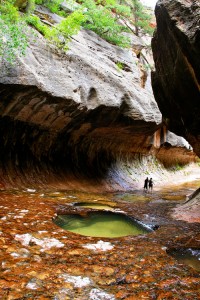 Zion National Park is supported by four excellent southern Utah gateways, St. George, Cedar City, Kanab and Springdale. West of the park, St. George is Southern Utah's largest city and about a 45-minute drive to Zion. St. George has many lodging options – motels, B&B's and some excellent full-service resorts. Red  Mountain Resort, at the entrance to beautiful Snow Canyon, is an outstanding facility with world-class spa, gourmet restaurant and professionally guided outdoor adventures. Adjacent is Tuacahn Amphitheater and Center for the Arts. The new St. George Municipal Airport provides flights to and from Salt Lake City, and service from Denver will commence soon. All visitor services are in St. George, including two state liquor and wine stores and a Utah Welcome Center located in the Dixie Center.
www.AtoZion.com
North of Zion on I-15, Cedar City claims the title of "Festival City USA." Rightly so, since in addition to the Neil Simon and Groovefest Music & Arts festivals, the community is home to the Tony Award winning Utah Shakespeare Festival and the annual Utah Summer Games competition. This vibrant town has everything visitors need in the way of lodging, groceries, supplies, shopping and an extensively stocked liquor and wine store. The Cedar City Regional Airport has scheduled flights from Salt Lake City on Delta Connection. A short drive from town leads to the entrance and Visitor's Center of the Kolob District of Zion National Park. To the east of Cedar City is the Ashdown Gorge Wilderness area and adjacent Cedar Breaks National Monument that, perhaps one day, will join "The Mighty Five" to create "The Mighty Six."
www.ScenicSouthernUtah.com
Southeast of the park, Kanab is a colorful community claiming "The Greatest Earth on Show" as their slogan and surrounded by redrock country. The Kanab area has been the setting to produce many western movies over the years. A county Visitor's Center is on the main drag and has flyers and brochures on all activities and destinations in the area. A Bureau of Land Management Office here also has a wealth of information. Lodging is plentiful, but best to book in advance during the busy tourist bus season. The Rocking V Café is both a fine dining spot and art gallery featuring local and regional artists. Best Friends Animal Sanctuary is just outside town and well worth a visit. Spend some time in Willow Canyon Outdoor, an amazing collection of books, maps, gear, apparel, espresso bar and quality knowledge of the area.
www.KaneUtah.com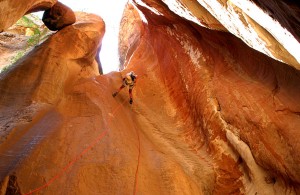 The city limits of Springdale abut Zion National Park at the western entrance. The park's Visitor Center is walking distance from town. The paved Pa'rus Bike Trail begins at the boundary. Indeed, Springdale and Zion are so intertwined they owe there very existence to each other. Springdale offers visitors all the amenities and infrastructure necessary for a quality visit. Lodging properties are extensive and room rates run the gamut. Restaurants, from fast food to fine dining and everything in between are here. Gift shops, guide services, bike rentals, art galleries, T-shirt emporiums and, as one would expect, an extensive liquor store are all in Springdale. The colorful town also presents several festivals throughout the year.
www.AtoZion.com
Did You Know?
Zion National Park has a trail where pets are allowed. The Pa'rus Trail winds along the Virgin River for 2 miles at the entrance to Zion Canyon and is also a bicycle path (
nps.gov
)
http://www.visitutah.com/parks-monuments/mighty5/
Tags
Hiking
,
National Parks
,
Family Trips
,
Zion National Park
,
Springdale
Archives
2023
2022
2021
2020
2019
2018
2017
2016
2015
2014
2013
2012
2011
2010