Re-Discover Mountain Biking in Moab
Posted On

Apr 12, 2012
Category

Southern Utah
By Tracy Reed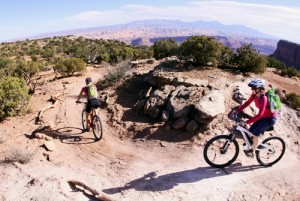 If you haven't been to Moab lately then you need to plan a trip to southern Utah's desert oasis. With new trails, new restaurants and lodging or camping options galore, you won't be disappointed. There has been a huge effort by the Bureau of Land Management and local trail advocacy groups, Moab Trails Alliance and Moab Trail Mix, to meet the growing need for some additional singletrack routes. The cooperation between these three groups has enabled new trails to be developed within the last few months and years.
One favorite is called the Magnificent 7 (Mag 7) a singletrack trail that runs adjacent to Gemini Bridges Road. This ride is fun and flowing with some of the most amazing views in the area. It is best ridden with a shuttle and is considered an intermediate level ride. While you're there, check out Gemini Bridges, the natural sandstone bridges that span Bull Canyon. You might also spot bighorn sheep during your outing!
Dead Horse Point State Park now offers singletrack trails for mountain bikers. The trail system at the park is great for families as well as lower intermediate level riders. The views are stunning and, after your mountain bike ride, you can also check out some of the hiking trails in the park. Pack a lunch or hit the trails later in the day to enjoy the sunset. The park has a day use fee of $10 per vehicle - money well spent.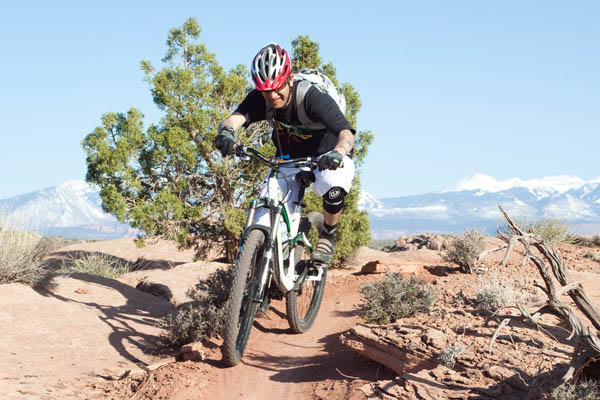 Moab also has two separate mountain bike focus areas north of town off highway 191. These are the Moab Brands Trails and Klondike Bluffs. You may know the original Klondike Bluffs trail, but there are now 5 more routes in the Klondike area to ride. The new trails at Klondike are best for all intermediate level riders. For beginners to higher level intermediate level riders, check out the Moab Brands Trails. This trail system is awesome with something for everyone.
One more trail to mention is Pipe Dream. This one starts in town and heads south to the trail head for Hidden Valley. Pipe Dream is a technically challenging ride and is best for intermediate to advanced riders. The trail is also a favorite of local hikers and runners so yield, be courteous and remember your trail etiquette. For more information on any of these trails stop by your favorite Moab bike shop and pick up a map. Moab Trails Alliance has produced great maps for Mag 7, Moab Brands, Klondike and Pipe Dream and all proceeds from map sales go directly to trail maintenance.
www.chilebikes.com
Tags
Moab
,
Mountain Biking
Archives
2023
2022
2021
2020
2019
2018
2017
2016
2015
2014
2013
2012
2011
2010