Mountain Biking O-Town
Posted On

Apr 30, 2014
Category

Northern Utah
By Greg Scothern –
Picture yourself gazing out your office window on a warm, late-spring afternoon. The majestic peaks immediately to the east are still blanketed with a deep layer of "The Greatest Snow on Earth." At their flanks are lush, green foothills that roll gently toward your downtown office building. Your mountain bike is perched in the sunlight against the wall just below the window sill, reflecting ethereal patterns of light throughout your office walls and ceiling. In a brilliant stroke of luck, your assistant pops in and tells you your 3:00 meeting has just cancelled. You mutter a controlled "YES!" to yourself as you perform a couple of celebratory fist-pumps. You're knocking off early today, and the two hours you've just been gifted mean you get to take the long way home.
Sure, you could take one of the several dedicated bike routes through town and be home in under 20 minutes, but you have a more adventurous commute in mind. You strap on your helmet, throw your leg over your bike and roll three blocks to the river parkway, where you swing in to your favorite riverside pub and coffee shop for some pre-ride sustenance. Here you share some quick laughs with friends and acquaintances who, being equally inspired by the glorious day, are knocking off early too. You warm up on the meandering river parkway for a couple of miles as you pass cyclists, runners, fly fishermen, kayakers, and parks bustling with young families taking advantage of the beautiful day. At the east end of the parkway you come to the mouth of a striking, scenic canyon. Miles of brilliant singletrack stretch out beyond you along the foothills both right and left. You grab a quick drink from your water bottle and enjoy the view for a moment as you ponder your route. Heading right will take you in the direction of home. With a self-assured grin, you clip in and head left.
The previous scenario sounds like what most folks would expect to find in a 'typical' mountain resort town, right? Well, this is no resort town…at least not in the typical sense. This is Ogden, or as many locals call it, O-Town, a thriving Northern Utah city with 85,000 residents nestled at the foot of the Wasatch Mountains.
Ogden's roots are deep and rich with colorful history. Originally settled as a trading post for Native Americans and mountain men during the early 1800's, Ogden truly came into its own during the railroad boom during the first half the 20th Century. During this time, Ogden was undeniably the commerce and social capitol of Utah. For nearly 50 years, virtually every transcontinental train made a stop or transfer in Ogden, and as such it earned unofficial titles like "Crossroads of the West" and "Junction City." Union Station was the gateway to Historic 25th Street – the social and cultural epicenter of Ogden – where soldiers, businessmen, and weary travelers of all types could savor every appetite imaginable (some, unsavory as well!) The finest restaurants, hotels, and theaters of the age greeted visitors, as did the houses of ill-repute. The stories of an underground network of tunnels connecting the brothels, opium dens, gambling rooms, and prohibition-era distilleries are legendary. Though the tunnels are now long-gone, many of the bricked-up entrances are still plainly visible in the basements of 25th Street's historic, turn-of-the-century buildings. No other town in Utah, or perhaps even in the entire West at the time, could match the level of culture, diversity, and debauchery found in Ogden.
Like all classic boom to bust stories, Ogden's story changed dramatically with the onset of air travel and sharp decline in rail travel. When the trains left, so did the majority of the business that came with them, and Ogden found itself grappling for answers in what would eventually become nearly 40 years of economic decline. It wasn't until the late 1990's, when a group of progressive community leaders and business owners coalesced and looked east to the sentinel peaks of the Wasatch Mountains and said "Hmmm…we might be on to something here."
Fast forward 15 years and the Ogden of today has become one of the fastest-growing communities in the country. Access to brilliant outdoor living has always been available in Ogden, but it wasn't until that access was leveraged for community and economic development that things began to change for the better. Ogden's reputation as an Outdoor Recreation Mecca is no longer just a marketing tagline; it is a reality that has been repeatedly affirmed in national media. The New York Times, Forbes, MSN.com, Outside, National Geographic Adventure, Powder, and Ski are just a few of the recent news and magazine publications to espouse the many great benefits of life in Ogden. Outdoor recreation companies have caught on as well, and there are currently over twenty outdoor-rec companies that are headquartered or have distribution centers in Ogden. Ski and cycling companies like Salomon, Atomic, Scott, ENVE Composites, Quality Bicycle Products and Tektro Brakes are leading this charge. These companies overwhelmingly agree on the primary factor in their decisions to make Ogden their home: immediate access to world-class venues for product testing and demonstration.
One primary example of this is the immediate access to a network of well over 400 miles world-class trails. 'Immediate' is no overstatement, either. Regardless of where you live in Ogden, you are within a 15-minute bike ride to one of over a dozen trailheads – much of which is on dedicated bike routes or non-motorized paved pathways like the gorgeous Ogden River and Weber River Parkways that converge in downtown Ogden. As such, lunchtime mountain bike rides are commonplace for many who work here. For those who live on the east side of town, the pavement pounding is likely less than five minutes. With access like this, the mountain biking scene in and around Ogden is thriving. Whether you are looking for a quick 30-minute burn or a 4-hour epic, Ogden is the perfect basecamp. So many options and variations can be strewn together that even seasoned locals are still discovering new ways to change things up. Regardless of what your riding preferences are, you can find it in Ogden.
Bonneville Shoreline Trail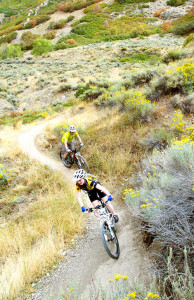 The Bonneville Shoreline Trail (BST to the locals) is the de facto go-to trail for post-work rides and quick cruises close to town. BST can be accessed quickly via the Ogden River Parkway from downtown, or by one of the many trailheads along Ogden's east bench. Aptly-named, the BST runs along the ancient shoreline of Lake Bonneville, undulating around the 5,500 foot elevation mark along the entire east bench of the Greater-Ogden community. Someday, when the planets and stars align just right, the BST will be a 150-mile continuous ribbon of singletrack stretching from Logan through Salt Lake City to Payson in Utah County! For now, Ogden has done its part and riders can enjoy nearly 20 continuous miles of this fantastic trail right in their backyard. The BST is a classic trail in every sense, and is enjoyed by all types of riders from true beginners up to the most advanced. Long stretches of smooth, buttery singletrack are interspersed with short, technical climbs and rock features. Those seeking a more vertical challenge can ride the many high-line variations that incorporate more climbing and descending. Perhaps the finest section of this trail is a 6-mile extension along the northernmost portion that was recently completed through the cooperative efforts of non-profit trail building group Weber Pathways and the International Mountain Bicycling Association (IMBA). This section can easily be accessed by car for a shorter out-and-back ride via North Ogden Divide. This IMBA-designed section of the BST has garnered statewide praise and boasts dramatic views of the Ogden area. This and other sections of the BST north of Ogden Canyon are often rideable during winter months due to well-drained soil and sunny southwest exposures. For those seeking a longer variation, an out-and-back ride of the Ogden BST in its entirety will net over nearly 40 miles of singletrack riding with over 4,000 feet of ascending. For a fun diversion immediately off the BST just north of Ogden Canyon, be sure to check out the Ogden Bike Park, a gravity playground for those seeking a more adrenaline-fueled experience. With three dedicated downhill lines ranging from beginner jumps to big-hit expert drops and airs, plus a stunning dirt-jump track, there are multiple options for testing your gravity riding skills.
Ogden Valley/North Fork Park/Skyline Trail
A twenty-minute drive east of downtown Ogden via stunning Ogden Canyon leads to one of the most scenic mountain valleys along the Wasatch. Ogden Valley is a lush mountain hamlet ringed by grand peaks, with beautiful Pineview Reservoir at its center. Ogden Valley serves as the gateway to the area's three ski areas, and provides easy access to fantastic alpine mountain biking. Weber County's North Fork Park on the north end of the valley serves as a great launch pad for some of the most scenic alpine riding in Utah, which has plenty. Options include short loops through pines and aspen that can be combined and lapped for varying distances, or long, sustained climbs that lead to Ben Lomond, Willard, or Lewis Peaks and boast unparalleled views of both Ogden City and Ogden Valley. Once on top, these 9,800-foot peaks are linked together by the popular and eye-boggling scenic Skyline Trail, which extends along the broad ridgeline between North Ogden Divide and Ogden Canyon. Mountain goat and moose sightings are common along this incredible stretch of trail.
Snowbasin Resort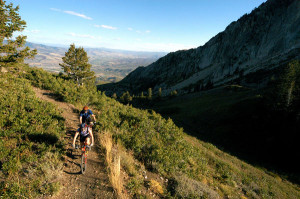 Snowbasin Resort, located at the south end of Ogden Valley in the shadow of impressive Mount Ogden, is the premier ski and summer resort in the Ogden area. Just 30 minutes from downtown Ogden, Snowbasin served as the host venue during the 2002 Olympics for the Downhill, Super-G, and Combined ski racing events. When the snow melts, Snowbasin delivers brilliant alpine singletrack that ranks among the best in all of Northern Utah. This gorgeous trail network serves as the course for the annual XTERRA National Championship Off-road Triathlon. Cooperative efforts between Snowbasin and the U.S. Forest Service have led to the development of over 40 miles of trail in this area. For longer endurance rides, the Snowbasin area trails are easily connected to Ogden Canyon and other Ogden Valley trails via the Wheeler Canyon trailhead just below the Pineview Reservoir dam. Intermediate riders will enjoy the Green Pond and Art Nord (also called Maples) trails. For those seeking excellent climbs and brilliant descending, the Sardine Peak and Ogden Canyon Overlook trails do not disappoint. These can be combined, and the views of Ogden Canyon and Pineview are nothing short of stunning. Seasoned climbers can pedal the lung-burning, 2,800-foot grind up the resort slopes via the Needles trail for rewarding vistas and a beer at the mountaintop Needles Lodge. For those that don't have the legs or lungs for the climb, the Needles Gondola will whisk you to the top in about ten minutes. The descents are fast and technical, and a single-day lift ticket will get you as many laps as you can handle. To top it all off, live Blues and Folk music, draft beer, and delicious barbeque burgers and ribs beckon you on Snowbasin's outdoor patios. These are a staple of summer and fall weekends at Snowbasin, and serve as the perfect post-ride recovery as you and your buddies laugh and relive the glory of your ride, basking in the warm sun as it slowly dips behind towering Mount Ogden.
It's been nearly three hours since you knocked off work. Dusty, hungry and tired, you roll into your driveway and check your Garmin: 34 miles, 3,800 feet of ascending and every bit of it within view of your office. "Wow…I really live here?" you ask yourself rhetorically as a reminder of just how good life really is. The self-assured smile returns…and you're home in time for dinner.
For additional mountain biking information, resources, maps etc. in the Ogden Area:
www.visitogden.com
www.weberpathways.org
www.facebook.com/OgdenTrailsNetwork
www.utahmountainbiking.com/trails/idx-ogd.htm
www.snowbasin.com
Tags
Mountain Biking
,
Snowbasin
,
Ogden
Archives
2023
2022
2021
2020
2019
2018
2017
2016
2015
2014
2013
2012
2011
2010