Exploring Northeastern Utah
Posted On

Jun 11, 2012
Category

Northern Utah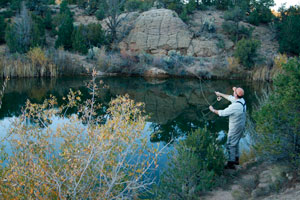 By Mark Wilson –
Begin by heading south off Interstate 80 on US Hwy 40 towards Heber. After a few miles, head east to Kamas on Hwy 248 and then south to Hwy 35. The goal is to climb over the western shoulder of the Uinta Mountains and enter the Uinta Basin like the mountain men did. Take time to marvel at the high country splendor of remote Wolf Creek Pass, a great place to view wildflowers & wildlife in early summer.
Soon you will reach the small town of Hanna and your first chance for adventure on the south slopes of Utah's fabled High Uinta Mountains. Heading north on the sometimes rugged Forest Road 144 will bring you to the popular Grandview Trailhead. This is one of the shortest trails to a backcountry basin, for which the Wilderness is famous.  After conquering Hades Pass, the 3 mile trail descends to well-known Grandaddy Lake. Camp here or wander to the 20 some other alpine lakes nearby, most all of them literally boiling with fish every evening.
Continue east and south on Hwy 35 and make a stop at the new Duchesne Chamber Visitor Center. Their enthusiastic staff will point you in the right direction for adventure.
Along your journey across the Uintah Basin, the peaks of the High Uinta Wilderness (to the north) are constant companions. There are numerous other trailheads into the Uintas along the way to Vernal. Most are well-marked off of US Hwy 40. One such treasure is Moon Lake, the largest lake in the Wilderness and you can drive right to it on paved roads. Lodging, camping, boating, hiking and fishing are all popular pastimes here.
Continue east from Duchesne on Hwy 40 and in about 18 miles; look for the marked turn south to Nine Mile Canyon.  A must see, Nine Mile is known as the longest natural art gallery in the world! For nearly 1,200 years, ancient cultures have left their paintings and etchings carved upon the stone walls. Its outstanding rock art has been featured in National Geographic and is recognized as a national treasure.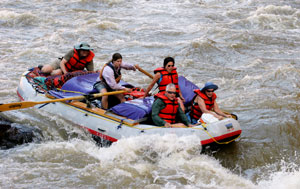 Continuing east on US Hwy 40 and about 20 minutes past Roosevelt, keep your eyes peeled for a southern turn onto Hwy 88 and signs for the Ouray National Wildlife Refuge. Admit it, you probably didn't realize that the famous Green River is sneaking by you somewhere out in the desert to the south. One of the last places to visit the river before it swings away into remote Desolation Canyon is at the Refuge. The Green creates a rich riparian habitat as it crosses the desert and the trails here are a great place to view the wildlife and migratory birds that depend on this western waterway. Why not stay a while? Check out some of the area's unique lodging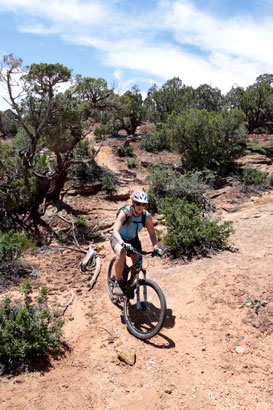 There are no signs to it, but in the varied desert terrain just before descending into Vernal are some of the best single-track mountain biking trails in the west! Unless you spot a local biker cresting a ridge, you will have to head on to Altitude Cycle for trail guides and friendly advice.
Scenic Red Canyon Lodge offers handcrafted log cabins along a private lake, fine dining, horseback riding and other on-site recreation.
Re-supply in Vernal, there are ample opportunities for lodging, dining and shopping. This is truly the land of dinosaurs and the Utah Fieldhouse of Natural History is a good place to start looking for them. Stroll through the Dinosaur Gardens to get up close and personal with a variety of ancient creatures. Continue to Dinosaur National Monument, where new visitor facilities display features of the largest Jurassic period fossil bone quarry in the world, including a partially excavated wall containing over 2,000 bones! The monument is more than just old bones however, it has several short desert hiking trails (check out the early May wildflowers here) and some exciting whitewater rafting.  The Split Mountain run on the Green is a great day trip. Roam the lake in style on a houseboat or enjoy a floating cabin at Lucerne Marina. Proceed north out of Vernal on US Hwy 191, the mountains loom ahead! In ten miles, seek out the Red Fleet Dinosaur Trackway. More than 200 tracks of two different types of dinosaurs are exposed (at low water levels) along the shoreline of Red Fleet Reservoir. The Trackway may be reached by a two mile round-trip hike or by boat.
US Hwy 191 climbs into the lush Ashley National Forest and numerous pullouts, offering interpretive stops, restrooms & hiking. They are well-marked on this Flaming Gorge-Uintas National Scenic Byway.
Enjoy well crafted log cabins at Rocky Ridge Outpost, in serene South Valley, just outside of Manila
www.rockyridgeoutpost.com
In short order, you will encounter the scenic splendor of Flaming Gorge National Recreation Area. Visitors are drawn from all over the world to enjoy a huge variety of world-class outdoor recreation including trophy fishing and camping - all in a majestic landscape. This spectacular area serves as home to abundant watchable wildlife, including mule deer, moose, Rocky Mountain elk, pronghorn, bighorn sheep and wild horses.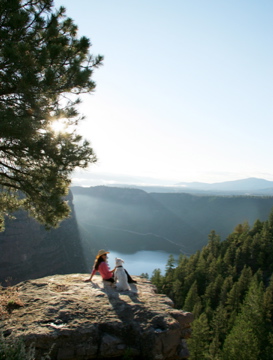 Turn right at Greendale Junction, following US Hwy 191 on its abrupt turn east. The Flaming Gorge Dam Visitor Center is open daily and is a good place to get the lay of the land. Keen eyes will spot nesting Ospreys on the nearby islands in the 91 mile long Lake Flaming Gorge. Far below you, the Green River emerges from the Dam as the finest blue ribbon fishery in Utah. Persons come from all over to fish this treasure and you should seek its wonders as well! Launch points beyond the dam offer access to the Little Hole National Scenic Trail - a beautiful 7 mile hike along the river as it winds between towering canyon walls. It's easy to rent a raft at several local outfitters and float this paradise. Hire a local guide and you might catch many of the trout that you see around every bend!
Back at Greendale Junction, continue north on UT Hwy 44 and turn at milepost 3.5 to visit the Red Canyon Visitor Center and Overlook. One of Utah's most beautiful canyon views is just a short walk from the car.  This is also the trailhead for the popular Canyon Rim Trail. Hike, bike or ride a horse along an easy trail, rich in wildlife and scenic views.
Hankering to watch some moose? They are common every evening at lovely Spirit Lake, tucked along the northern slopes of the High Uintas. Fifteen miles west of Greendale Junction, the Sheep Creek/Spirit Lake Scenic Backway climbs south through pine and aspen forests to flower-filled meadows at over 10,000 feet. Many hiking trailheads are well-marked along the way, but the best of them leave from Spirit Lake to backcountry wilderness gems like Daggett and Tamarack Lakes. On the way out, enjoy the 13 mile paved Sheep Creep Geological Loop. While you're peering above at the towering pinnacles and cliffs, keep your eyes peeled for some of the bighorn sheep that call this area home.
Grab a bite to eat in Manila before heading either north or west back to Interstate 80 and the road home. As you have read, this tour covers a vast area well worth exploring slowly.  So when visiting Utah, follow your compass northeast.
FlamingGorgeCountry.com
Dinoland.com
Duchesne.net
RedCanyonLodge.com
Tags
Mountain Biking
,
Green River
,
Flyfishing
,
Flaming Gorge
,
Uinta Mountains
,
Dinosaurs
Archives
2023
2022
2021
2020
2019
2018
2017
2016
2015
2014
2013
2012
2011
2010