Disneyland? Not!
Posted On

Mar 24, 2012
Category

Southern Utah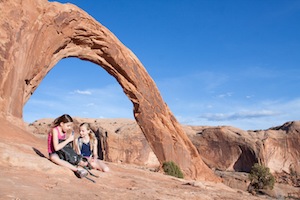 By Señor Rojo
Photos - Monique Beeley
Maybe you've been to Moab. If not, maybe you've thought about vacationing there. Perhaps you've heard or read about the legendary mountain biking, river running, climbing and all the other outdoor adventures Moab offers. Hard core? Sure. Extreme athletes flock to this southeast Utah town by the thousands to take on some of the toughest trails, terrain, whitewater runs and canyon walls in the country. No, maybe the world!
But here's a surprise. Moab is one of the best family friendly vacations spots around. Right. Family - and we mean the whole family. Kids of all ages, mom and dad, grandpa and grandma. In and around Moab there's something for all ages and abilities, every taste and liking. So if the thought that Moab was just for the hard core, gonzo, elite type jocks and not the place for you and your family, think again.
But be aware, you won't be finding Fantasyland here. Or Mickey's Toontown, the Magic Kingdom, Cinderella's Castle or Space Mountain either. Those are found at some other theme park. The theme of this park is outdoor sights, recreation and adventure.
To get started, request a free copy of the Moab Travel Guide by logging on to the official website of the Moab Area Travel Council,
www.discovermoab.com
. The Planner includes complete listings of Moab lodging, campgrounds guides, outfitters and services. The website also has information on the many events, festivals and workshops held each year. Once you arrive in Moab, your first stop should be the Moab Information Center, known to locals as "The MIC." Located smack downtown at the corner of Main and Center streets, the MIC offers information on recreational opportunities and visitor services throughout southeastern Utah. Allow some time for the interpretive displays and large gift shop featuring guide books, maps, videos, DVD's, postcards, and much more.
Here are some suggestions for family fun.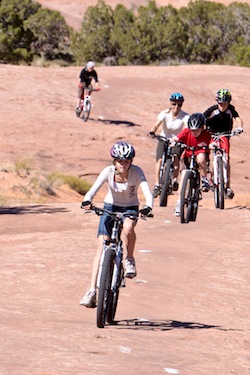 In Moab's backyard are two of the nation's most scenic national parks, Arches and Canyonlands. Although just a few miles apart in distance, they are light years apart in landscape and environment. To see one but not the other would not do justice to your visit.
Arches, as the name implies, is loaded with amazing rock formations and breathtaking sandstone arches, more than 2000 casting an incredible scene across the horizon. The park also contains an astounding variety of other geological formations. Colossal sandstone fins, massive balanced rocks, soaring pinnacles and spires dwarf visitors as they explore the park's viewpoints and hiking trails.  A paved scenic drive leads to many of the major viewpoints within the park.  The park's rock formations delight children as well as adults, with many easy trails providing opportunities for kids to get out of the car and explore the arches up close.  Hikers can choose from a wide variety of trails, from short twenty minute walks leading right up to many of the largest Arches in the park, to more adventurous hikes into lesser seen areas. Pick up a trail map at the Visitor's Center.
Much of Canyonlands National Park is rugged backcountry personified. But don't let that deter you and the family from visiting this truly amazing landscape. The Maze and Needles districts offer the committed backpacker rare adventure and solitude. But for family fun, the Island in the Sky District is a great choice. Atop a massive 1500 foot mesa, twenty miles of paved roads lead to many of the most spectacular views in southeast Utah.  From these lofty viewpoints one can often see over 100 miles in any given direction, resulting in panoramic views that encompass thousands of square miles of canyon country. Bring the camera.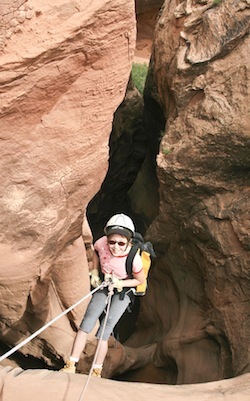 There are many advanced and strenuous hikes in Canyonlands, but several easy, family friendly routes as well. The hikes to Mesa Arch, Murphy Point and Grand Viewpoint are all less than two hours roundtrip with little elevation gain. When visiting Canyonlands, take a nearby and worthwhile side trip to Deadhorse Point State Park and the dizzying view of the Colorado River 2000 feet below. If the furry family friend is along, the park has several hikes that are pet-welcome. And for a really fun family mountain bike ride, the new Intrepid Trail System at Dead Horse Point has slickrock sections, looping singletrack, sandy washes, and incredible scenery with spectacular views of the Colorado River and Canyonlands National Park.  The Intrepid Trail provides a great taste of what Moab mountain biking is all about.
Moab = mountain biking. A simple equation. If you've heard of the famed Slickrock Bike Trail and its reputation as for experts only, there's no reason to be intimidated. Although not for beginners, experienced riders, even pre-teens, can ride Slickrock. In addition, there are several entry level rides that can be enjoyed by all family members. A great one is the recently developed Moab Brand Trails a system of loop rides where you can pick one of several from easy to moderate to expert. An ideal place to develop mountain bike skills and build confidence. You can pick up detailed trail maps at any of several bike shops in town and strike out on your own. Better still; hire one of the guide services in town. Most have top quality rental bikes and can fit you to the correct size. And if the family prefers the skinny tire machine, the recent completion of the Moab Canyon Pathway connects Moab to two national parks and one state park. Moab now boasts over one hundred miles of paved non-motorized trails through absolutely amazing scenery.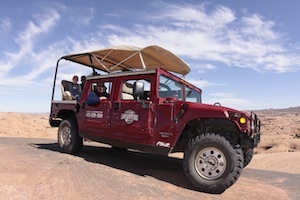 How about some canyoneering/rappelling? If you and the family have never been off a cliff on a rope, try it! It's not that difficult once you know, well, the ropes. Again, guides are the answer and there are excellent ones in Moab. Like a lot of vertical adventures, the first time you back off the ledge, you'll probably think you swallowed a tennis ball. Keep at it. Great fun for pre-teens and even reasonably fit seniors.
River running. The mighty Colorado runs through town and punches through the rock at the Portal on its way to the confluence with the Green River at Cataract Canyon and beyond. To get the kids, gramps and granny (and maybe ma and dad) comfortable in a raft, try the "Daily" from scenic Fisher Towers. A great organization, Utah Guides and Outfitters Association (UGO), is a membership group of highly qualified companies, many of which run the "Daily" as well as one day and multi-day trips through Westwater Canyon, the Colorado and the Green. Find them at
www.utah-adventures.com
.
Ever wanted to "learn the ropes?" New in town this year in Adventure Park Moab, a high ropes challenge course. Coached tours can be enjoyed by individuals or as a team building experience. Gain confidence and self-esteem while having a barrel of fun doing it!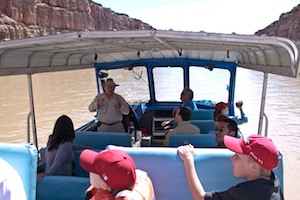 The landscape around Moab is vast. You can see plenty of it through the windshield of your two-wheel drive family sedan. But you can see much more by renting a high-clearance four-wheel drive Jeep. There are several vehicle rental outlets in Moab that can not only get you into the proper vehicle to handle backcountry terrain, but also provide maps and directions on the best routes and off-road trails. Your adventure, your way!
Jet boat rides, Hummer tours, hot air ballooning, scenic flights, horseback trips, rock art, dinosaur trails, museums, movie sites, even wineries. They're all here in Moab. So for a great vacation alternative to that other theme park, visit Moab and bring the family.
Tags
Moab
,
Hiking
,
Mountain Biking
,
Canyoneering
,
National Parks
,
Family Trips
,
River Trips
,
Jeep Trips
Archives
2023
2022
2021
2020
2019
2018
2017
2016
2015
2014
2013
2012
2011
2010