Southern Utah - Top 3 Must See
Posted On

Mar 31, 2023
Category

Southern Utah
Mountain Biking
Hiking
National Parks
Family Friendly
Southern Utah - Top 3 Must See
By Monique Beeley
Let's be real…summer is the BEST…especially when you are a kid or have kids. This is a time when we can sleep in a bit and have a more chilled schedule. I can still remember the feelings of excitement, anticipation, and pure wonder of what would and could happen as I walked out of school on that last day. As I became a teen, the emotions flooding my body on the last day of school shifted a bit to include some bittersweetness…feeling a bit of a loss knowing that I would not be seeing my friends or my crush every day. My daughter is now a teen…yeah…right…and she has made it very clear that the first week of summer break is for sleeping in and hanging with friends, specifically mentioning this time is not for adventuring with mom. OK got it. Does that mean that the rest of summer break IS for adventuring with MOM? This comment inspired her best grumpy…UGH...you are kidding…right…lol. I must admit, the shift to teenage daughter vibe can be FUN, and planning some summer adventures that will check the boxes for both of us is TOP on my TO DO list. Circling back to the bittersweetness I felt as a teen as summer break approached, I find my current emotional state to be very similar. I love summer, BUT having to plan and coordinate all the nuances of life minus the school schedule is always bit overwhelming.
Here are three of my personal all-time favorite adventures that I highly recommend adding to your to-do list this summer.
SULPHER CREEK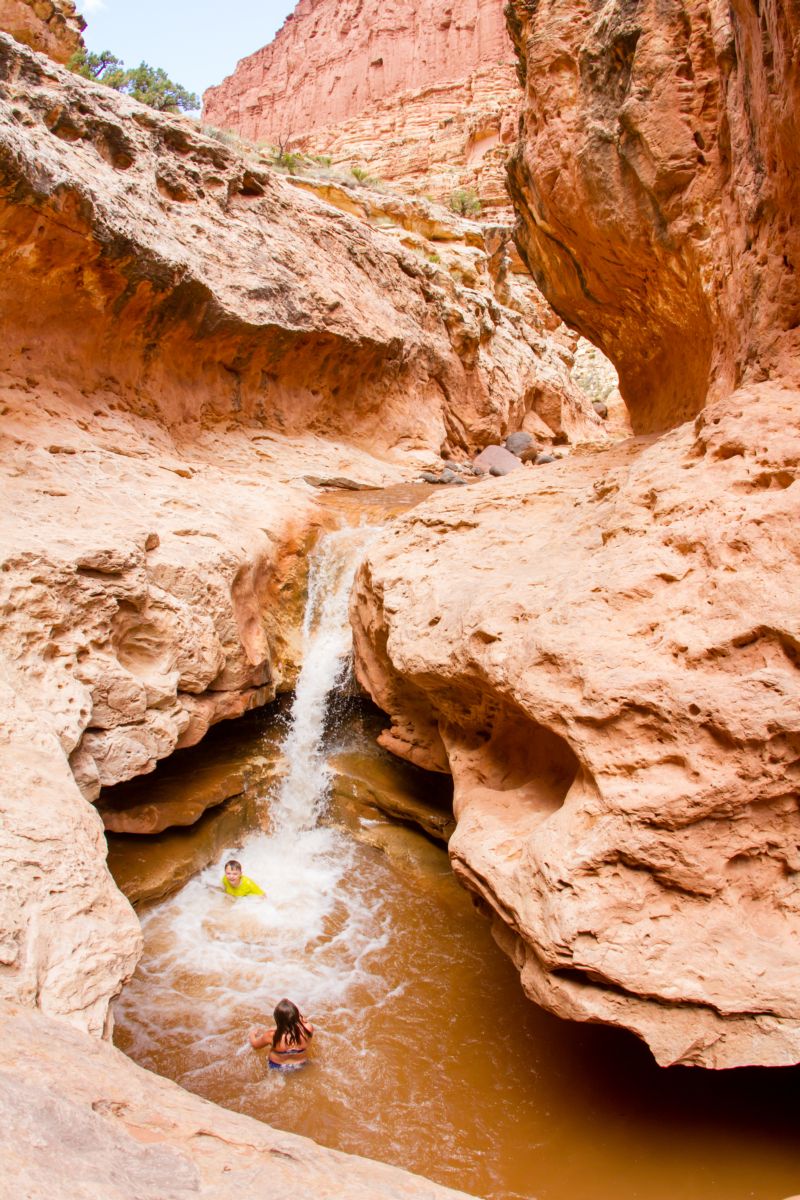 Located in Capitol Reef National Park, is a 5.8-mile (one-way) hike that is rated moderate, requires a shuttle vehicle, and typically takes between 4-5 hours. This hike is not recommended for young children and inexperienced hikers. There are a few 10- to 12-foot-down climbing sections as well as some areas of cliff exposure. The route is both in and out of the creek so be sure to wear sturdy shoes and be prepared to get wet. The water level along the route does vary throughout the summer.
This is a slot canyon hike and water levels can vary from ankle deep to over 5 feet deep. ALWAYS check the weather and check in with the park rangers prior to hiking.
Also, be aware this is considered a backcountry hike, which means the trail is not a well-worn path. You will not likely see others, there is very limited cell service, and be prepared to pack everything out. This is a hike that everyone's backpage should include a wagbag (restop.com).
WHY WE LOVE IT: Perfect mix of water play, natural water slides and waterfalls, and magical scenery.
Local information:
Wayne County Visitor Center – Restrooms, visitor information, and gift shop. 12 UT-24, Torrey. 435-425-3365, CapitolReef.org
Capitol Reef National Park Visitor Center – Restrooms, drinking water, vending machines, visitor information, and gift shop. 435-425-3791, NPS.gov/care
Thunder Mountain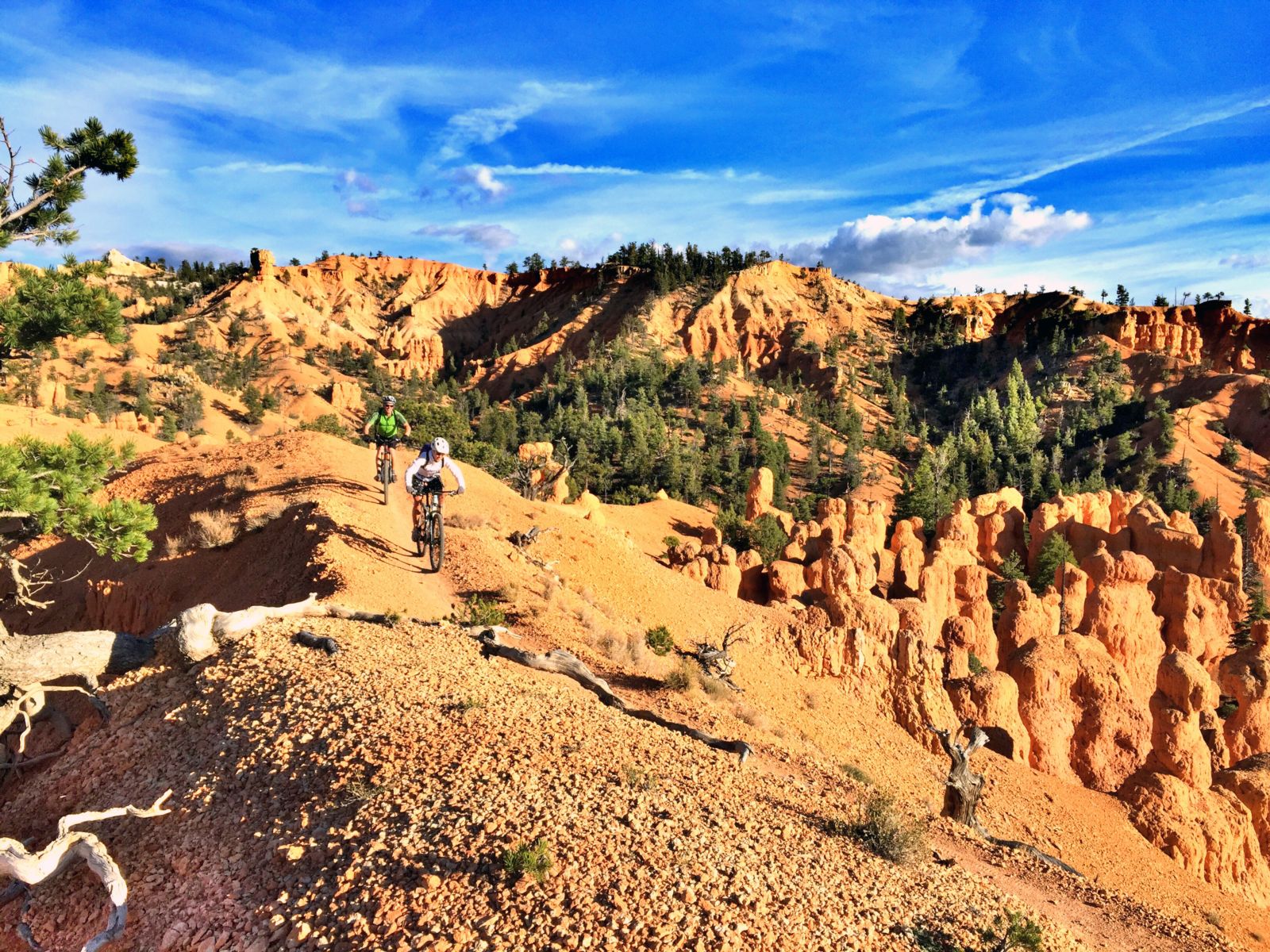 In my humble yet expert opinion, after spending nearly five decades exploring Utah, I feel confident in identifying Thunder Mountain as the most scenic and iconically Utah mountain bike ride in Utah. It is located in the Red Canyon section of the Dixie National Forest, where many visitors often mistakenly think they have arrived in Bryce National Park due to the similarity of the landscape and the proximity to the Park. Here you will find epic beauty, slightly less crowds, AND this area is open to mountain biking (unlike National Parks).
If you are planning on visiting Bryce, I highly recommend planning additional time to explore this area. There are many miles of scenic red rock hiking and biking trails, as well as the epic 17-mile paved Red Canyon Trail that begins here and culminates in Bryce. Due to the proximity, riding Thunder Mountain is reminiscent of cruising through the iconic red rock hoodoos and spires that have made Bryce a world-class destination.
This ride is rated moderate and best done as a 15-mile loop, beginning with five miles on the Red Canyon paved path, 2 miles on the Coyote Hollow dirt road, and commencing with 8 miles of epic singletrack. Many prefer to do this as a shuttled ride to bypass the paved path and dirt road sections, however there are no commercial bike shuttle services in the area.
WHY WE LOVE IT: Breathtaking scenery and epically fun singletrack.
Local information:
Red Canyon Dixie National Forest Visitor Center – Restrooms, drinking fountain visitor information, gift shop, and picnic tables.
435-676-2676, fs.usda.gov/recarea/dixie
Bryce Canyon Country/Garfield County Tourism Office – Restrooms and visitor information. 55 S Main, Panguitch. 1-800-444-6689, brycecanyoncountry.com
Yant Flat aka Candy Cliffs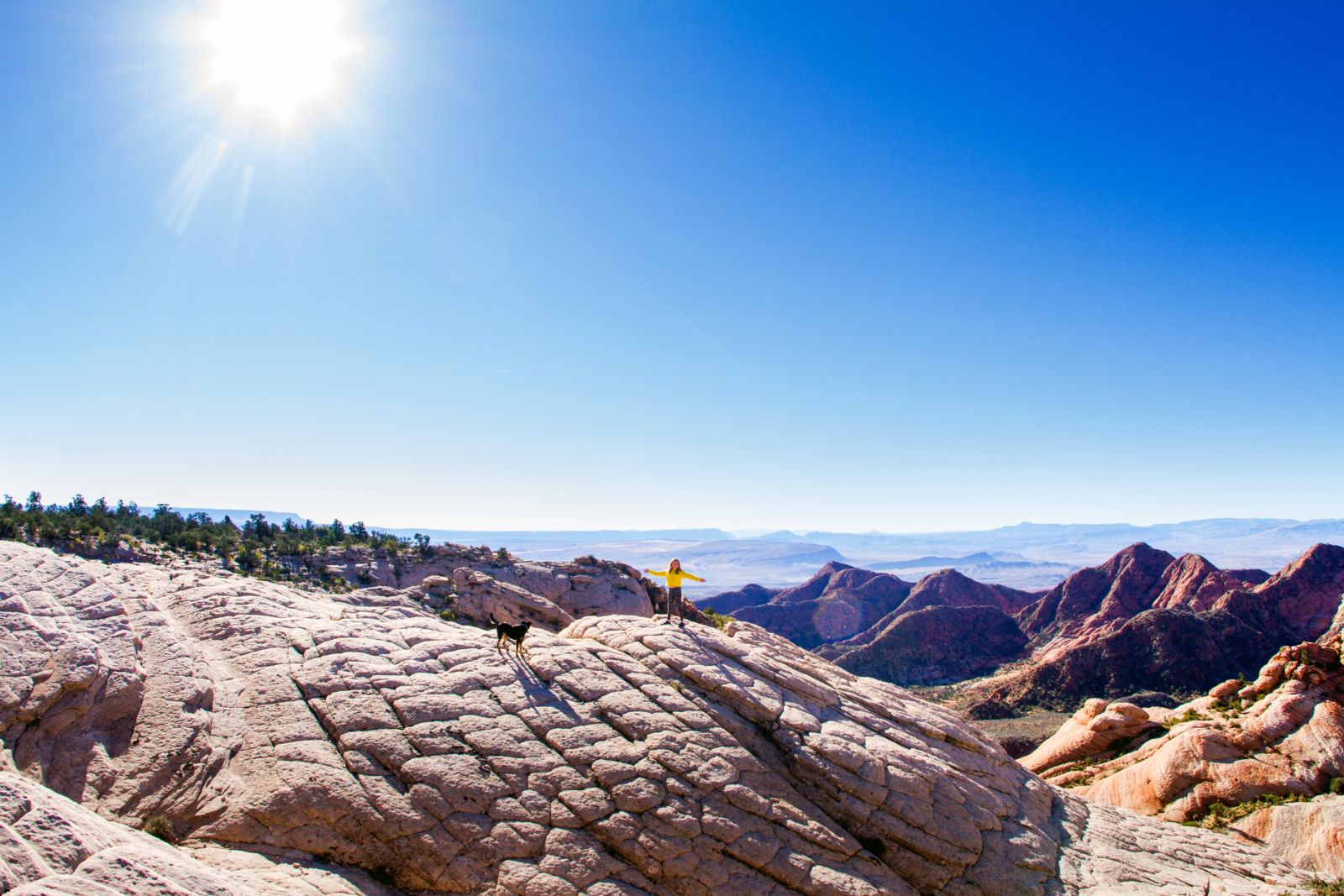 - Located at the base of the Pine Valley Mountains northwest of St. George. The trail begins in the Dixie National Forest and ends in the Cottonwood Canyon Wilderness section of the Red Cliffs National Conservation Area. The trail to the cliffs is a moderate 1.3 miles (one-way) winding through the forest. I have rated this trail as moderate due to a of couple long sections of deep sand and moderate cliff exposure where the forested plateau opens to the rolling red rock cliffs.
The sweeping sandstone cliffs and amphitheaters are the perfect area for free roaming and in-depth exploring. This is the perfect location to have a conversation with your kids about areas in nature that are OK to free roam vs. the areas where going off trail could be harmful to the ecosystem that is growing. A good rule of thumb is, hard rock surfaces where no footprints can be seen is usually a YES.
Be aware this is a backcountry primitive. What this means is there is no official forest service trailhead sign, information kiosk, bathrooms, trash cans, water, and no trail markers along the route. The current route to the cliffs is an old OHV user-created trail that is now officially closed to motorized travel. Also, this means is that this is not an "official trail' created by the Dixie National Forest and is not documented or recognized on maps created by the forest service. This area is recently experiencing significant increase in visitation, which will create the need for additional trailhead amenities in the future, however this government process takes a lot of time. I have not personally promoted this area until now. My reasoning at this time is based on education and highlighting this as a primitive area that needs to be visited respectfully and requires additional planning.
Specific know before you go tips for this destination are: plan ahead as there are no bathrooms, water, trash cans, and cell service is very limited on the trail as well as on the dirt road to access trail. Parts of the trail can be confusing as there are many spurs off the trail and I would recommend downloading the map on your phone prior to leaving for the trip. Be prepared to pack everything out in your vehicle and backpack. This is a time when you need to carry a wagbag (restop.com) for yourself as well as your dog.
WHY WE LOVE IT – EPIC scenery.
Local information:
Greater Zion/ Washington County Visitor Center – Restrooms and visitor information. 20 N Main, St George. 435-634-5747
Public Lands Recreation Field Office – Restrooms, local maps, and recreation information. 345 East Riverside Drive, St. George. 435-688-3200
Tags
Southern Utah
Archives
2023
2022
2021
2020
2019
2018
2017
2016
2015
2014
2013
2012
2011
2010