Road Trippin I-15
Posted On

Sep 10, 2020
Category

Southern Utah
Road Trips
Mountain Biking
Hiking
State Parks
National Parks
Family Friendly
Central Utah
Leaving the Wasatch Front in the rearview and heading south on 1-15 feels like taking a step away from the fast-paced action of the epicenter of our state and stepping into the soothing sights, the quieter sounds, and the surreal landscapes of the central and southern part of our state.
One of the many things I love about Utah is the diversity of our landscapes and the recreational opportunities that each provide throughout the seasons. Summer is the time to heed the call to the red rock country that is primed and ready for adventure.
Before setting the GPS for your desert destination and prepping your Audible book or playlist for the 4 to 5 hours on the road in anticipation of your final destination, take your foot off the gas for a minute and consider a different journey. One that might take a bit longer, involve some off the beaten path stops, exchanging the routine 1-15 drive for a more experiential journey. One where the kids have to put down their devices, lace up their shoes, and have an experience together in a small town that has been passed by numerous times.
Utah County
Our first stop is Rowley's Red Barn in Santaquin (58 miles from Salt Lake City) Established in 1984, Rowley's South Ridge Farms is a family-owned and operated fruit farm. In addition to the seasonal fruit, homemade baked goods, and chocolate covered dried fruit, the Red Barn is also home to an old-fashioned ice cream parlor. There is also a second Red Barn location a bit further south in Washington.
Summer hours are Monday – Saturday, 9am-9pm, 801-754-5511.
Millard County
Named after U.S. President Millard Fillmore, the town of Fillmore (126 miles from Salt Lake City) was the first capital of what was then known as the Utah Territory. This alone, should make Fillmore an educational stop with the family…right.
The Territorial State House State Park is Utah's oldest existing government building and Utah's first state park (1957). The museum features historic exhibits and artifacts from life in Utah during the mid 1800s. Open Monday – Saturday, 9am-5pm, 435-743-5316.
Cluff's Car Hop Café is a small family-owned and operated restaurant that opened in the 1950s and is a must for the classic "burger, fries, and shake" connoisseur in the family. Covered outdoor seating and take out orders are available. 270 N Main St., 435-743-5510.
The Millard County Visitor Center, located at the Fillmore City Park, is a great place to let the kids play and have a picnic. The visitor center has information on the area as well as bathrooms. 460 North Main, 435-743-7803.
No drive down I-15 would be complete without mentioning Meadow Hot Springs. Located west of the tiny town of Meadow, 7 miles south of Fillmore. Located in an open field. there are three soaking pools, each varying in temperature. Please be aware that this is private property and be respectful of the rules posted at the location and always practice Leave No Trace.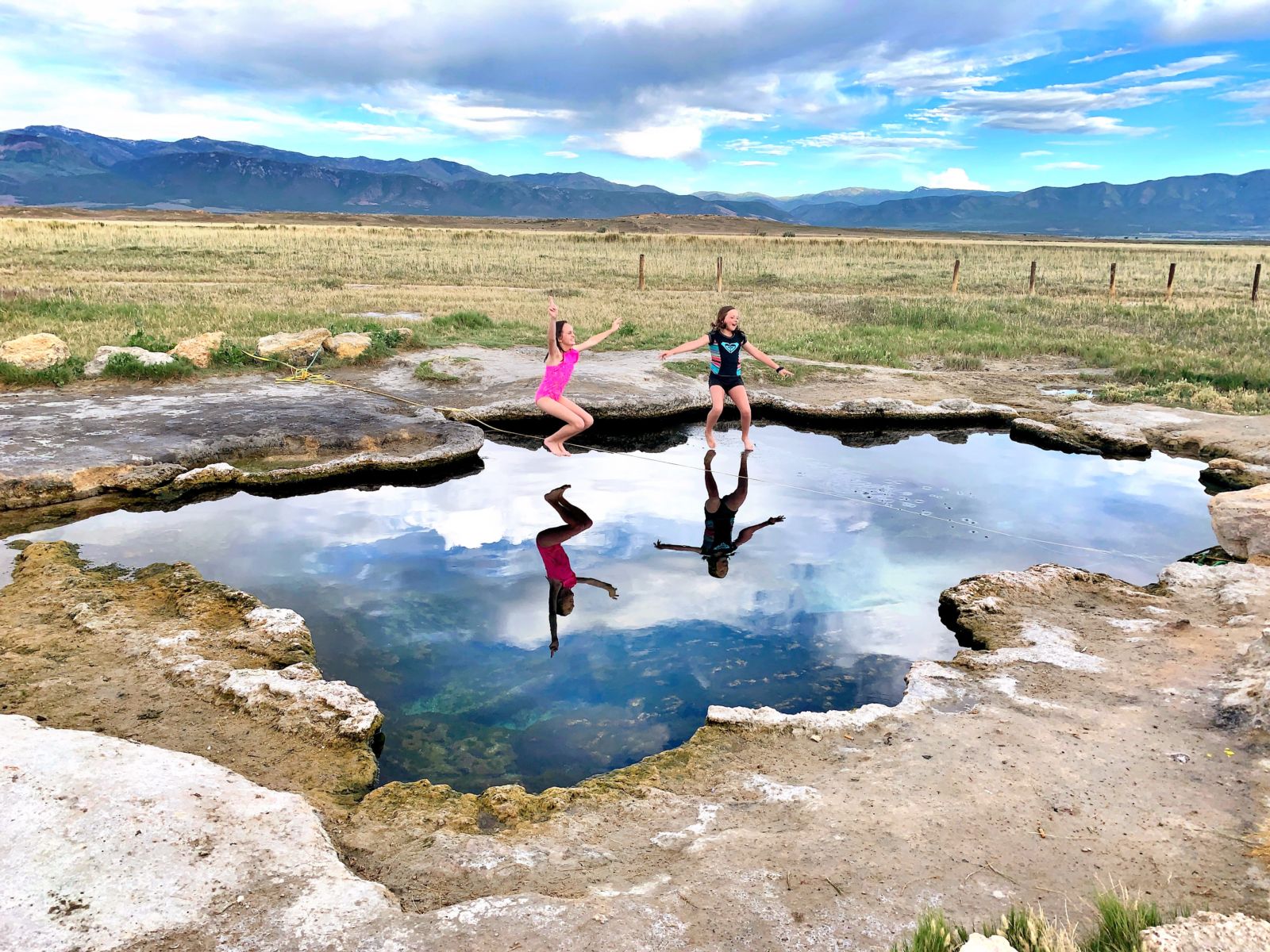 Beaver County
The hot spot in Beaver (190 miles south of Salt Lake City) is The Creamery, which has been making cheese since 1952 and opened its beautiful retail location and restaurant in 2018. In addition to some of the best cheese curds ever, artisanal cheeses, and ice cream, other Utah made products can be found here.
Their hours are Monday – Saturday, 9am-6pm and Sunday, 12pm-6pm, 165 South 500 West, 883-796-4551
Iron County
On the road again and our next locale, which is 35 miles south, is Parowan (232 miles south of Salt Lake City). Did you know that Parowan was the first settlement (1851) in southern Utah and that is was known as the "Mother" Town of Southern Utah? The Historic Parowan Café (33 N Main, 435-477-3593) and the Parowan Drug & Gift Shop (20 N Main, 435-477-3000) are two local places to check out and you are sure to feel like you have taken a few steps back in time.
The Parowan Visitors Center is a great place to learn more about the unique history of this small town and they also sell many locally made products in the gift shop. Hours are 10am-5pm Monday – Saturday, 5 South Main, 435-477-8190.
The Parowan Gap, located 10 miles west of Parowan, will take you a bit further back in time. Both petroglyphs and dinosaur tracks can be found at this location. With over 90 panels and 1,500 figures, this site is believed to be one of the most concentrated rock art areas in the western states. The trail is easy and less than a half a mile. Please remember to never touch these ancient petroglyphs, the oil from our hands can destroy them over time.
Side Trippin', Cedar Breaks National Monument is just 18 miles south of Parowan on HWY 143. A relatively short distance for the epic change in elevation of nearly 4,500 feet and a temperature drop of 20-30 degrees. Before reaching Cedar Breaks, making a stop in Brian Head is in order. The small town of Brian Head sits at 9,800 feet in elevation and is a cool summer destination. Brian Head Resort is open for summer mountain biking and hiking, they also offer a variety of family friendly activities including a zipline, climbing wall, bungee trampoline, and tubing. Brianhead.com, 435-677-2035.
Cedar Breaks National Monument (elevation 10,459 feet) is a vibrantly colorful natural amphitheater that is 3 miles across and 2,000 feet deep, reminiscent of Bryce National Park.
The Ramparts Overlook (4 miles) and the Spectra Point (2 miles) are two great hiking options.
To head back to Cedar City from here, it is 23 miles via HWY 14 through Cedar Canyon for a total side trip mileage of 42 miles.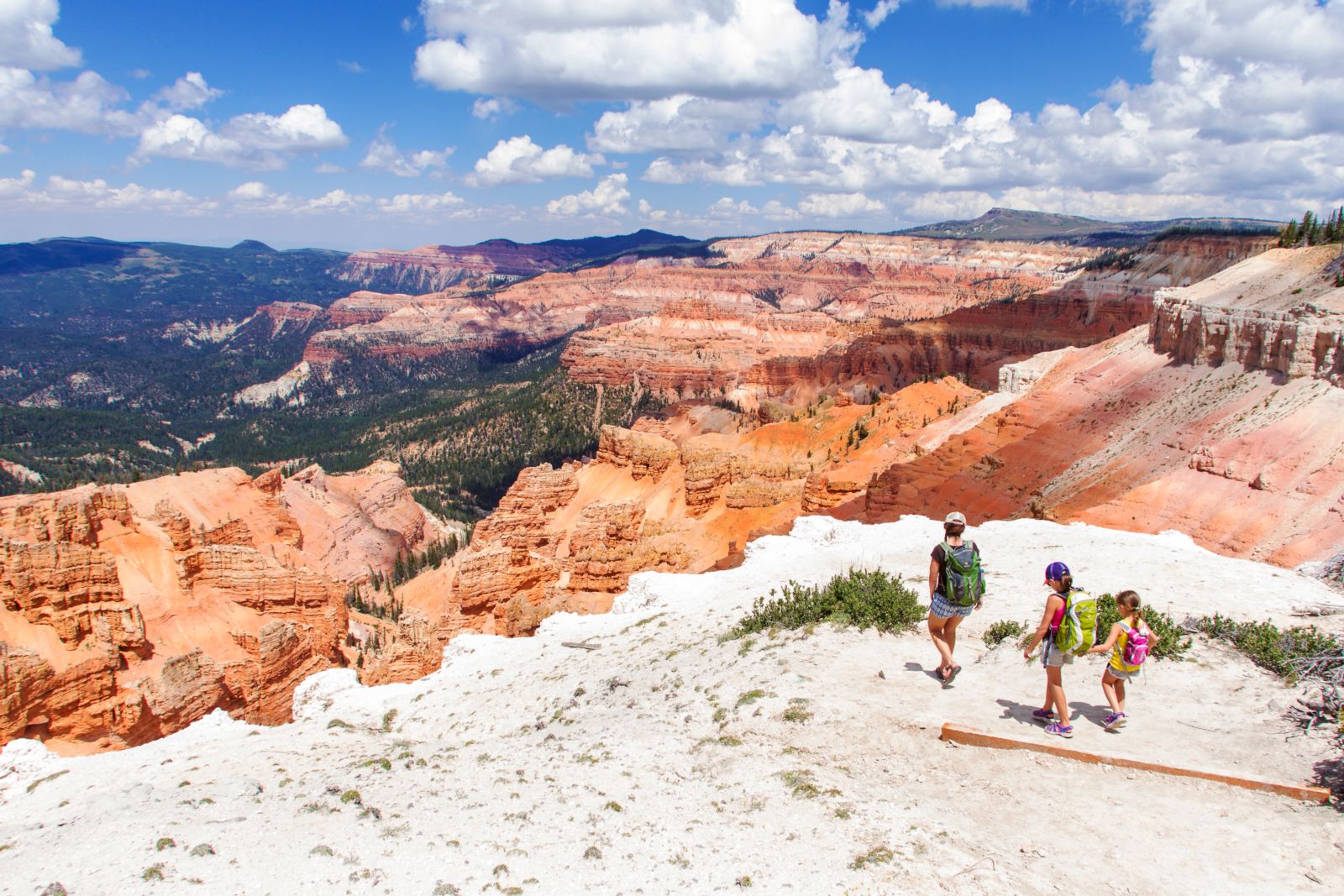 Cedar City (250 miles south of Salt Lake City) is a summer destination worthy of multiple days and trips to fully explore all that this town has to offer. Sitting at 5,846 feet in elevation, Cedar City is much cooler than some of the other southern Utah destinations, which is ideal for those who are not acclimated to the triple digit temps that occur during the summer.
First stop is the Cedar City Visitor Center (581 N Main, 435-586-5124) where you can find current local information and restrooms. Hours are 9am-5pm, Monday – Saturday, 581 N Main, 435-586-5124.
Frontier Homestead State Park Museum offers great hands-on interactive activities for kids to discover what is was like in the mid 1800s. Exhibits are both indoors and outdoors with 12 interactive learning stations. 635 N Main Street, 435-586-9290, open 7 days a week from 9am-6pm.
Cedar City has no shortage of sustenance options. Here are a few locally-owned favorites:
The French Spot (5 N Main, 347-886-8587) is a window-served tiny café that was opened by a Michelin-rated chef from Paris serving amazing crepes', croissants, and coffee. The Silver Silo Bakery (777 S Cross Hollow Drive, 435-572-7070) is reminiscent of HGTV's show "Fixer Upper," where you feel you have been transported to a smaller version of The Silos in Waco, TX. They specialize in homemade healthy soups, wraps, and salads, and even have a drive-thru window that is "trailer friendly." The Bristlecone (67 W Center St., 435-708-0000) is a hip locale for coffee, fresh New York Bagels, and salads and doubles as a local yoga studio. For a sweet treat, head to the historic Bulloch Drug Store (91 N. Main, 435-586-9651) founded in 1955, where you will find an old-fashioned soda foundation and an old-school ice cream and candy shop.
The Three Peaks Recreation Area, located 10 miles northwest of Cedar City, is a 6,000-arce multi-use BLM recreation area where you can camp, picnic, play disc golf, mountain bike, and hike. There are both motorized and non-motorized areas.
Back on I-15, our next, and final stop is Kanarraville, located 13 miles south of Cedar City. Spring Creek Canyon is located 0.8 mile south of this small town. This 2.4-mile (one-way) hike follows the creek into a slot canyon and is shady most of the way, making it an ideal summer hike. Stop by Linski's Grill, located at 240 S. Main, for an après hike burger or tasty breakfast burrito. The breakfast menu is served all day. Hours are 8am-8pm, Monday – Saturday, 435-572-5029.
Tags
Road Trips
Archives
2023
2022
2021
2020
2019
2018
2017
2016
2015
2014
2013
2012
2011
2010